Well it's time once again to start gearing up for the annual Trillium Lake Trophy Trout Trip. Now in it's 4th year, this OFF fishing event has been a favorite among long time members and newer members as well. Each year has been great fun. I've asked myself at the end of each trip how can we top this but every year has been more enjoyable than the pervious and I enjoy hosting it.
The event will start the Wednesday after Labor Day through the following weekend. That is September 4th through the 8th. You can arrive anytime during this period and stay as long as you want or make it a day trip if you prefer. But I encourage staying at least one night to experience a genuine OFF event campfire. Sometimes I think the fishing is just a formality and we simply do these events just to sit around the fire, get acquainted, and tell stories.
(or our best lies for that matter)
Our goal is the same; we target the larger Trophy fish that ODFW dumps in there every year and then proceed to fish out the lake. Except gill nets and dynamite, all methods are encouraged. My weapon of choice will be a fly rod. I will provide a tailgate fish cleaning station equipped with a Foodsaver vacuum packer and freezer space in my trailer for as many fish it can hold. I will provide cord wood
(my camp only)
but if you can manage to bring a couple pieces it might come in handy in case we're short. Especially for Erin (eggs). He's been known to build campfires you can see from space!
Like previous years, there will be no potluck dinners or contests. This is just a fun time to meet new people and to have a great time fishing for larger trout.
Camping:
Last year, the camp host bent over backwards to allow us to have the best time possible. He allowed us to have double the maximum people in our campsite but he said he can't do that for us again. Six people is the limit for each site. 'Maybe' we could squeak in a couple more but I'd rather not push it. Our camp area of choice will be in the sites located on the other side of the dam at the left turn. I plan to arrive Wednesday the 4th and secure a campsite. The next OFF camper to show up will secure another. If the attendance for this event calls for it, a third site might be necessary. Other options are to establish your own campsite in the main campground or find free camping further up the road past the dam.
Edit: Camp fees......
More information will be posted as this thread develops. Feel free to ask me or others any other questions. Oh…and check out previous trips Trillium 2011 and 12 in the links below. There are some cool pictures in there. Hope ya'll can come!
This photo featuring OFF member Ninja2010 (Jimmy) was from our 2011 Trip to Trillium. It can also be found in the latest edition in the popular book Fishing in Oregon.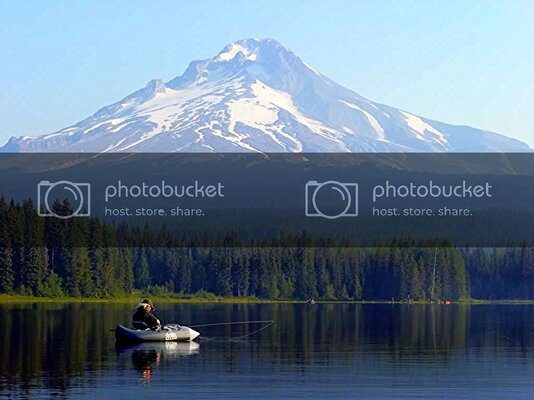 Last edited: