Tomorrow is a very big day and I need your help....
MeLuvTrout and I are hitting the Columbia, err-lee and hopes are high that tomorrow MLT will hook, fight, net, boat, and have his picture taken with a summer steelhead.
Not for lack of trying "Mel" has yet to "officially" have his picture taken with a fish of his own. So far this year he has been sooo close it hurts, yet nada jpeg to show for his efforts... (ok, ok, his avi is legit, and in the throws of an epic fight but.... )
I need everyone who reads this to.. start a prayer tree, do fish a dance, bite the head of a herring (which I'll have on board.. hee hee) or any other natural or unnatural act designed to get this guy a picture with his fish.
In all honesty it dosen't have to be a keeper... He's eaten fresh fish this year.
It all about the photo op! He needs proof beyond photoshop.
So the table is almost set for absolute success.. We just need the power of mass positive thinkin' to push this thing over the edge....
Oh and while your thinkin' of him, give him the strength to handle the butt whoopin I'm going to hand at backgammon between the strikes. If he is really lucky, hot fishing action will save him from even having to play at all....
So you all know, since you've read this your now vested in his success.... If he strikes out and looses all day at backgammon; yes it will be my fault, but will also be yours...
This can not be his legacy......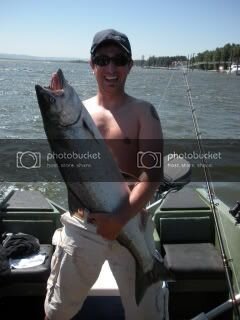 we want one where the fish is not
upside down
..lol
So call your freinds and everyone take a few seconds out of your day tomorrow and chant.. mel.... mel.... mel... mel... mel... mel... mel... mel....