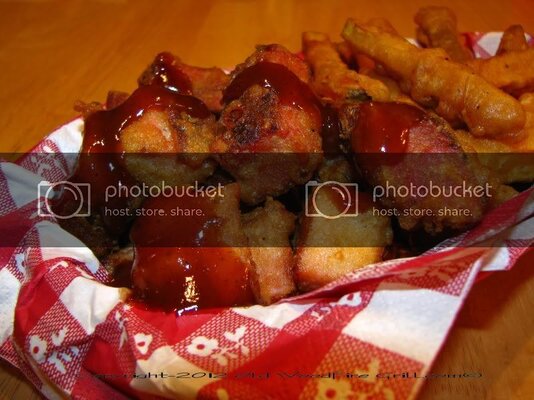 On a hunting trip to Saskatchewan a few years ago, we stopped at a convenience store for gas and some snacks, and they had some riblets that were fried. They were really good, and my buddy Walt Rabern and I deducted we could put a southern twist on it by smoking them and then frying them! Turns out, we were not wrong! These things turned out so good, it is MUST for my Superbowl Party menu!
What you'll need:
For the batter
1 cup flour
1 cup corn starch
12 ounce can of beer
1 tablespoon Old WoodFire Grill KK's 10 BBQ Rub©
1 tablespoon granulated garlic
For the ribs
Boneless country style ribs
Old WoodFire Grill KK's 10 BBQ Rub©
Hickory or pecan wood or chunks
Start out by seasoning the boneless country style ribs with a liberal coating of Old WoodFire Grill KK's 10 BBQ Rub. After seasoning, place them back in the refrigerator for a couple of hours prior to cooking, up to overnight. For the smoking of the ribs, you want to put them on your cooker long enough to get a nice smoky flavor, but not cooked all the way through. You can do them on your choice of cookers, such as the Weber Kettle, Big Green Egg, or any other type smoker you may have. You could also use a gas grill using an indirect method with some wood chips or chunks. The idea is to maintain a low smoking temp of around 225 degrees. I used my offset smoker for this cook, burning hickory, but pecan would do nicely as well. Smoke the ribs for about 45 minutes to an hour, or until the outside starts to take on some color, to get a nice smokering.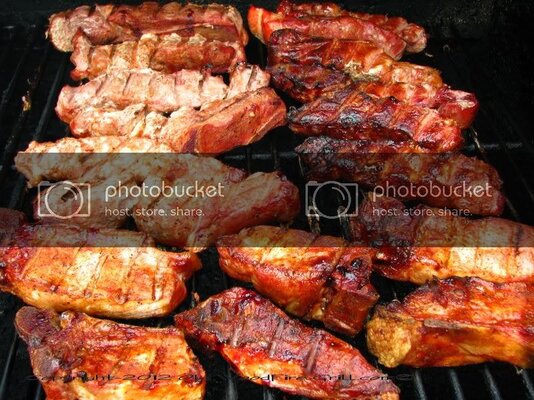 In the meantime, mix up the batter for the ribs by mixing the flour and corn starch in a large bowl. Pour in the beer, stirring with a whisk until you get a nice consistency, about like pancake batter. Only use enough beer to get the consistency that you want. Add 1 tablespoon of Old WoodFire Grill KK's 10 BBQ Rub and 1 tablespoon of granulated garlic. When the ribs are ready to come in, cut them into chunks and place them in the batter, mixing well so as to completely coat each chunk.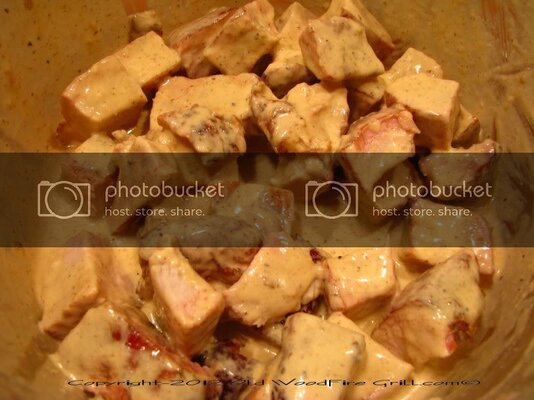 Once battered, deep fry the riblets at 350 degrees until the coating is crisp and the riblets are floating. Smother them with your favorite BBQ sauce and serve with Old WoodFire Grill's Beer Battered Fries