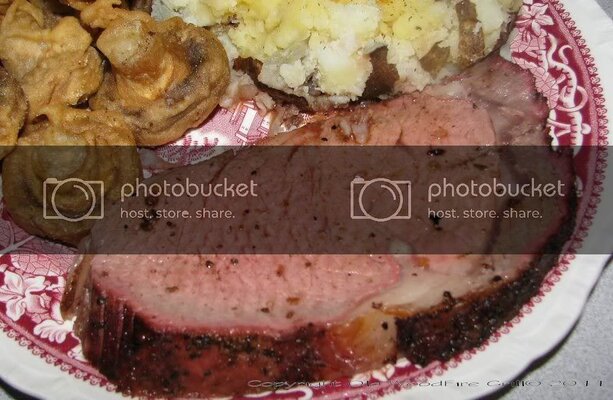 Christmas is the perfect time of year for family get togethers and lots of good food. A few years ago, my family started smoking a prime rib for Christmas dinner, and we quickly found out that those hard earned dollars spent on that expensive hunk of meat will turn to gold when you put in a smoker! I started out smoking my prime rib in my big offset wood burning cooker, which turned out to be a much easier process than one would think. But while always striving to grow and learn new ways and techniques to share and pass along, I decided to give it a try on the Weber Kettle. Most folks think of the Weber Kettle as only a grill, and it is a great grill, but with a little technique it can be a pretty darn good smoker too. The method that I am laying out in this post can be used with any type smoker that you have, from a Lang 84 to a Big Green Egg to a WSM. It's all in managing the fire!
Here's what you'll need:
Prime rib or standing rib roast - get the best cut that you can afford or are willing to pay for, one with a nice fat cap and good marbling, but not too fatty
Olive oil
Old WoodFire Grill KK's 10 BBQ Rub
Fresh cracked black pepper or Montreal steak seasoning
Crushed parsley (dried or fresh)
Meat thermometer (preferably an electronic thermometer with a wired probe, to allow monitoring of the meat temperature without opening the lid on the cooker)
Lump charcoal
Oak, pecan or hickory wood or chunks
Start out with a low to medium fire in your cooker, around 250-300 degrees. In my Weber Kettle, this would be a full chimney of lump charcoal, only half lit when dumped into the grill. Bank it on one one side and add a chunk of wood to get the smoke going. I prefer red oak for prime rib, but white oak, hickory or pecan would do nicely also. Before you replace the cooking grate over the fire, place an aluminum pan on the charcoal grate on the open side opposite the coals, to catch the drippings of the prime rib. Close the lid, leaving the vents on top and bottom wide open to let the temperature come up. I usually always cook with all the vents wide open, but during the cook you can adjust the bottom vent to cool down the temp if need be. Always leave the top vent open while cooking to prevent too much smoke on the meat.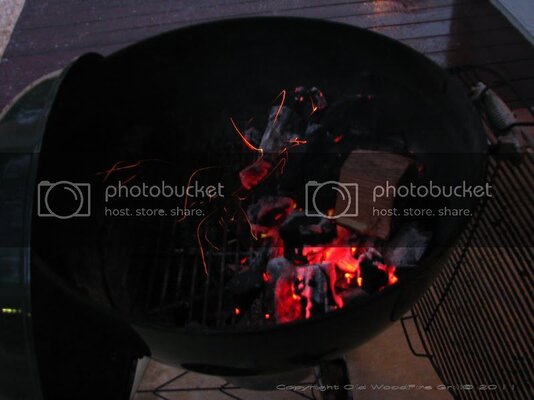 Take the prime rib out of the refrigerator about an hour or so prior to cooking and let it warm up. Lightly coat the prime rib with olive oil and season with Old WoodFire Grill KK's 10 BBQ rub. Follow up with a light dusting of fresh cracked black pepper or Montreal steak seasoning. Top it off with a very light coat of crushed parsley.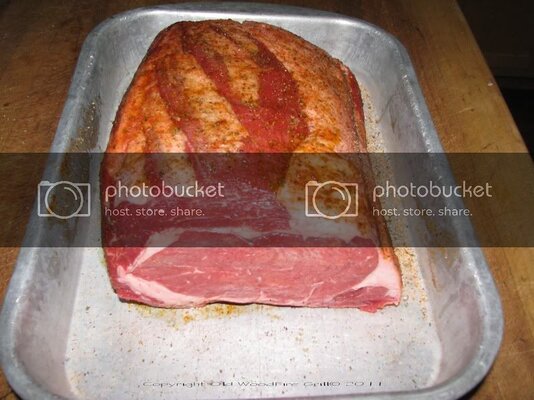 Insert the meat thermometer probe into the center of the prime rib and place it on the cooking grate on the cool side, opposite the coals and over the aluminum pan that you put in there earlier. Close the lid and position it so that the vent is over the meat, to draw the smoke over the prime rib.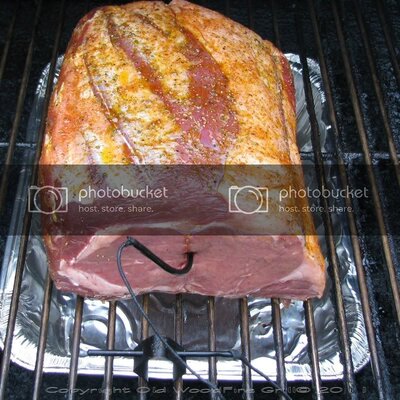 You want to cook the prime rib to an internal temperature of 125 degrees, which is rare. I won't venture to tell you exact times to reach this temp, because factors such as size of the prime rib, cooking temperature that you are able to maintain, how many time you open the lid, etc. will all have an affect. But consider this - at 275 degrees, a 6 pound prime rib would take around 2 hours to reach 125 degrees. Keep a close eye on the internal temperature and DO NOT overcook it! When you have reached 125 degrees, place it in a pan, pour the drippings from other pan over the meat, and fashion a foil "tent" over the prime rib. Let it rest for 30 minutes. During this time, the prime rib will continue to slowly cook and will come up to around 135 degrees. When you slice it and are getting ready to serve, the slices will be rare to medium rare. For those guests who like their prime rib more done, serve them the slices from the outer edges and place in a 300 degree oven for a few minutes to bring them up to temp.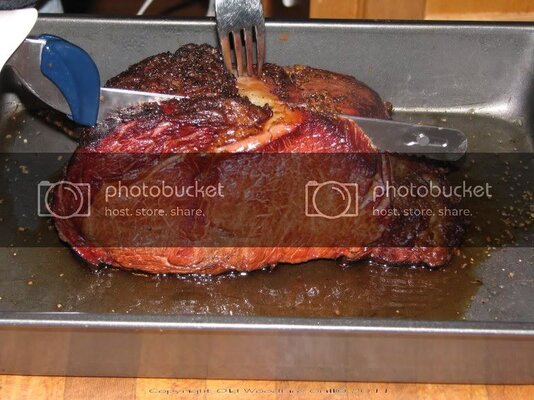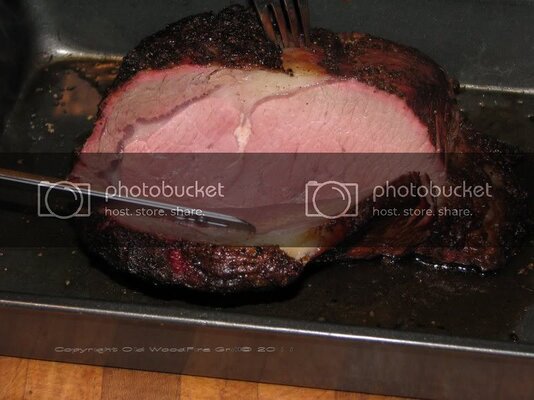 That smoke ring came out perfect! Here's wishing each and everyone of you a Merry Christmas, Happy Holiday and peace on Earth!