I have been really lame about coming on here and contributing lately, and for that I apologize. Work has been busy, I'm knee deep into writing my cookbook, the kids are out school....hey, sounds like life, huh?! We made this dish for Father's Day breakfast and it turned out to be a homerun! Feel free to get creative with the stuffing ingredients.
What you'll need:
2 Large bell peppers, cored and seeded (or one large bell pepper per adult)
Southwestern style hashbrown potatoes (for this recipe I used Simply Potatoes Frozen Hasbrowns)
Breakfast Sausage
4 eggs (or 2 per bell pepper)
Shredded cheddar cheese
Shredded mozarella cheese
Sliced Vidalia onion or sweet onion
Olive oil
BBQ Rub (I used Old WoodFire Grill KK's 10 BBQ Rub)
Start out by building a medium heat fire in your grill or smoker, around 350 degrees. I used the Weber Kettle for this cook, so for me that meant 1 large chimney full of lump charcoal, about half lit when dumped into the grill. Bank the charcoal on one one side to create a hot and cool zone. Back in the kitchen, cut the top out of the bell peppers and remove the core and seeds.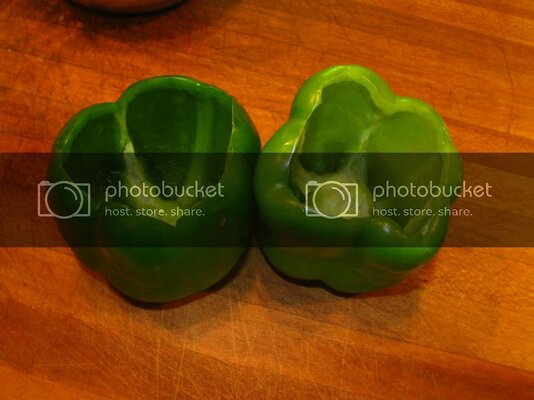 In a pan, brown the hasbrowns in olive oil. When they are about halfway done, start another pan on medium heat with the crumbled breakfast sausage and sliced onion. When the sausage has browned and the onions have softened, strain the mixture and add to the hashbrowns. Continue to stir on medium heat until the hashbrowns are cooked. You can figure on about 1/4-1/2 cup of hashbrowns, onions and sausage mixture per bell pepper. When the mixture is ready, spoon some into each bell pepper. Add a layer of shredded cheese, then beat the eggs in a large mixing bowl and pour the beaten eggs into each pepper. The egg will seep into every nook and cranny in the hasbrown mixture. Season with the BBQ rub.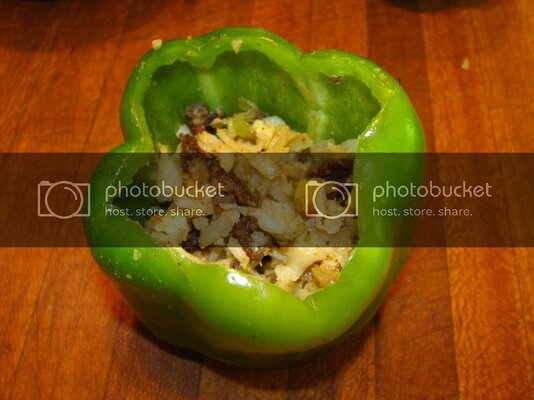 Place the peppers on the grill on the "cool" side of the grate, opposite the coals. Let them cook on medium heat, around 350°, for about 25 minutes, or until the egg becomes solid and fluffy and starts to rise out of the top of the pepper. Using an oven mitt and a spatula, spin the peppers periodically to minimize blistering of the skin and to help the egg cook evenly.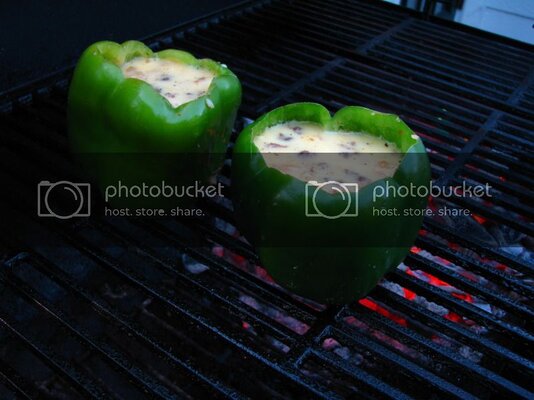 When the egg starts to rise out of the pepper, top them off with a little more of the shredded cheeses and another shake of BBQ rub.