I'm going to give you a recipe. It is long and detailed, but in the end you will be glad that you read on. I wrote this recipe for a class and received an A+ for it because it made the teacher's stomach growl. This recipe is not for the weak of heart. This recipe is not for vegans or vegetarians. This recipe is for those of us that absolutely enjoy biscuits and gravy to the fullest.
This recipe is for us fat kids!
How to Make Deep Fried Gravy Balls
Have you ever wondered how to make biscuits and gravy more portable? Maybe even be able to eat them without the aid of a fork? In the main campus kitchen at Chemeketa Community College, staff has worked hard and figured out a great way to use an iconic comfort food and turn it into a favorite finger snack. These following instructions will lead you step by step through the process of making deep fried gravy balls, so that you can also enjoy some tasty treats.
First you'll need to gather a few necessities. A two quart sauce pan works well to boil water, and make the gravy. Grab a good whisk to mix your ingredients. A rubber spatula is also required to complete the cooking process. You'll want a sharp knife for cutting and chopping ingredients. Four, one quart bowls will be used for holding and blending ingredients. A 10"x13" quarter size sheet pan is good size for this recipe. A 10" frying pan will be needed as well as a small counter top deep fryer. At least two platters for serving and preparing. A pizza cutter will aid you through as well. Lastly, a good set of tongs to grab hot food with.
The ingredients needed for this dish are listed below.
• 2 packages of store bought gravy mix (2.64oz)
• 1lb of bacon
• ½lb of ground sausage
• ½lb shredded cheddar cheese
• 5oz can of pan spray
• 1 dozen large AA eggs
• 4 cups of flour
• 2 packages of panko breading (8oz)
• 1 gallon of canola oil
Next, the ingredients of the gravy balls will need to be prepared. Start by following instructions given on the rear side of your package of gravy. Heat up any water that is required using the saucepan. You'll need to chop up 1lb of bacon and cook in the pan until it is to your liking. Then place in one of the bowls to hold for later. Brown ½lb of ground sausage and again place in a second bowl. Add the sausage, the bacon and the cheese to your medley. Stirring them well with your whisk until the concoction is the consistency of your liking. Remove the mixture from heat and move on to the next task.
Preparing a sheet pan is the next step in the process. Lightly coat the sheet pan with pan spray, not too much to avoid slippage. When done spraying, you'll need to carefully pour the contents from the sauce pan onto said sheet pan. Use a spatula to get any remaining gravy out of the pot and spread the lava like brew evenly across the entire pan. Place the leveled gravy into the freezer for one to two hours. This allows it to settle and become a solid more solid medium to work with.
Now you are ready for coating the gravy. Grab one platter and put enough flour on it to coat all of the mixture you want to use. Crack eggs into another bowl and beat them thoroughly. Pour panko breading into your last bowl and set them all in a row for easier assembly. These three ingredients will become a crispy jacket for your end product.
When the combination has become solid, remove from your freezer, place on a counter top and begin cutting it into squares using a pizza cutter. This might need to be repeated a couple of times, as the gravy thaws out and will become more difficult to work with. Mill each square into a ball roughly the size of a quarter. Place one into the flour and roll until completely covered. Then submerge in the bowl with the eggs. This is called the egg wash. Next you'll want to coat it with the panko giving the food a slightly prickly appearance. Place the breaded product on remaining platter. Repeat this process until you have created all the crispy confections that you want. Then put the platter full of breaded bliss back into your freezer to harden again.
While the gravy greatness is reforming, you'll need to fill your deep fryer with the canola oil and heat it up to 350 degrees. This should take about 10-15 minutes. Once desired temperature is reached, pull the already blanketed gravy balls out of the freezer. Put five to ten glacial globes into the basket, or as many as you would like. Place basket in the heated oil and let it cook for three to four minutes. Make sure that all food is covered by the oil to cook evenly. A key indicator for whether they are finished cooking or not will be the golden brown crust on each gravy ball. Using tongs, set the crunchy snacks onto a serving dish of your choosing.
Let the finished product cool for a minute or two before biting into deep fried heaven. All crusts should be light and flakey. Steam should be piping out when each is bitten into releasing a smell that makes your stomach rumble in anticipation of more. By now, the aroma of comfort has invaded your entire house and there might be a line of hungry people waiting for you to pass out the goods for munching. Be patient when divvying out your delectable treasure, because we all know cooks save the best samples for themselves.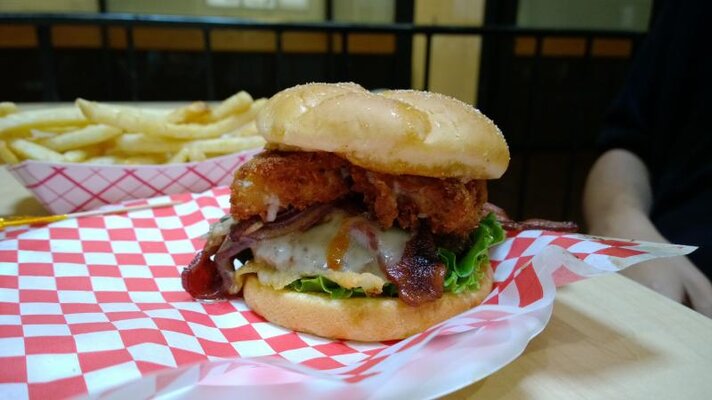 If you look real close, there are deep fried gravy balls on top of this bacon cheese burger. I made this for a coworker. He was almost too full to work afterwards.