Got the last minute itch to go fishing after watching the weather all week, and deciding the weather man was probably full of it about the snow and what not, so last night made quick plans to steal Andy and his boat to head to the coast. Decided it was time to finally hit Tahkenitch. There's a ton of fish, but not many biters today. I got a darker little ho on a smaller North Country spinner. Having only one spot on my tag left, he was safely released to swim another day and create more little hos for my future fishing exploits 4-5 years from now.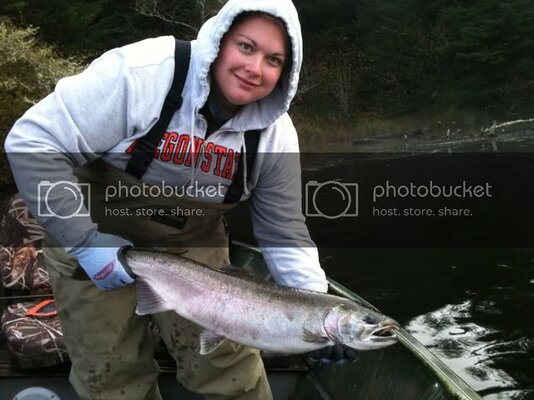 After that, Andy had one take down that didn't stick, caught a bass, and that was it for Tahkenitch. Freezing and drenched we decided it was too slow and cold to not be getting into fish, so we packed up and headed back up 101 to Siltcoos.
Lost track of all time, no clue what time we got there, only know that we left at dark and my Jeep looked mighty lonely in the parking lot by itself. Andy got into a nice ho, and as soon as I netted it and got it in the boat for him to deal with, I cast my line back out, and bam, fish on immediately. Almost had to net my fish, with his fish still in the net. It was 'controlled chaos'. I got my little scrapper of a hen to the boat, snapped a quick picture on my phone, and carefully put her back in the drink where she took off like a silver bullet, to also further improve my future fishing exploits.