Went to the upper Clack late this morning, Wanted be there early, but a certain chicken had decided it was better to go on a tour of the neighborhood than to stay in the yard, so I spent some time chasing her down before I got to leave. Finally got on the road and got to the river around 10-ish. Osmosis met me little after 11 and we proceeded to perforate the water with whatever we could find in our kits and in the river (more to come on that in a minute). We decide that we were going to move up stream for a bit to fish some deeper water when Osmo hooked someone else's gear in the water. He reeled in a brass blade/silver ball body spinner in pretty good shape. He OFFered it up to me and I accepted. We moved up stream and started drifting corkies for a while to no avail. I broke off one too many times and at about 5 I say "I think I am going to have to call it a day." He ties on a spinner and no sooner than I say "day" and he replies "Fish On!" So he tussles with this nice 'nook for bit before dragging it up the bank and WABOO! Dead feesh.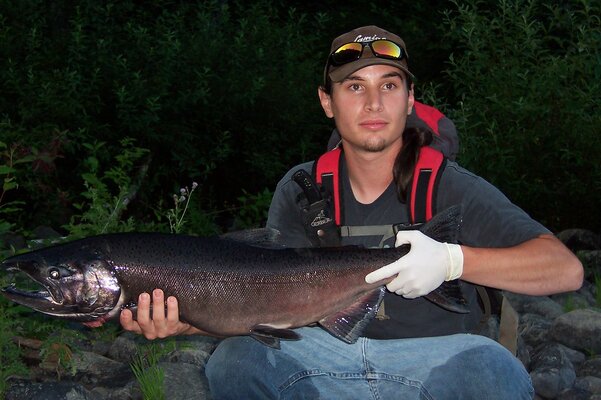 Now, I have been carrying the skunk since I moved to Oregon in November; not even a bass yet. I can't go home now, can I? I don't have an arsenal of tackle built up yet, so I tie on the found spinner. First cast. WHAM! Fish On! I am in full speed hyper-wobble. Thank the Gods Alan was there to keep me cool. "Pump and crank," "Get your rod pointed up stream," "Don't horse it!" How long did it last? 10, 15 minutes. Heck may have been 2 for all I know. But I do know that it had 5 or 6 good solid runs in it and I had to boogy 50 yards down stream with it. (A special thanks to all those doods that reeled in and gave way to the new clown in town - you know who you are) Finally got it to the bank, and "Doh!", it's got a fin. But, it was a BIG fish. Nice bright native 'nook.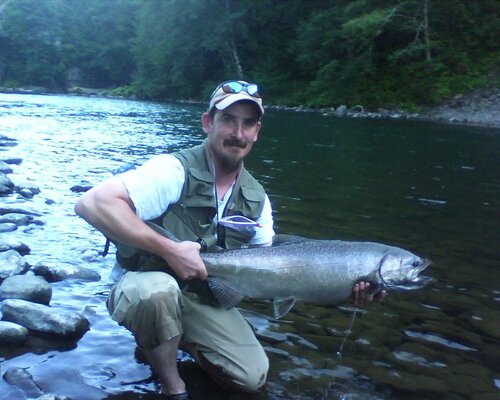 We fished until about 8, each of us suffering form short strike syndrome for most of the rest of the night. I did have another nice clipped 'nook on shortly after my first that wrapped around a rock and cut my line. With my found spinner in it's lip.
Oh, well. Back to where it came from. But, I am going back, and this time, I am armed with my new TCO's. Bring it!
I need a nap. Good night all. Good night skunk.