Dropped by the disabled angler platform after work. Other than a short exploratory visit earlier in the week, this was our first serious attempt at fishing here. I had heard that green was the color of choice for North Fork, so rigged up with a Lemon Lime poweregg and Pautzke's Chartreuse (which is really green) garlic dough bait headed for the bottom. On the first cast before the lead even sank, I got a hit and landed a nice 12 inch rainbow. We also tried Berkeley egg clusters in green, but no takers. Several people fishing around us were having great luck with pink powereggs, so we switched over to a combination of one pink poweregg with yellow garlic. This combination worked really well and inside about 90 minutes we left with two limits of nice trout. People around us were also having a great time as the bite was definitely on.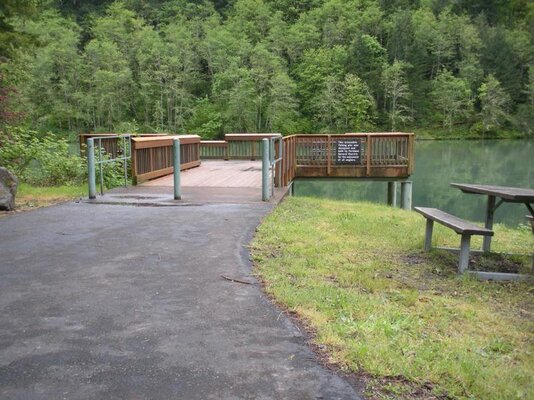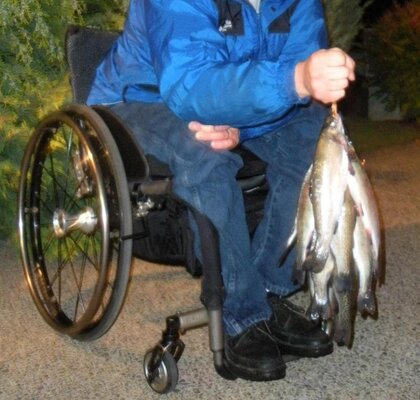 It is my impression that the trout planted here are somehow thicker than those I've caught recently at Commonwealth Lake, Hagg Lake, and Mt. Hood Pond. They are really nice fish.
Especially exciting, just as we were unhooking our last fish, our other pole started going crazy and we hooked an eleventh. My wife talked a young girl, perhaps 4 or 5 years old into taking over the pole. The little girl jumped right in and excitedly reeled away until the fish was brought up on the platform, to happily add it to her family's catch.
So we'll definitely be back to NF Reservoir. The weather was perfect and the fishing could not have been better. We even had time to throw a couple burgers on the grill before heading home. Nice start to a weekend.