Now that's a football!
I hit the Columbia on Sunday June 11th with my regular fishing buddy. We had not been fishing together in a while because of schedule conflicts but we were eager to be back out on the water together again. We got to the river at first light and were fishing by 5am and the river was like glass. He went down to one of our favorite points and I briefly headed upstream to a small point that sometimes holds some fish.
On my first cast my Sammy got sucked under by a monstrous 8" smallmouth. Now some folks think catching a fish on the first cast is bad luck but I believe every fish I catch is because of good luck so I was not concerned. A few casts later and I had a second fish which was probably all of 10", but at least the size was going the right direction. I did not produce anything else on that point.
I headed downstream and met up with my buddy and he had caught 3 small ones pretty quickly but then nothing. We cast around that spot for a while, trying a few depths but all I got for my efforts was a couple of small fish swiping at my topwater.
I decided to continue downstream while my friend continued to try out deeper along the point. I came to a mini-point and started catching fish and at least getting bit on every cast. I yelled to my friend to join me and he came down but by the time he got there the bite had died off but we had a clue. We quickly fished to the next mini-point and it was game on again. No big fish, in fact most of the fish were pretty small but there were a couple of decent ones mixed in and they are all fun on topwater.
We kept moving along as the sun started to rise. We were blessed with a few clouds that helped stretch out that morning bite. After a while I realized I had only had a couple of misses on the topwater and that the fish seemed to be not committing to it. I switched to a swimbait and had another hot streak, catching quite a few bass that were small but still fun. I mean is there a prettier sight than this: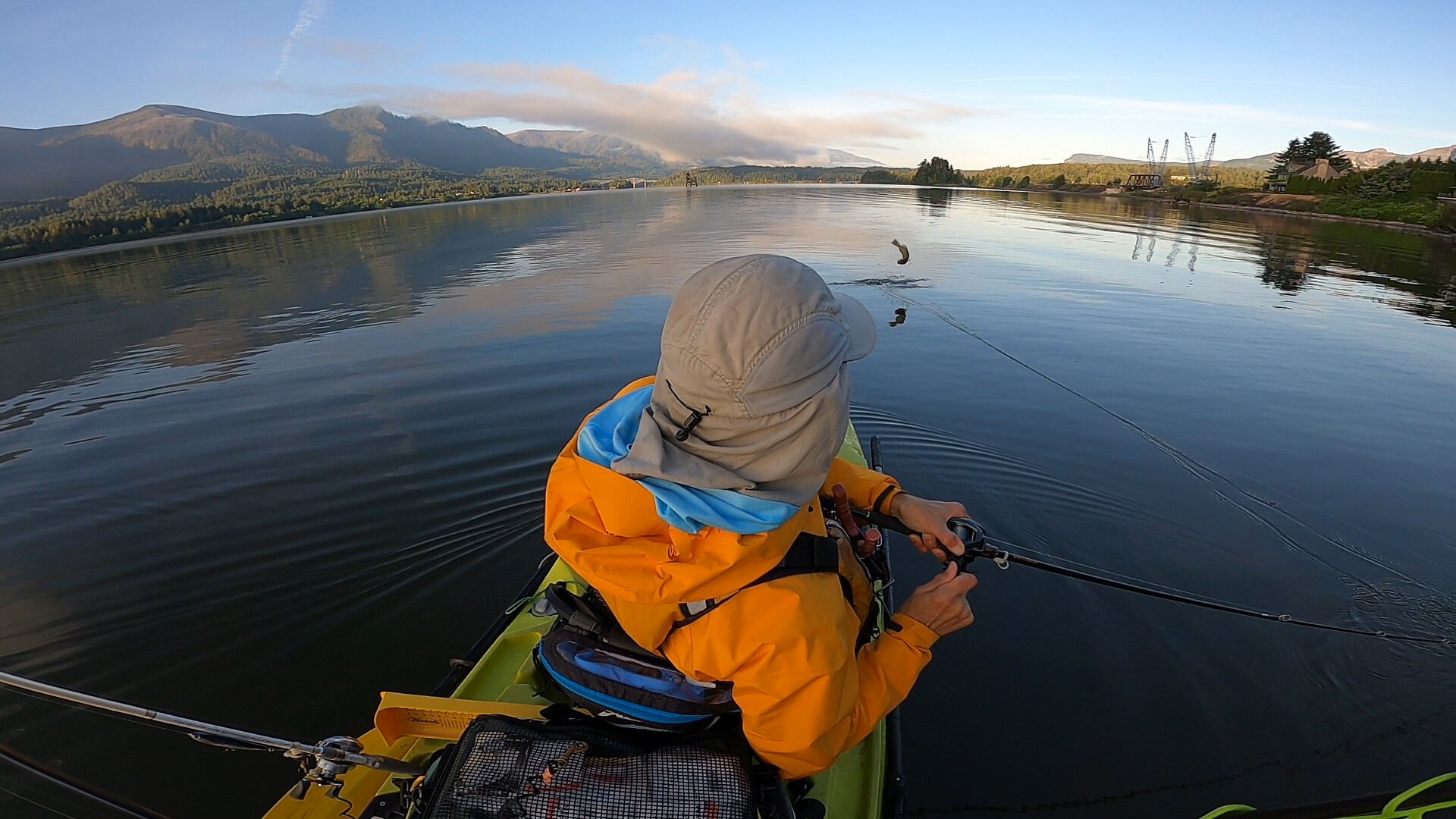 Eventually the shallow flats bite seemed to die completely so went to a spot that has some deep water adjacent to a nice 10' depth flat. I picked up a few small fish and my buddy picked up a few nice ones of that spot. After that spot fizzled out we went to try some offshore humps as the wind was picking up.
The spot I went to did not produce but when I checked with my buddy he had ned rigged up a 17" and an 18" fish. I started fishing around the same hump and pulled in a 5"er
That's just how it goes some days.
We kept on fishing, mostly throwing Ned rigs and I would sometimes mix in the drop shot and picked up some fish here and there as the wind became pretty stiff and white caps were forming. I suggested we start to head back and maybe fish some spots along the way. We stopped at a spot or two that usually produce without really having any success. By now the wind was really whipping and we could see tons of kiteboarders zipping around way up towards the ramp. The were flying!!
I was about ready to call it a day when my buddy said that he often likes to throw a spy bait along this one break. Now I almost never fish that break because it does not really have any rock to speak of but my buddy swore that it is a good afternoon spot. I told him to fish and I would just watch. Within a dozen casts he had a nice fish. I have to say I was amazed.
A few dozen casts later he has another nice fish, and then another nice fish. I am now thinking that maybe I should give this a try. I thought I would use a crankbait since I already had one tied on. After seeing him catch two more really nice fish I decided that there was no point in being stubborn or stupid. I tied on a spybait. Now, I always only every used them when it was dead calm. I think of them as a subtle, finesse tactic for calm clear water. My buddy really opened my eyes as to their full potential.
I started fishing it (still not having any real confidence in it) when I felt a thump and I was tight to a good fish. I wanted to get this on camera so I reached down to hit the remote to start filming. The remote had twisted around and I could not find the record button. While fiddling with that with one hand while fighting the fish with the other it came flying out of the water and threw the lure. I felt like an idiot. By far my best fish of the day lost.
I kept on fishing but did not get another bite as I caught up to my buddy. He was still racking them and stacking them in the waves and wind while I was still looking for another bite. As I got ready to cast I saw a school of bass tear into some bait fish. There were fish boiling all over the place and little fish jumping like crazy. I heaved my lure as far as I could but I was little short. I burned it back in to try to make another cast when the rod was almost ripped out of my hands.
My rod took on a deep bend and leaned on that fish when doink, it came unbuttoned. I turned the reel handle about two times when I was slammed again. I yelled for my buddy to cast at the schooling fish but he was too far away. This time the hooks held and after a feisty battle I landed a nice 17" bass. I was really stoked to catch that fish on a spy bait in those conditions. I told my buddy I was starting to like that spybait.
I got myself back into position and after just a handful more casts I thought "I think one is biting it, no, I guess it is just the bottom" then WHAM I guess it was a fish biting it. I could tell this fish had some real shoulders to it and put a deep bend in my rod. I kept heavy pressure on that fish and was able to eventually get her up to the surface and into my net. It was the pig at the top of this story. 4lb 1oz and 20.75". A really nice fish for this time of the year.
I was definitely all smiles then. I told my buddy that a spybait was now my favorite lure
That was my last fish on the day. My buddy picked up one more decent one and then we headed to the ramp. I had a pretty good day. 26 bass including that 20.75" fish. Lots of dinks but still a fun day. My buddy had a really good day: 29 bass, 1 monster pikieminnow and a big sucker he snagged in the tail. His best 5 totaled 86.5" which is a really great summer bag. I am not sure what my best 5 totaled but even with that big fish I probably was in the low 80s.
So, it was the best kind of day. Big fish and learning stuff. You can't do better than that! Here is a video with lots of dinks and the two nice ones at the end.