Me, the wife, and the dog went camping at Wickiup for three days. Left our house Sunday around 11:00 AM and found a decent camping spot by 2:00 PM. I immediately busted out a beer to take the edge off before setting up camp, started setting up camp and within five minutes two trucks full of kids and a guy on a dirt bike show up to swim. I told them that we have other families coming and they said "oh that's alright, we're only going to be here for a little while"
basically telling me to go @$%# myself. Luckily they were there for only an hour and a half. :dance: As soon as they left I put up a rope blocking both entry ways to our spot with signs letting people know the place was taken. Got camp set up and took a walk to set up signs at the forks in the road. Right after I posted a sign a van pulled up and I told them that our spot was taken and we had a family reunion with other people showing up and the guy looked at me and said "so we're just here for the day".....What the hell is wrong with people!!!
OK enough with my negativity. I didn't fish too much. I trolled a rapala from my pontoon for about an hour on one day. Threw the same rapala from the bank for a while the next day and on the last day I decided to try a whole nigh crawler with no weight on the bottom from my pontoon. I paddled across the Davis Arm to the other shore, cast my worm, and let the wind push me back to camp. I did this twice without any bites and knew I needed to get back to camp to get the coals ready for dinner so I gave it one more try. I drifted back to camp again with my bait out a couple hundred feet and put my rod in my pole holder and went to get the coals ready. BTW, I made my own BBQ'er in the dirt and this is how it looked when complete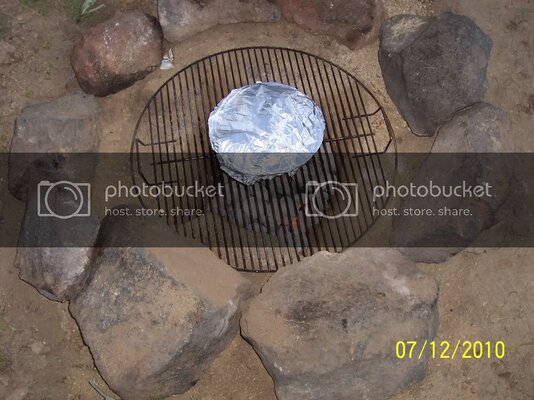 I went down, checked my pole and reeled in the line about 50 feet, put it back into the pole holder, and went to check the coals. Checked the coals and looked at my pole and it was doubled over!:shock: I grabbed my pole, set the hook, and it was fish on!:dance: She fought hard while I walked her down the bank to keep her from getting into the weeds until I banked her. A beautiful 23" female brown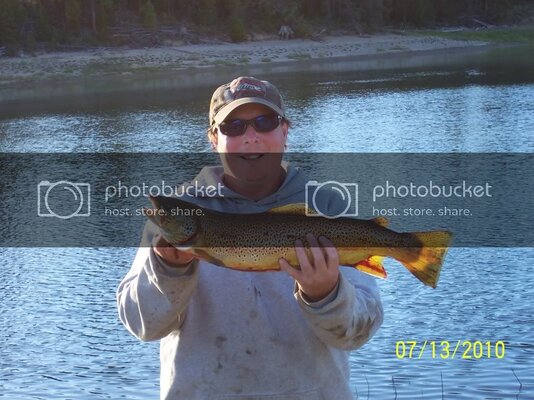 Perfect timing too. The wife hadn't prepared the burgers yet and the coals were just about ready. Nothing like fresh fish on the grill.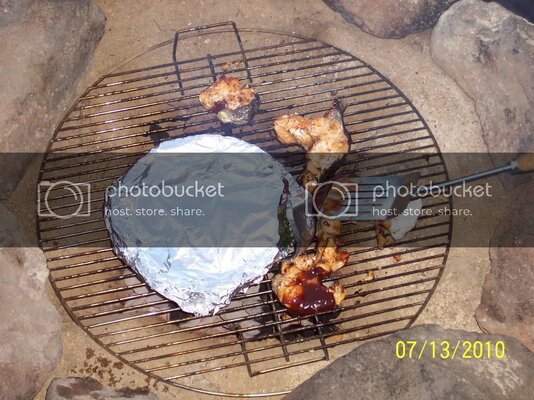 We left the next day and headed to Bend to visit my parents but here's some more pics of our trip.
Here's Bianca after a hard days work of swimming and chasing chipmunks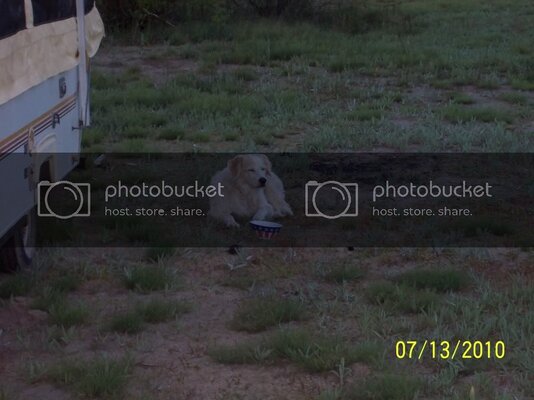 The Wife preparing my fish after 3 days of booze and sun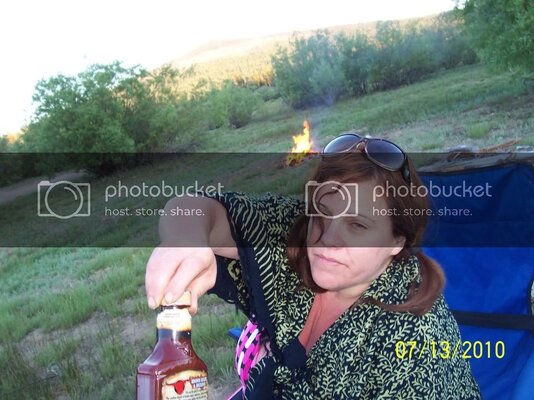 Can you see the dinosaur in the trees? lol