the wifey took pity on capt skunkage and bought me a guided trip that was offered on fox12 at a crazy discount.
anyways, i made trip yesterday with 2 other guests... launched at 6 and the boat limited with several bonus jack fish before 10am. we hit 4 holes, boated more than a dozen fish - mostly chinook, couple of cohos, bullheads (yuck) and monster suckers (double yuck). also popped of a few.
here's the biggest fish... and she was mine
fought like a beatch and took off peeling line every time she saw the net/boat. finally boated her after many minutes of arm-aching rod-pumping and "oh, please don't pop off!"... she was full of eggs (the guide liked that) and cut real nice too. ended up with about 15lbs of meat from the fish i tagged.
enough on that... now it's back to swinging intruders on the double handed rods.
:lol: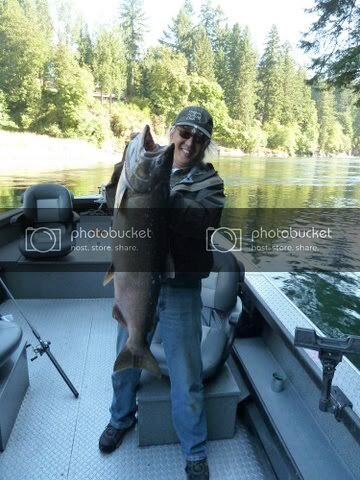 Last edited: