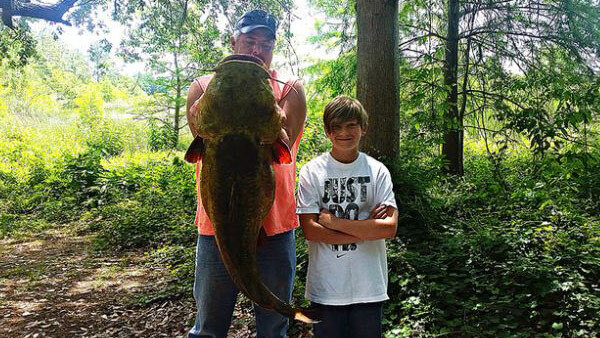 Charles Patchen, 13, and his stepfather Bryan Atwell. FWC photo
NOTE: Caught with 14-pound test line!!!
JACKSON COUNTY, Fla. (WFLA) — A 13-year-old boy has bragging rights that are probably the envy of many adults who fish.
Charles Patchen set a new state record when he caught a whopping 63.8 pound flathead catfish on the Chattahoochee River in Jackson County. The fish was so big, it looked like it was almost the same size as the teenager.
Patchen, who is from Alabama, went fishing for bream with his mother and stepfather, Jeanette and Bryan Atwell on May 15. The bream stopped biting and Patchen's stepfather suggested that there might be a bigger fish in the water scaring off the bream.
So they switched from baiting with minnows and used a bluegill that they had caught. Patchen assumed his hook was caught on something, so he asked his stepfather for help.
"I grabbed the pole from him, gave it a couple tugs and the fish took off," said Atwell. "I handed the pole back to Charles and said, 'GET 'EM!'," Atwell told the Florida Fish and Wildlife Conservation Commission.
Patchen fought the catfish for nearly two hours. The huge catfish eventually gave up the fight and Patchen reeled it in. The fish had to be rolled into the boat because it was too large for the net.
"I was so tired after reeling it in that I fell back into the boat to rest," said Patchen. "But I'm glad my mom made me go fishing that day because now I am the catfish master!"
FWC Biologist Katie Woodside met with the self-titled 'catfish master' and his family the next day to get an official certified weight and measurements and to have the application notarized. The official measurements were 48.03 inches in total length, with a girth of 35.43 inches.
"Charles' flathead catfish is a great catch to add to our state records — and caught on a 14-pound test line, by a 13-year-old at that! Just one more reason why Florida is the 'Fishing Capital of the World,'" said Tom Champeau, director of the Division of Freshwater Fisheries Management.
The previous certified state record flathead catfish weighed 55.05 pounds and was caught on the Yellow River by James Auston Jr. in 2011.