Since I didn't fish from my kayak in 2020, it was great to be out on the Willamette River this morning for the first time in 2 years. I didn't feel like dealing with herring this year, so i decided to wait for warmer water temps to allow for strict hardware fishing. I launched right at sunrise and was trolling spinners from the get go with the water showing 56 F on the sonar. I marked several fish in 16 to 20 feet of water. It was good to see all my rods and reels working, the spinner blades thumping along, the sonar marking fish, and the small motor on the kayak pushing me along at a steady 2.5 mph. When all your gear is in tune, doing exactly what you want it to do, you know it's only a matter of time. There were about 5 other boats trolling in the same area.
At 715 am, as I motored back up to the top of the run, I saw another boat in the middle of the river land a small chinook...maybe 8 lbs or so. At that point it was going to be game on, and I wanted to strike while the iron was hot, so I hurried to the top of the the run and got my spinners down in the water as quickly as possible while this bite was still hot. It's strange how salmon just come alive all at once, with multiple biters in an area ready to hit anything. It's like a friggin' light switch gets turned on down there in the depths: a big bright neon sign that says "Eat at Luigi's!"
I spun the kayak around, and within 3 minutes of seeing the other guy land his small keeper, my rod started dancing while trolling over 17 feet of water. Since I keep my spinners right on the bottom, I was wondering if I was hung for sec, but then some line peeled off the reel, then stopped, then peeled a little again. I pointed the yak toward the middle of the river and gunned the motor a little to try and drive the hooks in, but the yak didn't want to turn which was odd. I quickly reeled in the other rod so it was out of the way. Then I picked up the dancing rod and felt the fish tug very hard -- this was going to be a really good fish. I was not going to be able to just horse it in or dominate it right away.
It took several tries just to pull the fish away from a row of pilings I was trolling beside, but finally I got it out into the middle of the river away from obstructions. It made two good runs stripping off 40 or 50 feet of line each time, and because my drag is set to about 5 lbs, it takes a strong fish to do that.
The fish broke the surface but was too fat to come all the way out the water. Instead, it slapped its tail hard and sent up a big spray about 30 feet away from the yak. It sounded like someone slapping the river with a wooden paddle. I figured the fish to be in the mid to upper teens just by that tail slap and its strength. It made several more runs and then just buried itself on the bottom, and I had to keep pumping the rod and reeling up on him, and he would make another short run. The way it was hugging the bottom, it felt more like a sturgeon. I thumbed the reel a few times to try and slow him down when he peeled off a lot of drag. I finally had to tighten the drag even more to get him under control because I was worried he might spool me, but he never really had more than about 90 feet of line out from the yak. I hate messing with the drag when fighting a fish, but I was not going to get spooled.
When he finally got close enough for me to see, it was a struggle to see if he was native or not. He was rolling and thrashing hard, trying to spit the pink spinner blade out...I could see it deep inside his mouth. He looked to be close to 20 lbs. -- A very fat, healthy, chrome bright Chinook. I did not want to lose it if it was a hatchery fish, so I rushed him a little, bringing him in a little faster than normal, and I couldn't see an adipose fin, so I grabbed the net expecting this to be a battle. He ran under the kayak just once, surprising me a little, but only peeled two or three feet of line from the reel, then he came right back out....a relief! It's always pins and needles when they run underneath the yak. He was almost spent now. He swam with his dorsal fin just above the surface, made a few hard runs that peeled off just a few feet of line....then he listed on his side a little and swam about in a daze -- had that drunk look in his eye. I missed once with the net, he ran around a tiny bit, then he swam directly at me kind of slowly with his head slightly out of the water. I gently laid the net in the water and just dragged him into it. He had to have seen the net...he just didn't have the juice to stop from being pulled into it. He made a thrash or two in the net, and was pretty much done.
I still couldn't see an adipose fin, but they can be tricky to see sometimes. So I hauled him into the yak, and inspected him one more time to be sure. Hatchery all the way....and thank goodness, because he had swallowed the spinnerbait so deep that his gills were cut and he was bleeding in the bottom of the yak. He put up a great fight.
Back at the house, I weighed him and he was 19.8 lbs....just a hair under 20. My personal best Spring Chinook in the kayak. Wife and I cut him up and I drizzled maple syrup over him for lunch -- he cut very dark orange, almost red. Delicious.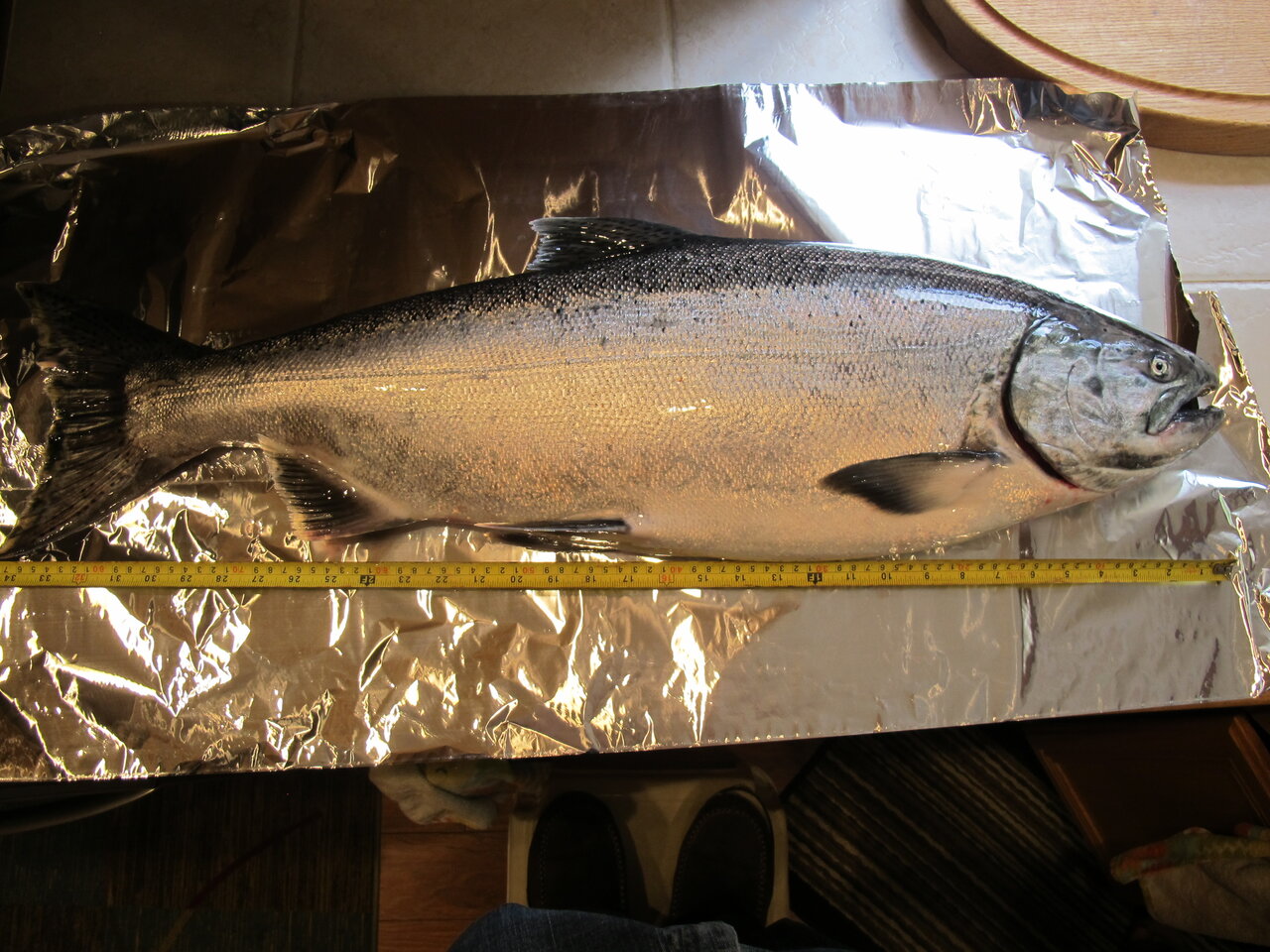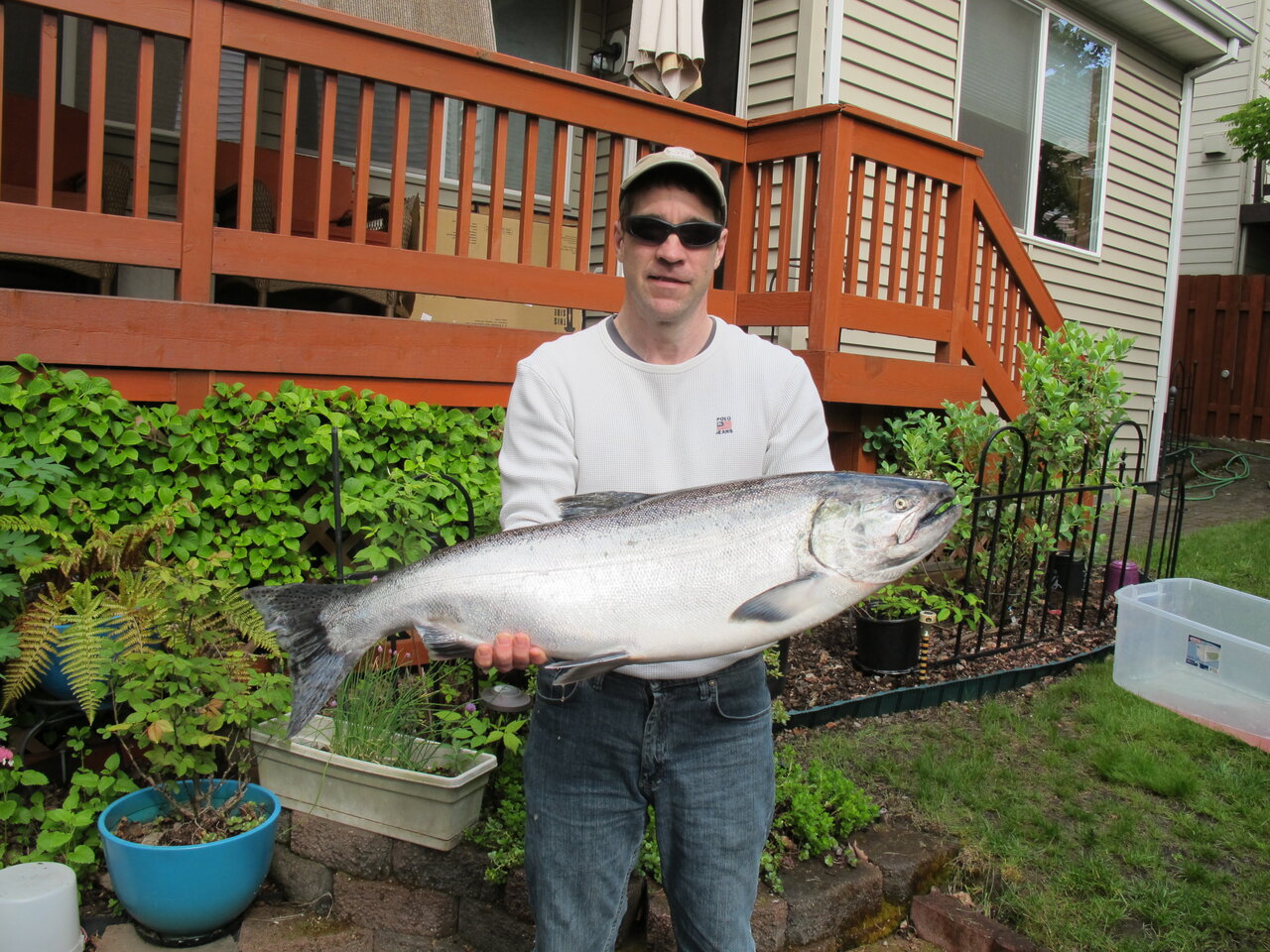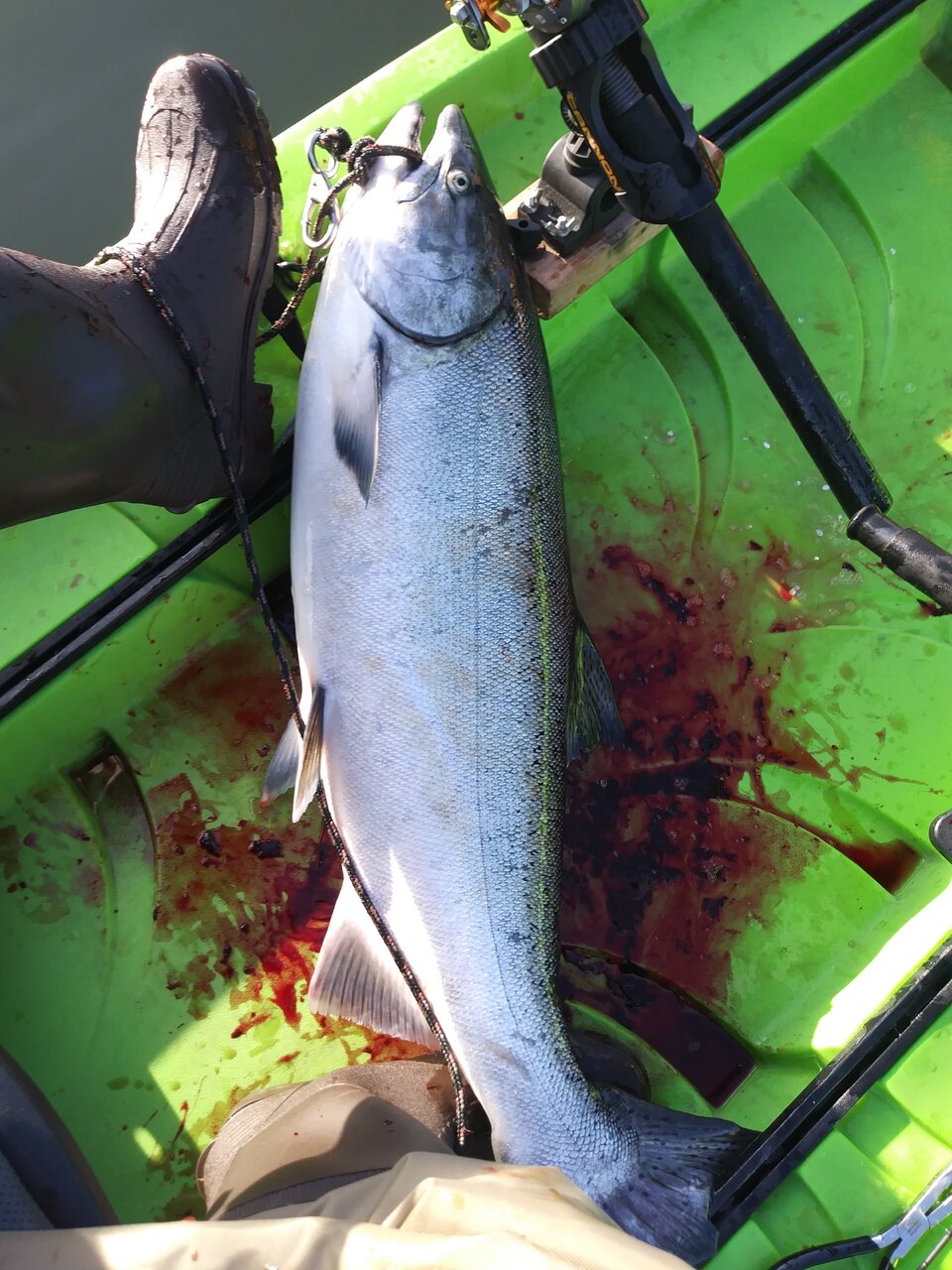 Last edited by a moderator: