There are a million guides out there for battery boxes for fish finders. I tossed a picture of my setup in a Wickiup report and had an interest. I wanted a box that could be multipurpose, that I could use to run my fish finder or a laptop or as a large powerbank to run a pump for inflatables. Also, it just didn't make sense for me to buy a bunch of new batteries when I'm sitting on a handful of 20v Dewalt li ion batteries for my cordless tools.
So here are the materials for the build:
The assembly is pretty much red to red black to black, soldering and covering connections as you go, or use some other type of connectors. Initially, I built this without the step-down converter and left it 20v. The 12v socket and switch included USB ports, so I could charge devices via USB, and other devices that used the 12v plug could handle higher voltages like my laptop cord.
It wasn't until I wanted to use this with my fish finder (Humminbird Helix 5) that I needed to dial in the voltage and amperage. The fish finder needed 12v and the documentation required a 3 amp fuse. Swapping out the fuse in the 12v plug/cable was easy enough. I cut the connection I had made initially from the battery adapter to the switch, and ran the 20v battery into the 24v leads to the converter, then ran the 12v output from the converter to the switch.
This setup can hold up to a 6ah Dewalt 20v battery which will easily power my fish finder all day. Everything ran about $85 total. There are lots of options out there for battery boxes, but this was a great solution for me as it is SUPER flexible in charging a variety of devices, and allowed me to utilize batteries I already owned. One note - I've read that this type of step-down or buck converter will draw from the battery even when there isn't a load so it's common to have a switch between the battery and the converter. I opted to not install one as I won't slide in a battery unless I'm ready to start using it.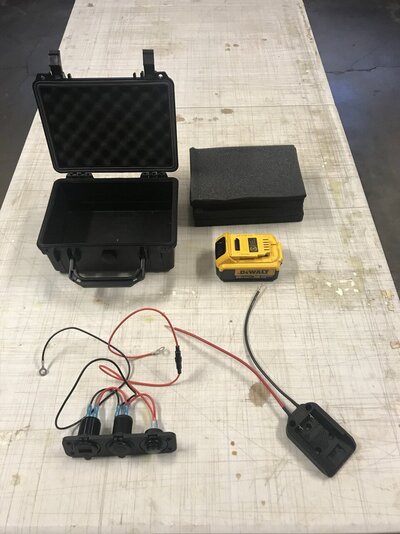 Last edited by a moderator: