One of the things you learn quickly about using a pedal drive kayak with a rudder is that time and space are required to turn. This is because the rudder needs you to be moving before it can provide any turning force. One way around this is to vector the propulsion, adding an electric trolling motor that turns would be an example, Hobie sells a ProAngler360 in 12' and 14' that use a mirage pedal drive that lets you rotate the fins to change the thrust direction.
Another approach is to add thrust to the rudder, this is what I went with. I added a pair of brushless ROV thrusters to the rudder of my Hobie Outback while still allowing the rudder to retract up under the hull to avoid obstacles.
The build went really smooth, lots of details on parts used are in the video, I ran everything on the outside of the hull, no holes required except in the aluminum rudder from Snipe Air Industries. Using a pair of 12Ahr, 12V LiFePO4 batteries, looks like Pepper and I can go 3mph for probably 3 to 4 hours, plus turn on a dime. (Going to 16V would increase thrust by 50%).
On the water testing starts about 5m05s and I do a '3mph U-turn' about 6m40s, that was real sweet. cheers, roger
PS- any non-human propulsion on any sort of boat in OR requires registration, I would exempt electric propulsion under like 1hp but that's just my opinion, so I went through the process and got mine, not a big deal.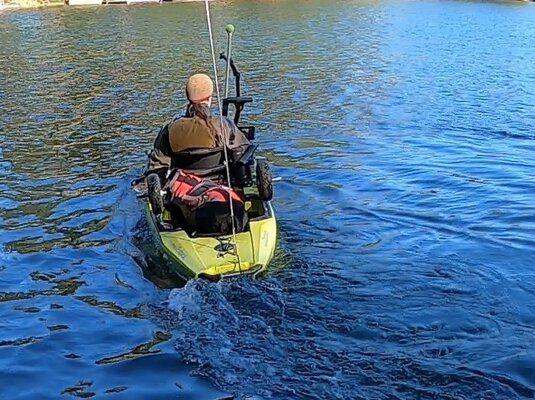 Last edited: