metalfisher76
Well-known member
Joined

Aug 17, 2009
Messages

1,055
Location

pdx oregon
Josh and I grew up hammering each other on the football field. As time doe`s to folk, we drifted into our own worlds. Well when his boy Alex (whom you met last week) came up, his Mom saw it an excellent opportunity to get Josh and I out in the "field" together again. My brother knew him well too, so he tagged along, of course! So Josh took Monday OFF and we headed out for springers. Brotha Bob landed the 1st after Alex had missed the 1st bite. Josh was hot on his heals and was handling it well, only having fought fish from a boat. I was so excited that I never even thought of the camera
for this fish. We got to the next hole and WOW!, let there be fish. Alex got us going again with a nice lil spring run.
The action shot: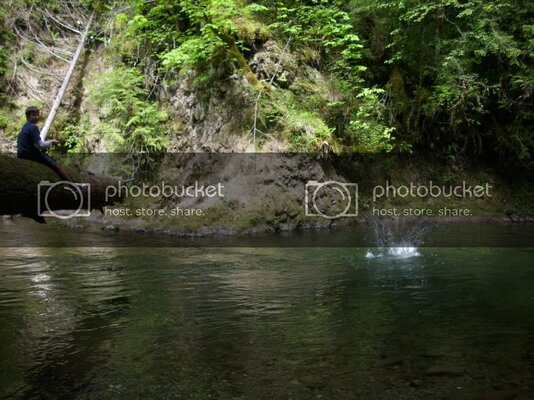 In case ya`ll are wanting to go to THAT hole, I was there the very next day, NOTHIN! Walked up from there with very little seen, so I`m guessing they fell back. FYI!
Here`s Alex with his limit: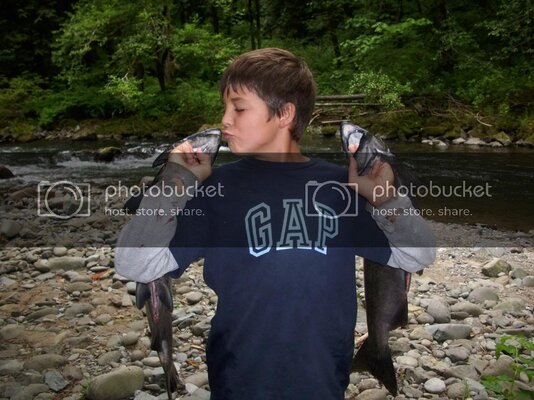 And him and Josh with our limit, minus the 2 bleeding up top
: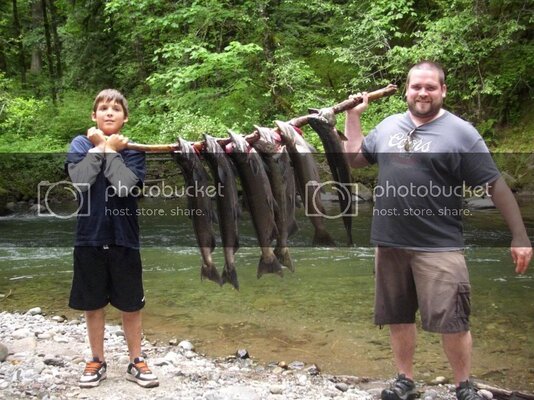 The water soooo frickin low! Black and purple are crrrrrrrrrrushin right now. Was up again with dad yesterday: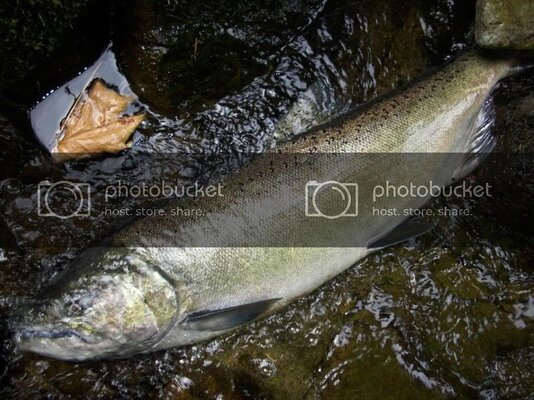 Purple!
Dads: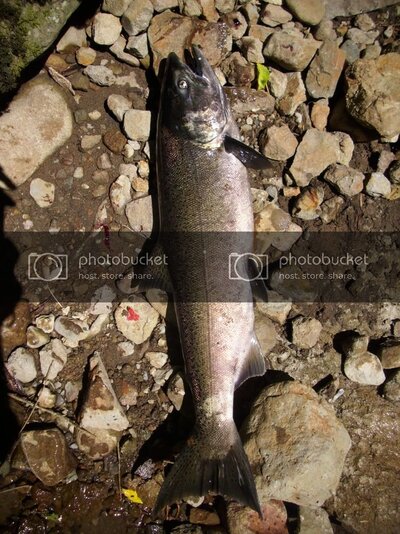 Black! Plus the only other 2 fish in that hole slammed our stuff, but we missed. Then the bite was OFF, weird:lol: So we headed over to the Sandy up by Revenue. No hits in the hour I fished it but was joined by an egg thrower who had been doing well over the past week. FYI!
Ran into some neighbor kids from the area having some fun of their own!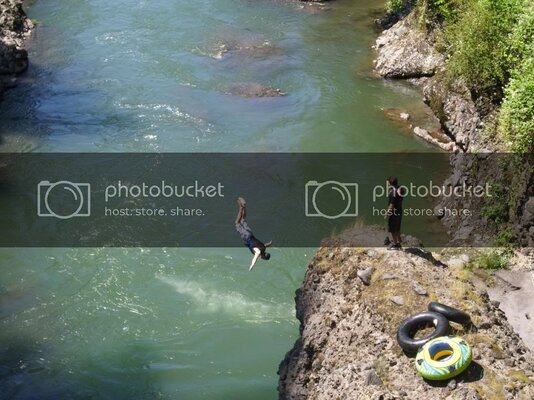 It`s been reel, it`s been fun! But it`s time for change of scenery and pace. Springers are big and strong, but don`t have the energy, acrobatics and headshaking madness of the summer run I will now be pursuing. Not that I`m totally done with `em, just need a new push and some summer fun!! Get out yer black and purples and go to the crick. Or yer eggs and head for the Sandy. It`s approaching peak season on the upper stretches.