Finally made it back out fishing on Sunday, man was that a wild, windy, wet day!
I launched at Jefferson street ramp which I had never done before. That is a really nice area. It looked really bassy so I spent the first 3 hours tossy a crankbait and a spinnerbait but only managed two bass. It was really tough to control the kayak and fish with under those blustery conditions. I definitely look forward to exploring that area in the future under better conditions.
After giving up on the bass I decided to break out the sturgeon rod. I marked fish near Elk Rock but the wind, current and waves made me leery of trying to anchor there. I decided to try to head upstream in hopes of finding a bit more sheltered area. It was a struggle to get up the river between the current and the wind:
https://www.youtube.com/watch?v=FLF42-yFDD4&feature=youtu.be
I am happy to say that they sturgeon rewarded my efforts. The first spot I fished was at the top of a relatively deeper hole. I had not marked any fish but the spot looked promising and I was tired of fighting the wind and the current so I just dropped anchor.
After a couple of minutes I thought I was getting a bite, but it was so soft and I was bouncing around so much in the breeze it was hard to tell. I focused as hard as I could feeling and watching my rod tip. Yes, I am sure that is a bite. I reel down and set the hook and felt the pull of a good fish. As I dropped off anchor to fight the fish I see my line coming up - SPLASH - big jump. Then, just as I get turned around it came out of the water a second time. Finally, as I get it to the side of the kayak it comes completely out of the water for the third time. It was a nice sized keeper! I tried to get a picture but it jumped off my lap before I could get the camera. That was one hot fish!
After that it was a fish about every 20 minutes but they were just shakers until even they stopped and I started getting bites from junk fish (stripping the anchovy chunks to the bones). It was interesting sitting there on anchor with the weather changing every ten minutes: howling wind, calmer period, horizontal rain, sunshine.
After the junk fish I started biting I pulled anchor headed down into the deeper part of the hole and re-anchored. I immediately got bit but it felt like a small shaker. This guy was a surprise: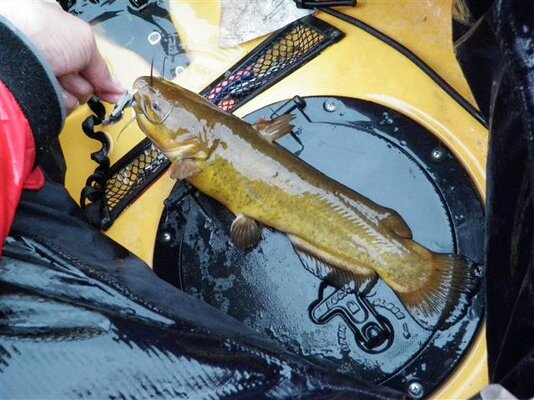 Decent sized for a bullhead. Next drop I felt a very light tap, tap, tap that I could barely detect with the wind and chop. I set the hook and it was a monster.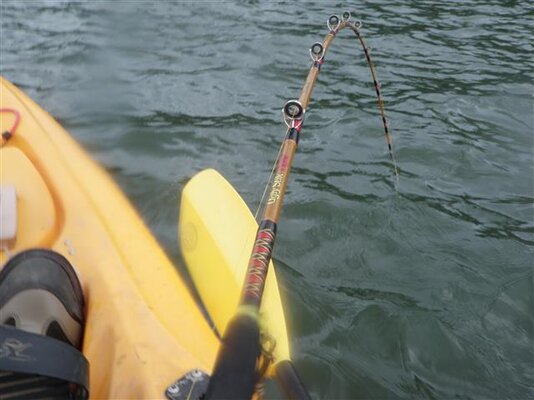 It just sat there shaking its head and rocking my kayak back and forth. Then it took off. My line broke after 10 or 15 minutes of screaming runs and monstrous head shakes. I should definitely re-tie more often.
Bummed, I made my way back up to my float. Fortunately, it was just lights out fishing for a couple of hours after that. The steady strong wind of the morning died down to a lighter wind and it was cool catching fish in the mix of sun, rain and occasional wind gusts. I ended up catching 13 off that spot with 6 keepers and one borderline oversized. The interesting thing is how light the all the better fish bit. It was tough feeling them when the wind was up and it was choppy. Certainly I tend to find the better fish bite softer, but they seemed extra delicate on the bite and extra crazy on the fight yesterday.
Nice keeper during a sunny period (can you tell I wanted to catch more bass):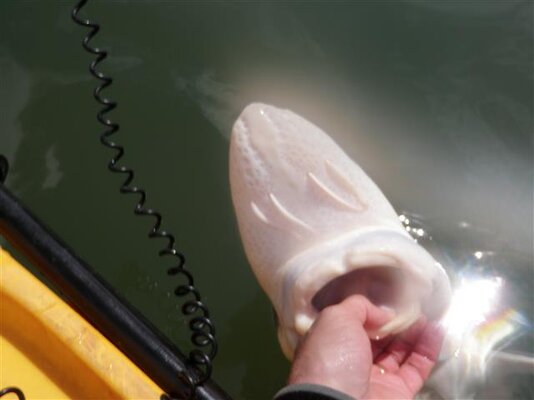 Borderline oversized with gigantic nostrils during a brief calm: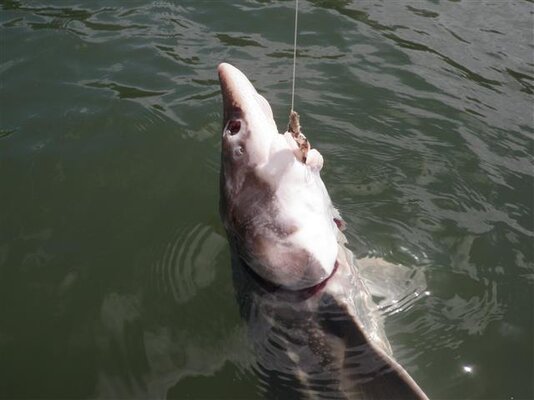 Eventually the bite had died down. I had noticed that all the bigger fish I caught had dragged me even further down into the hole from the spot where I was anchored. In fact the only time I marked fish all day was while I was when I was fighting fish. So I made one last longer cast downstream and immediately caught a fat 42" keeper. Once again that fish put up a great fight, jumping once and then almost jumping off my lap during this picture!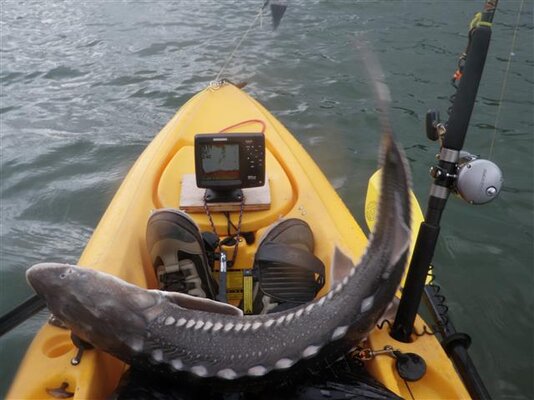 I think I could have kept backing down that hole and catching fish till my arms fell off, but it was time to get home.
As I made my way back downstream towards the ramp the sky blackened and it started pouring buckets. Then there was a big bolt of lightning and a crash of thunder. I am not going say that I was highly motivated to get to the ramp but how many times do you see a kayak on plane throwing up a roostertail
Finally made it back to the ramp and unloaded in the downpour while some boaters waited out the storm in their rigs to both take out and put in. Overall, what looked like it was going to be a miserable day ended up being a blast (and not just of wind).
Last edited: