Met up with Kirkster this morning and boy did he work me over. :lol:
There were multiple trip across the river (some of them pretty dang treacherous), some climbing through bushes and over trees and I lost my favorite ball cap. Kirkster was nice enough to kick down the rubber band he used to secure his rod so I could pull my hair back. I would have looked pretty scary otherwise. :shock:
Young Buck caught up with us shortly after we hit the water. He sure did make those crossings look easy.
Kirkster said I did pretty good for an old chick (41)
but I forgive him since I came home with a nice fish.
All that said, I totally had a great time, those 2 were a lot of fun. I'm definitely down with fishing with either of them again but I'll be dipped in "you know what" before I go to that hole again. Kirkster seriously had to grab me and keep me from falling several times on the way back. I hit a couple of spots where the river was just too much for me. :redface: Thanks again, for real.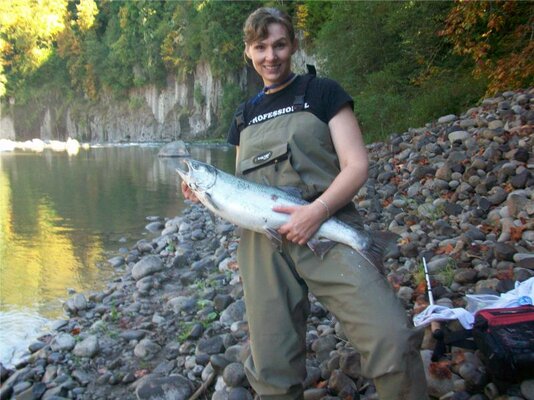 We now return you to your regularly scheduled program.