Ok, so I will try and make this thread as too the point as I can. Sometimes that is difficult for me. I tend to not really ramble, but perhaps give mroe detail than is needed and/or make things more wordy than is needed to get the main point across.
So:
Brandon
Me
Saturday 28th
Fly fishing
bigger fish (trout)
new scene(s)
new area(s)
single day trip
3 hour drive one-way max
Suggestions?
Ok, so I think that about does it. Now, if you want more detail, then read below:
So Brandon and I have been trying to go fishing for a while now but can never seem to coincide with dates, times, and locations. It appears that this Saturday will be possibly one of my last opportunities to go fishing for a while. My wife is pregnant and due in October with a little girl
clap: :dance
. She stays home and takes care of our other kids but that is beginning to become more and more difficult as her pregnancy advances. So Saturday's really are a day for me to watch the kids for the whole day, take care of the needs of the house, and just let her relax and get some much needed rest. But Saturdays are also the only day that I really can go fishing. And to make it worth my while, I usually go fishing the whole day saturday (4am - 8pm), because I only do it about 1 - 2 times (sometimes 3) per month.
So, we (Brandon & I) are trying to plan something for this Saturday. I have a few criteria that I would like to try and meet if possible and was hoping to get you all's input on it.
Brandon and I each fish small streams and do quite well in them. We usually get into nice cutties and bows, all wild, on these small streams. But I would like a change of pace. Something to go out with a bang! :shock: I am not saying that I don't like fishing for small stream cutties. I think that will always be my passion (for the moment). But I think I would like a change of pace for this trip.
So if we could go somewhere different, somewhere out of the normal thing that he and I do, that would be awesome!!
I am really hoping to get into and/or go after some bigger fish. I remember one particular fish from our Deschutes trip last October that was a blast!!! This fish really fought hard, went out into the river several times, and was a blast to bring in!! If I could get something like that again, man!! What a memory that would be!! Here is a pic of the fish from that last October trip: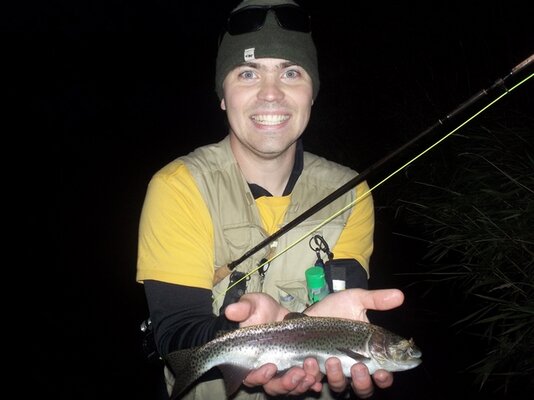 I am hoping for the following:
Get into bigger fish (I know that it will all depend on our skills, etc. But having a higher possibility of getting into a bigger fish, one that will actually pull line off of the reel, is better than not having that possibility at all!) The little streams we fish usually have fish from 3 - 12 inches. If we get a bigger one, typically they are not very strong so don't put up a big fight. There are obviously always exceptions to this but in general, that has been my experience.
New area to fish. We usually fish coastal streams and rivers. I am down to fishing a coastal stream/area but am looking for something new if possible. New scenery, new water, new area, etc. I was hoping for somewhere in the cascades area.
It is going to only be a single day trip.
I live about an hour north from brandon. I have to pick him up and then drive us to where we are going. I don't want to spend more than 3 hours (4 absolute tops!!!) driving one way. So from salem we could go another 2 hours (3 tops!!)
We will be fly fishing. I have no steelhead gear so that is out of the question for me. I have a 9' 5wt and a 7' 3wt. Brandon has, if memory serves me well, a 4wt, 5wt, and 8wt.
Needs to be primarily streams/rivers. I no longer have a float tube as I gave mine to brandon 'cause he uses it more than I do. So large lakes are really out of the question. I wouldn't mind doing some smaller lakes as long as they have a stream/river feeding into or out of them.
Would love to hike into the area but not a necessity.
So I think that is it. If any of you have suggestions, I am open to any ideas, even if they don't fit my hopes as mentioned above.
Thanks to all and have a great day!!
-Spydey
P.S. Feel free to PM me if you have an idea but don't want it to go "public".
P.P.S. I kind of had a list of possible areas:
Eagle Creek (Gorge)
Eagle Creek (Clackamas)
Salmon River (Sandy)
Zig Zag River (Sandy)
Upper reaches/forks/tribs of Clackams River
Upper reaches/forks/tribs of Santiam River
Upper reaches/forks/tribs of Willamette River
Upper reaches/forks/tribs of McKenzie River
Anywhere else you all can think of?
P.P.P.S. I know that all my "criteria" above is primarily for trout waters. But I have kind of had a nagging to get some bass lately. So that is in my scope of options too.
Last edited: