Reedsport
Lets make a short story; long.
A guy who I do most of my fishing with, Rick, well he's gone for 9 days to some ******** Burning Man thing in the desert or something. His loss.
Anyway, his sled is for the most part my ticket for chasing early fall fish in the tidal waters, and I made sure he gave me his keys before he left. :clap:
I now was in the need for a co-pilot, so I enlisted the help of alseaalumaweld (Jake)
Jakes from Newport, so I left the residence at 3:30 this morning, 45+ minutes later Jakes loaded up in Waldport, and down 101 we go; Reedsport at 5:30 even. Honestly, shorter drive than I remember.
Hop into the launch circus, boats floating, we're rigging, lights turning, and we're fishing. Simple.
Out going to start, tide swap was to be around 8:30 in the morning, and we troll just below 101 to the big bend and beyond. Fire the pump up, jet back up to just above the bend, set her back down, troll. Mid conversation with Jake, his rod buries; FISH!
I stand up and knock the kicker out of gear, reach to retrieve my gear while keeping an eye on his dancing rod, he lifts from the rod holder, and a horrible POP, Jake looks baffled, I am baffled. The braid mainline broke, above the flasher! wtf-right?
Any of the up river boys who tag a fish, with a flasher in chase, contact alseaalumaweld for shipping instructions
Flop the spare rod out, and troll; finish the run, and pump back up to above the bend. By this time, the bite has clearly turned on, fish rolling, nets scooping, fish dying. Its a fun thing to watch.
Anticipation is high; boat directly in font of us: fish on! Reel up our gear, turn 90 degrees, courteous fisherman.
Drop gear just around him, troll. Glance at my rod: It buries! Fish on! This one sticks, and my braid doesn't break :lol: Fun little fight.
And this one you dont have to envision, it ends up nose down in the bleed bucket.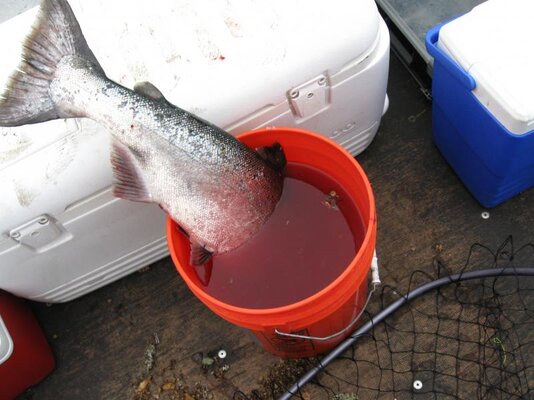 Fun day on the water. Lots of fish to be had at that first swap. After about a half hour of incoming it was game over, and we didn't see a single net move from then on.
The fish were done, the salad was in, so we called it at 2pm.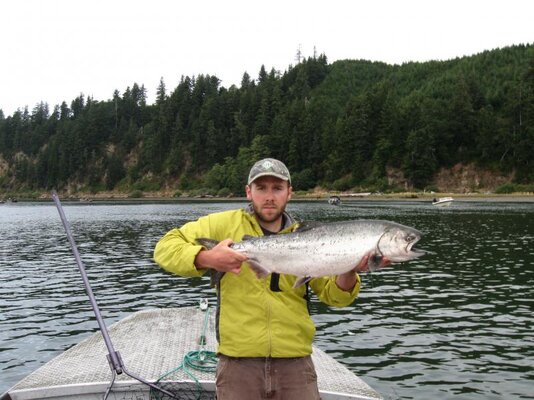 Last edited: