Well-known member
Most Featured
I had a great trip on the Willamette this past Sunday. I posted that report on the Willamette page since I accidentally caught an 8lb 3oz steelhead.
Yesterday I went to Hagg and got my butt handed to me. 10 hours on the water for 4 bass (1 largemouth and 3 smallmouth). Fish were in the pound to pound and half range.
Part of my problem was the failure of my master plan. Before my Sunday trip I went ahead and spent $15 for a one year subscription to the Navionics app for my phone so that I could use it while fishing. I know I could use the web page but the app is nicer and seems a lot faster. That worked great and I highly recommend it if you don't have great maps already.
My plan on Sunday was to do the same thing at Hagg. I trout fish there a lot but have not done a ton of bass fishing and don't know the lake all that well. I was going to use the app to get in the general area where things looked good and then fish and map out those areas on my FF.
Joke was on me. No cell service while I was on the water and the offline version of the app only has the outlike of the lake. That was a bit of a punch in the gut. I would have prepared a lot more carefully had I realized that.
So I decided to fish the areas that I knew the best. A nice shelf/gentle slope out to about 10-15' deep with a sharper drop into 20-30'. There is good grass that grows most to all of the way out to the steeper drop.
Seemed like pretty ideal water and there was nice cloud cover to boot. I started at ramp C and quickly went down to the spot that I liked. I fished a little along the way but just a couple of quick casts here and there.
I started with a topwater even though I did not see any surface activity of any kind. I threw that for about 1/2 an hour changing styles a few times and decided it was not going to be a topwater day.
I picked up a jerkbait because some days the bass seem happy to kill things near the surface but don't want to eat a topwater. I began making casts covering from the visible weed edges and fanning out to deeper water.
OK, it is not a jerkbait day either. I then went through a plethora of hard baits selecting deeper and deeper running lures as I worked over the area.
OK, it is not a hard bait day. I figured I needed to break out the soft plastic. So I picked up a Ned rig and within a dozen casts I catch a smallmouth out of a weedy area. I bought some of the Ned rig heads that have the 2 wires to make them weedless and I will say that they work great in reducing hangups in weeds and rocks.
I thought, OK, now we are cooking.... 2 hours later.
Still fishing the Ned rig. Occasionally think I may have had a bite, but nothing to show for it. I decide maybe the thing to do is throw way out past the weed edge into the 25-30' water and work it back in. After about 10 minutes of doing that I feel my lure just get to the weed edge when I see my line jump. I set the hook and catch this nice little largemouth.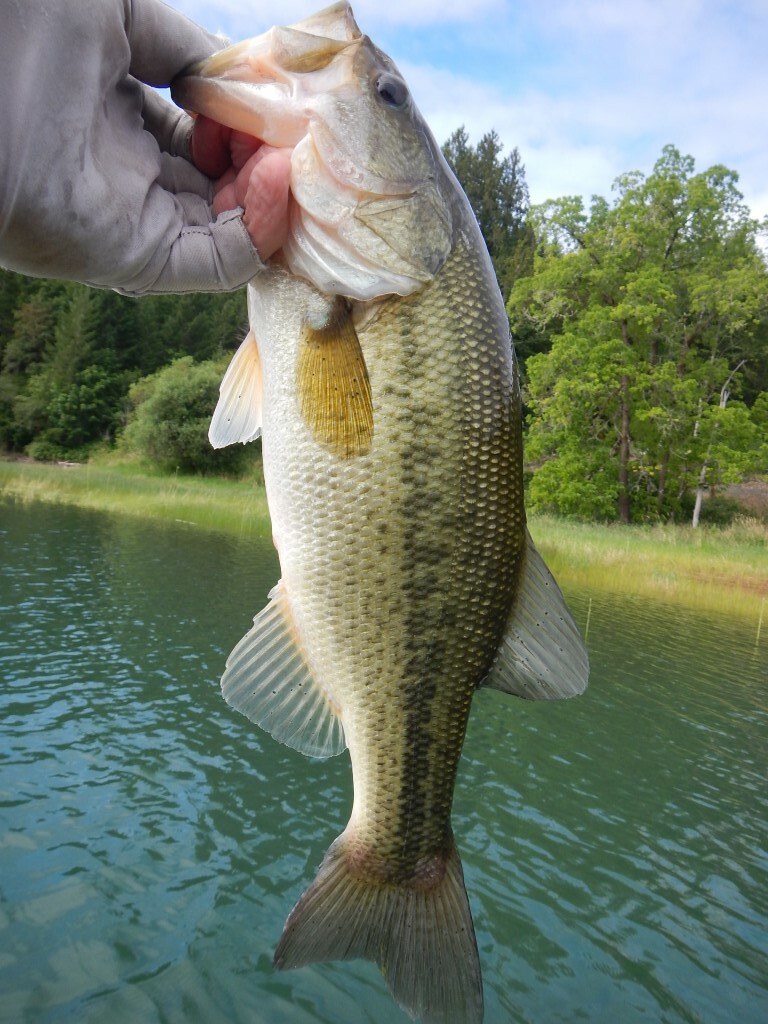 I think, OK, maybe this is the deal - it was not the deal.
After 4 hours of hard fishing with only 2 fish to show for it I decided a change of plans is in order. I decide to head up past boat ramp C and fish any main lake points that I can find that have grass on them. That was always a good summer strategy in PA and NC. I put down the Ned rig and pick up a Carolina rig because I feel that is the best way to quickly cover water with soft plastics and I was in full search mode.
For this type of fishing I love a 4" dead ringer. I have caught a lot of big fish on that little lure and of course smaller fish like it too. I just wanted to catch something at this point.
On the first grassy point past Sain Creek. I am working through the weeds and I connect with a skinny smallmouth, but hey it felt so good after the long drought.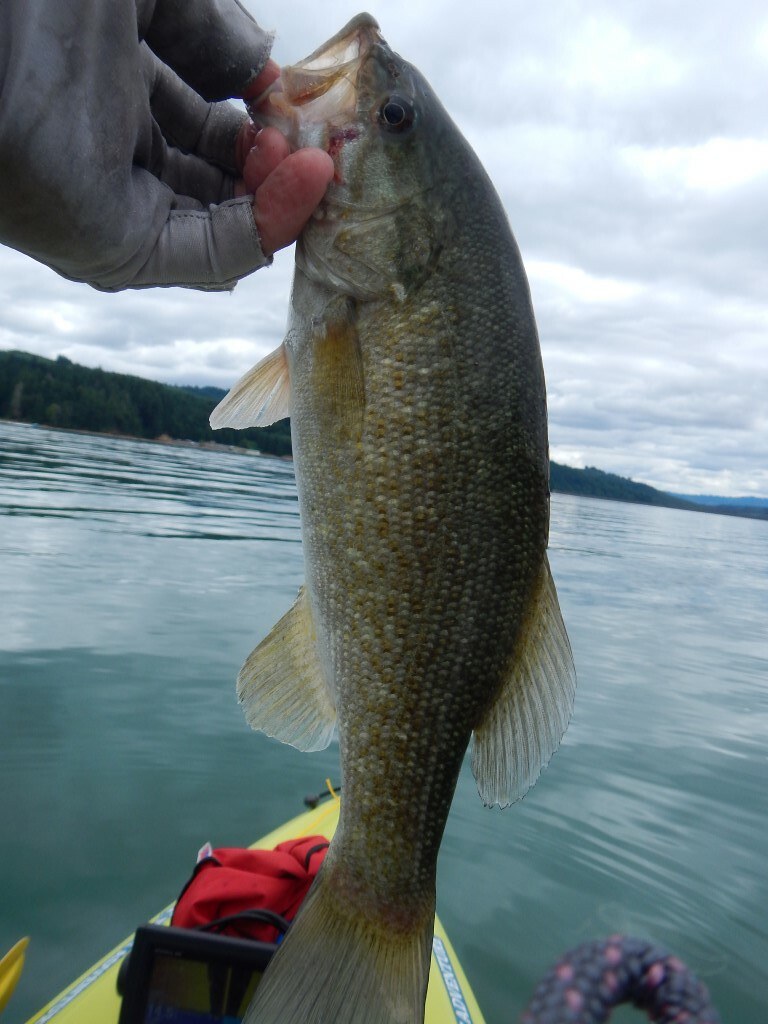 I picked up that fishes twin after working that area for another 15 minutes or so. Once again I was thinking I had figured something out but once again that was a big nope.
In desperation, I decided to pedal down to the dam. I figured that there had to be smallmouth along the dam. I tried cranks, jerkbaits, Ned rigs, Carolina rigs. The most action I had was retying after hanging up. I couldn't believe I that I couldn't scrape a bass off the rip rap.
About half way down I completely threw in the towel and picked up my ultralight and went panfishing. That was pretty fun. Plenty of nice bluegill and a bunch of 6" smallmouth which are fun on the UL.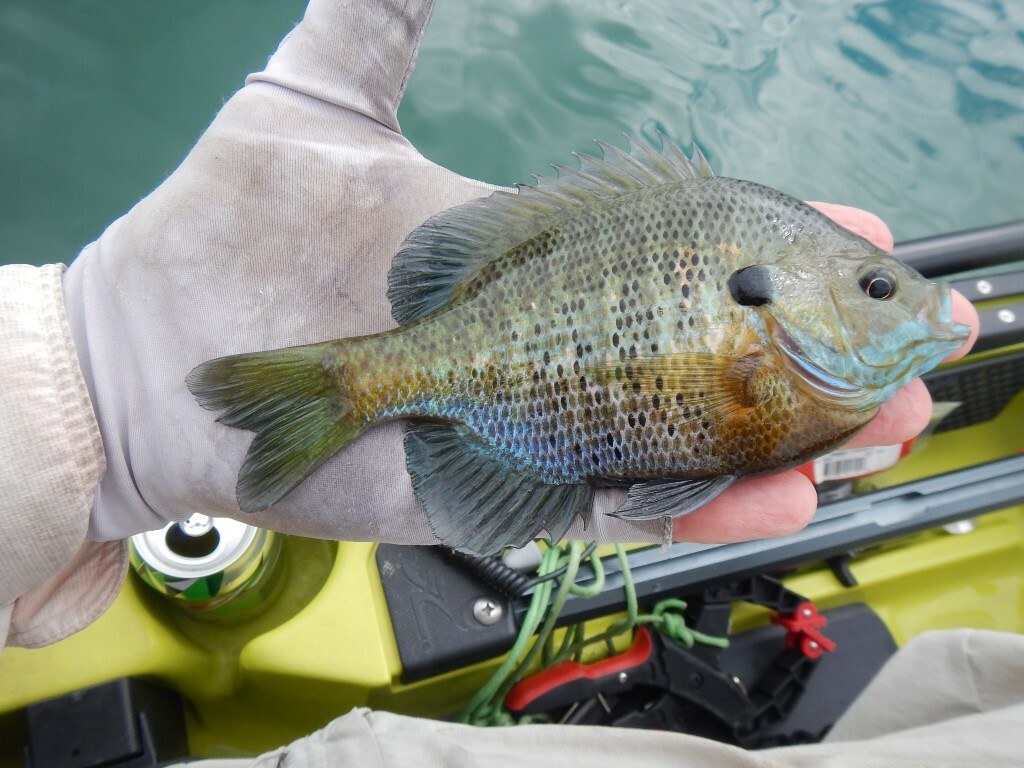 When I got to the far edge of the dam I decided to try and hit a few points quickly on the ramp A side on the way back thinking that maybe the more vertical structures were holding bass but of course, that was just a bit more casting practice.
I pedaled back to ramp C with my tail between my legs.
However, I will say that while having a crappy fishing day on Hagg stinks at least you can pick up some fried chicken from the Lakestop store on the way home! Fried chicken definitely helps with the pain.
So I have to ask, did I fish stupidly? Wrong structures? Wrong covers? Any input is appreciated.