The bass fishing on the Willamette is just plain insane right now for numbers of bass. I have launched the kayak out of George Rogers park the last two weekends and my arms have been tired by the end of the day.
On Sunday August 28th I am sure I caught over a hundred bass. I caught my 50th at 11:26am and stopped counting after that. My best streak was 7 consecutive bass (on 7 casts). Several times I had a fish on and lost it part way in and had a second fish grab the lure.
I caught the bulk of the fish in 10-20' of water on a drop shot rigged 3" senko in a brownish color. I also caught some fish on a Luhr Jensen crankbait, on a sppinnerbait and on a shallower running crankbait. It seemed like everything worked, but the drop shot just worked a bit beter. By the end of the day the gearing on my spinning reel was sticking pretty badly (just needed a re-lube).
I started the day throwing a topwater and first the first 20 minutes I did not have a strike. I switched over to the drop shot and started hammering fish right away. I am surprised I could not get a topwater bite, but maybe I just was not holding my mouth right
It seemed like every rockpile I would find with my sonar held hungry fish. Some held a few and some held a bunch. I was using just enough lead to barely reach the bottom. I think that is really helpful. In the past I often used a heavier weight and would get hung up fairly often. I only snagged up one on Sunday.
The fish were not huge with a bunch of them being only 10-12", but I had enough 1.5 to 2lb fish to make it fun and my best for the day was a 3lb 4oz bass that put up a great fight on the spinning rod.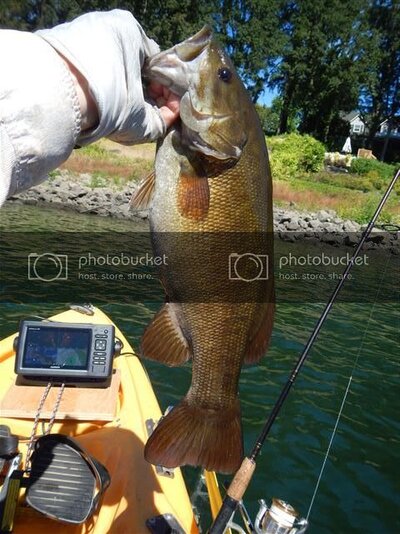 Here are a few more fish just showing how much they vary in coloring. I always find it kind of amazing.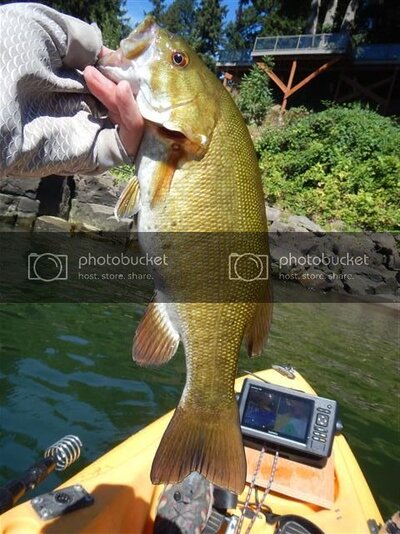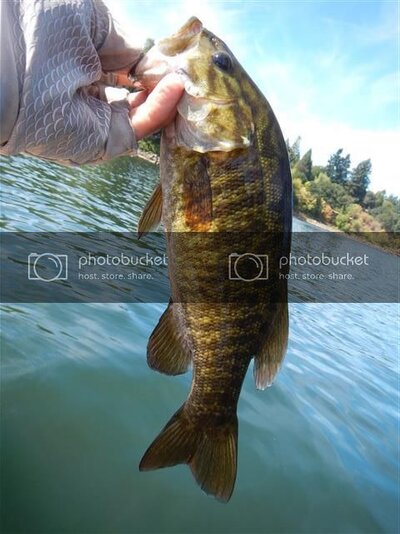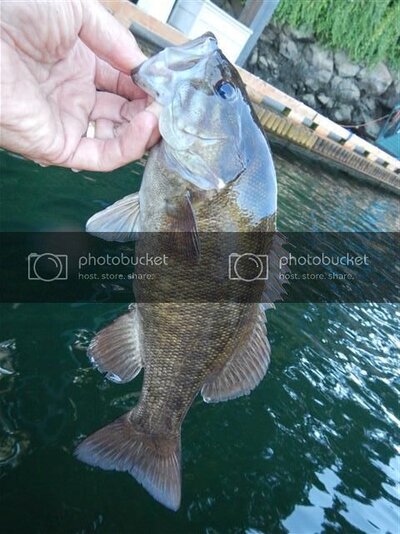 I am guessing that these folks treat trespassers pretty harshly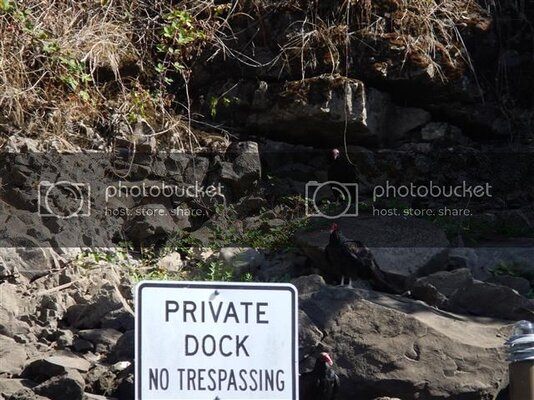 I also feel like my new FF helped my find and stay on the rockpiles with great efficiency. I got a Garmin Chirp 73SV and I have to say my only regret was not getting it sooner.
All week long I was chomping at the bit to get back out there and I launched again on Sunday, September 4th. I decided during the week to try and fish the spinnerbait more to see if I could improve the average size a bit.
That turned out to be a good call. I definitely caught more nice sized fish and I spent less time unhooking 10 inchers. The pattern was more or less the same, but the fish seemed more aggressive - coming up out of deeper water to hit the spinnerbait that I kept in the top couple of feet of the water column. I love fishing like that because you often get to see the bite in the clear water.
The spinnerbait fish were all nice chunks: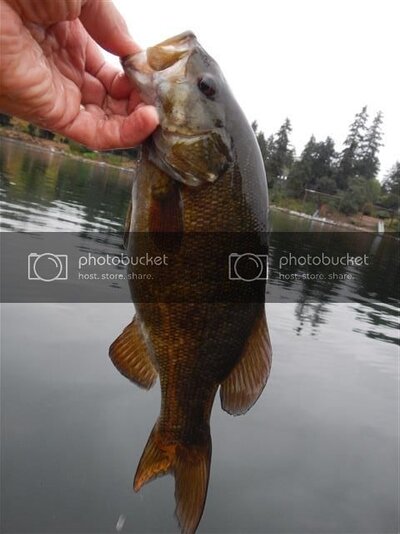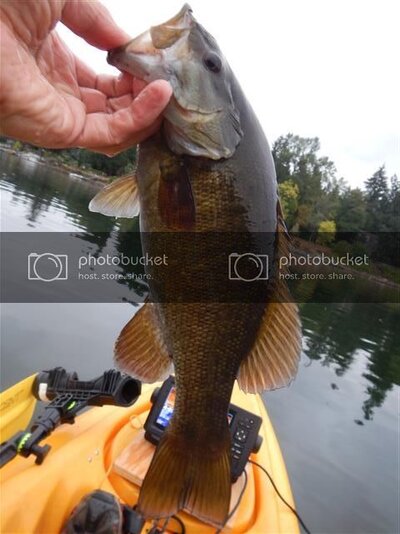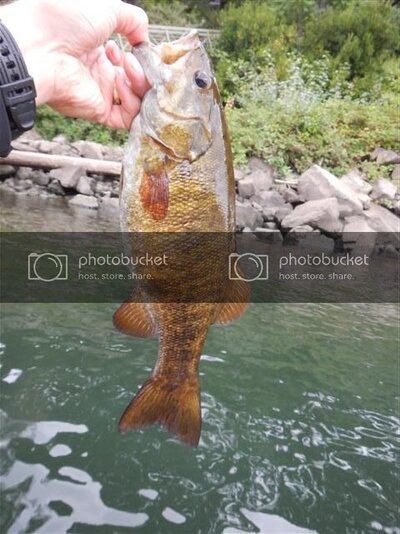 I caught my first 15 bass on the spinnerbait, but then that bite seemed to slow a bit so I switched over to the drop shot and started picking up fish. The action was not as fast as the previous week but if I had not fished the previous week this would have been my best day ever (ended up with 58 bass).
Shortly after I switched over to the drop shot and young fellow name Jock (not sure how to spell that) paddled up to me and asked if he could fish with me. He was from South Africa and had emigrated to the US when his father's work brought the family here. He is an avid fisherman but not as familiar with US fish.
I showed him what I was using and how I was fishing. I even gave him a spinnerbait similar to the one I was using. He like my depthfinder and I explained to him what I was looking for. He stayed reasonably close, but not crowding for 4 or 5 hours. He caught some bass, but I think he just needs to get some practice with fishing a drop shot.
A bit after noon we got to one of my favorite humps. It is really large and I usually spend a fair bit of time zig zagging around it and fishing it from several angles. I realized on huge benefit of having the FF was that Jock would often drift off the hump and be in 50' instead of 6-10'. He did fish hard though!
I switched back over to the spinnerbait on that hump since it is a large structure and I caught my best fish of the day (2lb 8oz). Not a monster, but a solid fish.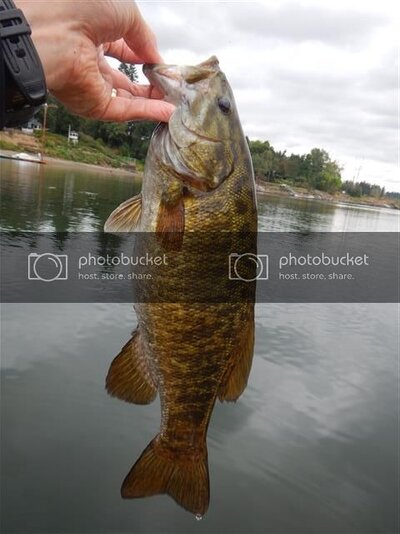 I picked up a handful of nice bass on the spinnerbait and then the bite died. I stayed on the hump and switched over to the drop shot and started picking up fish. My take was that there were a good number of active fish, but a ton of neutral fish on most of the structures.
Eventually we worked our way upstream to some deeper water (steeper shorelines) and the bite was good there on the drop shot. Eventually Jock left for home but I kept fishing. Eventually on a deep flat (rises to about 16' from 50') I found a huge school of bass. They were all along the edge of the flat. I caught fish after fish from that edge. The FF was again key. Pretty much every time I hooked up I would get pushed off the spot between the wind, boat wakes and current. I had set a waypoint on the spot and I was easily able to get precisely back on that spot.
My Humminbird 597 had a GPS, but it was not very accurate. The Garmin unit seems really precise.
It was getting late in the afternoon and I brought some sturgeon bait since that part of the river had opened up to sturgeon C&R fishing on September 1st. My big mistake of the day was to spend the next hour mapping the bottom rather than fishing. Garmin has a Quickdraw feature that re-writes the topo maps live while you are on the water. I decided that mapping the bottom would be interesting since I was not sure if the sturgeon would be cooperating. The stupid thing is that I was doing this on the outgoing tide (best for sturgeon in the spot I was going to fish).
Eventually I finished mapping the area I was interested in and dropped anchor. I was not expecting much of anything but I was quite pleasantly shocked when within a minute of casting out I had a good bite and it was game on!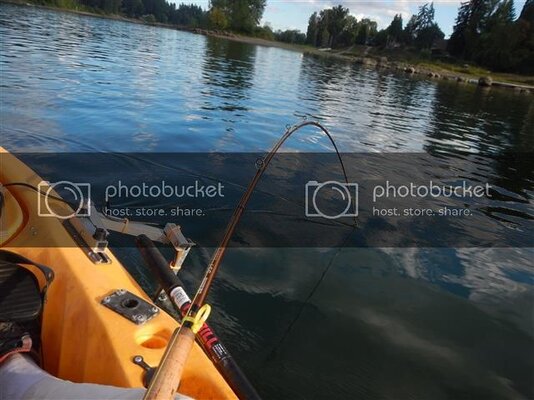 Man that fish fought like a demon. I was sure I had at least a 6' fish on. That fish pulled me around at 3mph upstream at some points! In the winter they may be a bit sluggish, but this fish definitely had some speed and each time I got on top of the fish it would take off on a pretty blistering run.
However, after about 10 minutes I was able to get the fish to the side of the boat and I was shocked that it was only 52".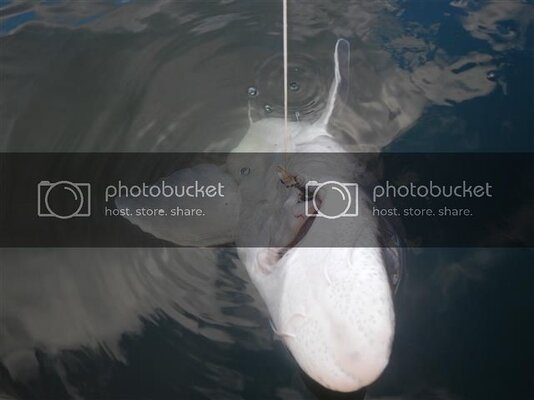 I made my way back upstream to my anchor buoy and noticed that the current did nto seem as strong. I quickly re-baited and cast back out. This time I probably only waited 30 seconds when I had another screamer on. Similar story to the first, after a long fierce battle I was able to release a 50" fish (and get a nice shower in the process).
I zoomed back to my spot and immediatley hooked a third fish, but this one may have actually been bigger since the hook pulled out after 15 minutes and I was not even close to moving that fish off the bottom.
I went to my anchor buoy which was now just listlessly bobbing around. I cast back out and after 10 minutes I had a bite that I missed. I tried for a while longer but never got another sniff.
Exhausted, I made my way back to George Rogers park as the sun was setting. It was a long 12 hours in the kayak, but when the fishing is that good the seat sure seems pretty comfortable and the ramp does not seem that steep