Cute lil' feller! :lol: 1 fillet was a perfect size grilled on the BBQ for the wife and I! :dance:
DAMMER!!!
....he was good eating!
One of the smallest adult steelhead I have ever caught! 21" The cork on the rod in the photo is 19". I know that I caught a 19" winter run on the North Fork Alsea once back when anything under 20" was considered a trout, got to take home 3 steelhead that day! And I know back in the day we caught some small ones on the Chetco that were small but not true half pounders. This guy....he ranked down there with the smallest! He was still very scrappy on a light leader and made for an excellent dinner!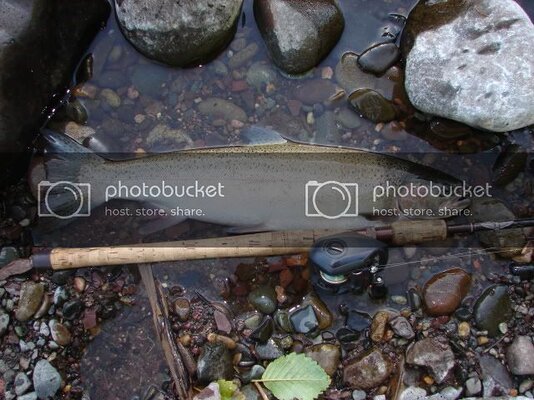 A pretty fish from last week. On a side note, the rod in the photo is a Fenwick HMG graphite rod I bought new for $120.00 in 1981, 30 years old this January! I added the Shimano Bantam black magnum reel in 1986, a workhorse of a reel! You can't even imagine how many fish this rod has caught in 30 years! :clap: