Some days are just special, days when your luck is flowing strong and you feel invincible. The day started off great, when I got to the bridge of the gods the attendant was on break so I started out with a $3 savings. I should have guessed at that point that it was going to be a special day
I got to the ramp by around 6:15 and was launched about 25 minutes later (I am dreadfully slow getting set up in the morning). My buddy was already on the water fishing a spot we had pulled 10 fish off of the week before. I hurriedly pedaled over to him expecting a stellar report but was instead me with the disappointing of no bites at all.
We fished that spot from up shallow to out deep for about an a hour. That was not the start we were looking for so we finally gave up on that spot and started testing other waters. We were starting to get a not so great feeling for the day. Someone on shore asked me if I had caught anything and I said "Not yet but it is that part of the movie where the tension is building".
Just a short time later, chucking and winding, I finally connected with my first fish of the day a nice 2lb 7oz smallie.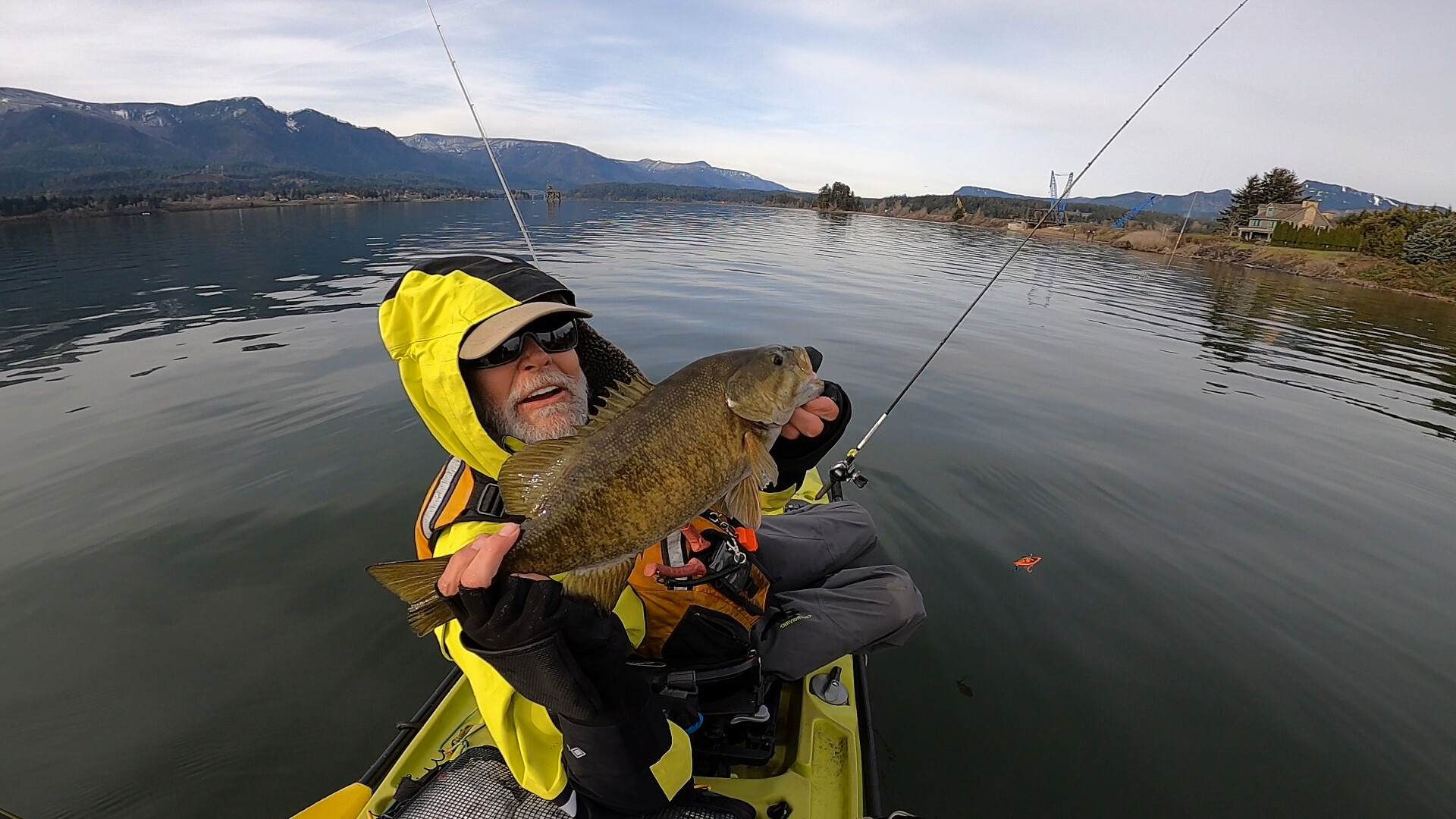 I was stoked not just to catch that first fish but how aggressively it had struck. There was no mistaking that bite. It even managed a half-hearted jump. That gave me confidence that the fish were around and we just had to find them. We kept moving along and covering water. A short time later my friend had a hard strike that bit the tail off of his swim bait. That is really weird because we both throw Zman swimbaits and they are nearly indestructible. A cast or two later I had another solid strike and landed a respectable 1lb 15oz smallmouth.
My friend then had another swim bait get its tail bit off. That was really bizarre. If I was in PA I would said it was a pike or muskie, maybe it was a walleye. Once again while he was re-rigging I got my 3rd bass of the day (and my smallest of the year) but still a fun little 1lb 5oz fish.
After a few more casts without as strike I put down my jackhammer stealth (which is what I caught those first 3 fish on) and picked up my rattletrap. My first cast with a rattletrap and BAM, I had a hard strike and I told my buddy that this was a good fish. She started coming up like she was going to jump and I jammed my rod down into the water to keep her from succeeding. After a tough battle I slipped the net under a beautiful 3lb 9oz smallmouth!!
My adrenaline was now really pumping. A few casts later I picked up another small 1lb 5oz bass. The interesting thing is that the spot we caught all those fish from was nothing special. It was 6-8' deep and had next to no rock on it. I am not sure what was drawing the fish to that spot, but can't tell the fish were they are supposed to be.
We then hit a little lull and decided to get moving again. We started moving along looking for another pod of fish. After a short stint of that with nothing to show for it I decided to circle back and re-fish some of the water near where we had fished earlier. That turned out to be one of the best decisions of my life.
I had switched back over to the jackhammer stealth and was covering water when I felt a monstrous thump. I reared back on the rod and I did not move that fish an inch. It was like setting the hook on a boulder. Immediately I could tell this fish was a beast. I leaned on the that fish so hard and could barely budge it. I think I reeled my kayak to the fish rather than the other way around. I would gain some line and she would rip it back out. I am not even sure I was breathing at that point.
When I saw her for the first time I really freaked out. I new this was a monster. I pulled her towards my tiny trout net and scooped up nothing but water - I had missed. However, today was a special day and my good luck would not be denied. I pulled her back to the net and barely was able to get that big girl in the net. I was just stunned by the size of that fish. It was the biggest smallmouth I had ever seen. I put her on the scale and she weighed in at 5lb 14oz, just one meal away from being a 6lber!! That was a personal best for me.
I kept her in the net in the water and awkwardly pedaled over to my buddy. I had forgotten my measuring board and I really wanted to know her length. My buddy handed my his board and I measured her at 21.25". Definitely in the pig category.
I did not get a very good picture of her (I forgot to have my buddy take a picture with my digital camera) but here she is:
I think you get a better appreciation of her size in the video. After that fish we both went back to where I caught that beast and went back to fishing but did not pick up another fish from that area.
I decided that circling back was the order of the day and went back to where I caught my first fish and picked up a nice 1lb 13oz bass. The funny thing is that after catching that big fish I thought of it as a tiny fish. The bite had definitely slowed but we kept chunking and winding.
Eventually we worked our way back close to where we'd had our best success earlier in the day and were just chatting while we fished. I kept switching back and forth between the rattletrap and the jackhammer stealth. I made a really long cast with the rattletrap and had just turned the handle a few times when I had another really hard strike. I set the hook and yelled to my buddy that I another big one on.
That fish was way out there and I carefully worked it back to the yak and slipped the net under a 3lb 5oz fish!! That would be my best fish most days but today it was only the 3rd largest. When it is your day it is your day. My only mistake was not buying a lottery ticket on the way home
After that fish I went for a pretty long time without any action. I tried to focus on the kind of water we had success in but I just could not find another bite for quite a while. I have to admit that by then I was probably not fishing my best. I just kept thinking back on those big fish I had caught earlier. When I finally realized that I was not giving my best effort and decided to try to get my focus back.
I pedaled down to one of my favorite spots after watching a guy in a bass boat fishing it for a while. So instead of fishing the spot where I normally would I went downstream a bit to where it shallows up a bit to get into the 6-8' magic depth of earlier in the day. I kept throwing the jackhammer stealth since it seemed like it was the bait of the day for me. The funny thing is that the spot just felt fishy to me, and I had not had that feeling in a couple of hours.
I really focused in on the vibration of the jackhammer as it scraped over some rocks when I had another solid strike. I quickly landed a 1lb 12oz bass and got myself back in position. A couple of casts later I had a huge strike that just knocked a ton of slack in my line. I could not believe I missed that fish. On the next case that fish (or perhaps another) smacked the heck out of my jackhammer and I could tell this was another good fish.
After a nice tussle I slipped the net under a 2lb 8oz smallmouth. I was sure I was going to really start slaying them in that spot but that was the end of the action. Around then the wind kicked up I told my buddy I was going to start heading back and just hit some of the areas where we had success earlier in the day.
We fished a few spots without any luck when we got back to the magic morning spot. I ended the day catching a 1lb 12oz and another 2lb 8oz fish from that spot. It is weird that the last two spots that I caught fish from both gave m a 1lb 12oz and then a 2lb 8oz.
That was it for me. I ended up with 12 bass for the day, which is solid, but the quality was insane. My best 5 totaled 17lb 12oz which is over a 3.5lb average all topped off with that personal best 5lb 14oz monster.
Interesting observations from the day. I did not catch a single fish this week from a spot where I caught fish from the week prior. The water temp was a couple of degrees warmer (around 47-48F) and the visibility was probably about 2-3' except where one creek was flowing in and there the water temp was 44.5F and the visibility was at least 7 or 8'.
All my fish came from 6-8' of water. Now in all fairness that is where I fished since they biting there. My buddy did catch one fish deeper and that was a nice 3lb 11oz beauty. I did not even get a sniff in deeper water.
This was also the first time fishing for smallmouth where I did not even pick up my swimbait rod. My buddy through a swimbait a lot during the day but that jackhammer stealth (and the rattletrap) really seemed to calling the fish. The one interesting thing is that they both have a very high frequency vibration. My buddy did not do nearly as well with a normal jackhammer. I am not sure why that high frequency buzz was the deal on Saturday but I am just glad I lucked into it!
Here is my video for the day: