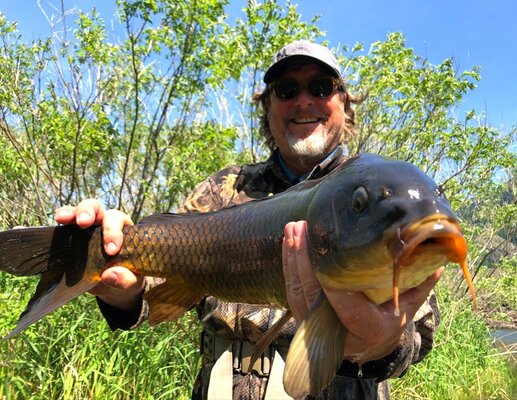 The idea of sight fishing for carp on the fly has been fermenting in my mind for quite some time. SciFly on OFF and I recently joined forces to try and bring that to fruition. His obsession for fly-fishing in general and carp fishing in particular rival my personal passion for catching smallmouth bass. We have been nibbling off bits toward this objective, trying for them in fits and starts in less than ideal conditions; but until this Sunday morning the timing of our available days, the gorge winds and fluctuating water level effectively stymied the objective.
Standing on the bluff overlooking one of the most productive bass sloughs on the Columbia and discussing the submerged terrain and tactics we would take on Sunday morning, we spotted the shadows of carp cruising the shallows in a wind protected corner. After some enthusiastic chatter and a short hike to water's edge the hunt for carp on the fly was on!
With SciFly leading the approach with my one blue eyed black dog by his side we waded 175 yards through stony shallows to a willow and grass fringed thigh deep marsh. Polarized sunglasses revealed a few carp in courtship behavior as they coasted together in tandems and threesomes, their propulsion gentling plooming the mud bottom. This was followed by occasional forays into thickets of submerged grass where they thrashed and splashed as they maneuvered through it.
SciFly stood in knee deep muck and water in the shadow of tall willows as he shook out a few loops of line while holding his top secret carp fly in hand. He was now prepared for the right moment to flick a roll cast into the path of the targets. I spectated and absorbed the fish behavior as his presentation fluttered inches from their snouts. The snubs were subtle as they veered by, seemingly aware of the presence of food, yet maybe more interested in playing coy with each other than inhaling the buggy looking snack. With SciFly attired in subtle hues and standing still in the shadows several fish came within a few feet of his human form before sensing something amiss and drifting into alternate routes around the pool. The dance of carp and wet fly and carp again among swirling turbid clouds went on for 20 minutes or so before SciFly turned to new water in a slightly deeper venue 10 feet to the left.
I stepped into his underwater boot tracks to practice what I just learned with a different one of SciFly's top secret carp bugs. I laid it in the path of oncoming fish several times without eliciting much of a response. The next roll cast flicked the fly to the edge of a mud cloud where I allowed it to settle on the bottom and wait. It did not take long. Intermittent glimpses of fins and larger shapes were gliding through the cloud toward my offering. As they emerged a gentle lift of the line suspended the dark fly inches ahead. I twitched it, watched for the take, but had lost sight of the fly. The next twitch felt almost the same, but line tension had changed almost imperceptibly. I tightened it. My rod bowed heavily. The fight was on!
Wow, are those beasts strong. The tug-of-war went on. Then it went on some more. Then it went on again. The pool turned from clear to chocolate as the thrashing and splashing struggle churned on. The beefy shouldered carp was pretending to tire. I called out to SciFly that it was nearing time for the net when I saw him lift-set the hook in the neighboring hole. The fight was on again. We were into a double!
When my fish was finally really ready for the net, SciFly somehow managed to keep sufficient tension on his barbless fly while helping to close the deal at my end. And the job was only half done. One fish waited in the submerged net for Two Fish to play out, so we could get on with ritual picture taking.
I have never netted a big Two Fish with another big One Fish already in the net. I underestimated the effect as I tried to thrust it under the now ready Two Fish...in painfully slow motion. The in and out was almost a catastrophe. Though, I got it done on the second attempt a few minutes later.
So there you have it. My favorite fish story from May 2019. My first carp on the fly. And it was a double. I don't how it could have gone any better than that. I am a carp-on-the-fly virgin no more.
Tight lines to you all, and CARPE DIEM!!!