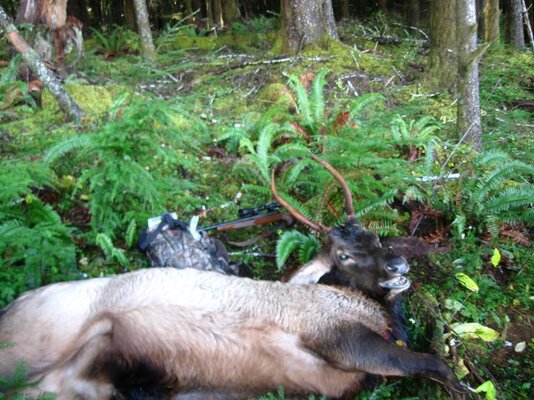 Coast Rifle Elk season, 1st season is only 4 days long, and I will say its not always the most enjoyable hunt. Usually fast paced, and requires you to cover a lot of ground, generally as fast as you can. Lots of hunters, and if you dont get to the elk, someone will.
After the first day, and the next morning, usually you can throw all of your scouting out of the window, all of the herds are broken into fragments, the mature bulls that have been through these hunts for several years split off from contact with other elk all together, and the patterns of the elk all change.
Have had years where we tag out first light on opening day, other years you get into them the 2nd-3rd days. But generally the deeper into season you go, the percentage of getting on shooter bulls drops through the floor. Day 1-3 this year we seemed to always be a step behind, 15-30 minutes, in a good area, but seemed like extra pressure where we walk in. A lot of shooting the first and second day in areas we were always headed too.
I hunted with my dad day 1-3, then he had to work. Luckily a good friend of mine called me Monday night asking me what I have seen, and needed someone to hunt with for the last day. Worked out well.
Got on fresh sign 200yds from where I parked my truck to walk in on top of a tall ridge, I think I bumped them off in the dark while we sat in the truck, no matter, they can't go anywhere with out leaving bread crumbs.
Find there tracks after first light, and leave them sit for about 30 minutes while we glassed the units we could see from on top of the ridge, and with out finding any elk in view, we started dogging on the tracks.
Catch up to them about 300 yards further away from the truck in a timber stand, they had bedded down on an old landing, bumped them at about 20 yards, but was still pretty dark in the timber, est 15-20 head, Jeremy thinks he seen a spike in the group but wasn't able to confirm, it was too dark , and down towards the bottom they go.
Stayed on them through 2 patches of re-prod, and 3 separate timber stands, getting into them 4 times, including a separate group of elk that housed 3 cows, and one rag 3 or 4. No shots available on them either.
My buddy and I took separate ridges in the final timber stand to try and find the original heard again, and I ended up busting butt and getting below the stand thinking they were heading out of the bottom to a large patch of 15' tall re-prod I knew was at the bottom.
Sure-is-****, I hit the bottom, came around a corner, and there they stood, about 5-10 yards inside of the timber stand, feeding, and looking like they were building angst to cross into the open and into the prod.
At first all I could see were about 8-10 cows, and about 4 of them were watching me, about 80 yards out, and right before I thought they were gonna make the move, I seen the spike making his way through the timber, and then he stopped with a cow directly in front of him, I had about a 3' window that I could make a shot if he went any further forward, and he did.
By the time I got my shot on the critter, we had worked about 2.5 miles from the truck, and was all up hill the first pack out. The second round I called my dad to drive out and pick us up at the bottom, was 5 miles total out, but was all down hill.
I didn't have a watch with me, but I think I took him at around 10am yesterday, and had him back hanging right at 10 last night.
Lots of luck, lots of effort, and a little knowledge of the land.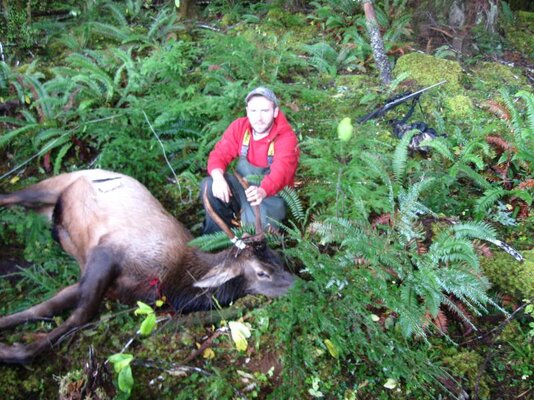 Last edited: