Shared a camping spot at Wickiup with Thuggin, BFishin, Jigs, some of Thuggins friends, and some of my friends this weekend. I showed up Thursday to get a good spot big enough for all of us.
Loaded my boat in the water, pumped up my pontoon, set up camp, and cracked open a cold one before seeking out some fire wood. After returning with a load of wood I threw some bait on the bottom from the bank with no hits Thursday.
Didn't fish again 'til about 10:00 Friday morning. Somewhere around 10:45 I c&r'd my smallest Wickiup brown to date, somewhere around 13 inches.
Sorry no pic. I wanted to get it back in the drink as soon as possible. Caught another brown about 11:15 on the same bait and spot.
Gotta pic of this one, not the greatest pic but I was alone.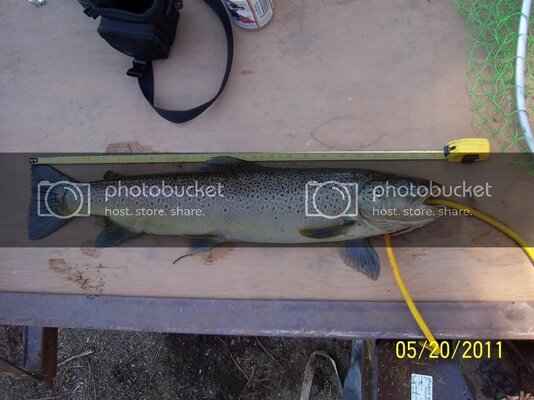 Missed a strike a little while afterward and that was it until Saturday morning when I caught a pretty good size brown bullhead, probably 13 inches or so.
Oh yeah, I took my boat out for about a minute before it started cutting out and then died right when I got back to the bank like I meant it to.lol I figured the gas was bad or something so I filled the tank with more gas and couldn't get her to fire. I thought maybe it was flooded so I let her sit and went and listened to some tunes before anyone showed up. Jigs showed up first, a little while later my friends, and then Andy and company. On Saturday while Jigs, Thuggin, Bfishin, & andy's friends were out trolling I told my buddy's kids they could take my boat out and troll around where we can still see them. We couldn't get that sucker to fire so my buddy pops open the top and figured out the reason right away. It seems I have a mouse problem where I store my boat motor. It was full of bird seed and fiber glass insulation.
Anyway, I had a really good time drinking beers and hanging out with everybody. I'm looking forward to doing it again.
Here's a couple more pics to