**WARNING - LONG WINDED POST**
Like many, I started targeting the Coho late September. I made a ridiculous amount of trips hitting the Sandy, Clackamas, Eagle Creek, Nestucca and Wilson always coming up empty handed (avoiding the crowds for the most part). Scratching my head (more like pulling my hair out) I couldn't understand why I was failing miserably time and time again. After all, I was using proven techniques and tackle in water that had fish. The more I got skunked the more obsessed –like I became determined to find success. After spending countless hours chasing fish, it would be quite understandable why one might hang it up and move on to other things (such as being a productive contributor to society). However, I was well beyond rational thinking at this point.
This week, I had a couple hours in the afternoon available and giving some thought as to how I could spend my time (working, exercise, errands, etc) my compulsive obsessive fishing behavior took over and off I went to give it a go. Something was different this day though. I left my float rod at home. In addition, I didn't take any bait and decided to only throw my spinners (which is my first choice typically anyway). In addition, I knew exactly what hole I was going to hit without stopping along the way other than maybe to see if I could spot a fish in lower water since it was sunny and clear. As I drove out, I had an overwhelming sense of confidence that my time has come and this is the day. Making my 45min hike into the hole, I thought to myself that this will be a long walk out with my fish but a good one none the less. To my astonishment, as I approach the hole, there was absolutely no one in sight up or down river. I took a few minutes once on the scene to see some fish roll (phew, was concerned that maybe it thinned out).
Casting began. Fate must have had a hand in my day because I casted into the trees three times and somehow managed to retrieve my lure each time, taking branches down and all (Blue Fox #4 Michael Jackson body, silver/chartreuse blade – most producing lure in my box). As if that wasn't close enough, I snagged about 50ft of line (must have been 25lb test or close to it) connected to a drift rig. I was able to reel it in close enough to where I could grab the line and break it off. I'm thinking, "nice, got my spinner back and cleared the river of that crap" Next cast and I snag what was leftover of the snag I jus t got freed from! This time I figured it was a done deal so I tighten down the drag, drop the pole and begin walking back, *SNAP* No way… the snag broke and got my lure back. 5 times I should have lost my lure but for some unexplainable reason, I got it back.
Soon after, I make a cast and then it happens. *BAM* Hookset! Chrome flash, it's on! The fish makes some runs and rolls but comes into the bank rather willingly. It's a chrome fin-clipped hen! But wait, what do I see? Gashes from a run in with a seal or sea lion. There were a couple flesh wounds on the tail. I pause to think about what this girl has gone through to get here, into my hands. I considered releasing the fish but then felt that this was a "meant to be" moment and that although I am going to take this fish, it will not go unacknowledged that this is a marvel of nature and an example of the challenges life endures. Neither the fish nor I ever gave up yet meeting in the end. The meat will be smoked and shared with family and friends, the eggs will be cured for the next adventure and the carcass will go into the garden. It was a long walk out but I was glad because it gave me more time to savor and reflect on the moment.
Here she is. Probably the most expensive yet rewarding fish I've ever caught. Although poorly clipped, I can assure you this is a hatchery fish. Around 24"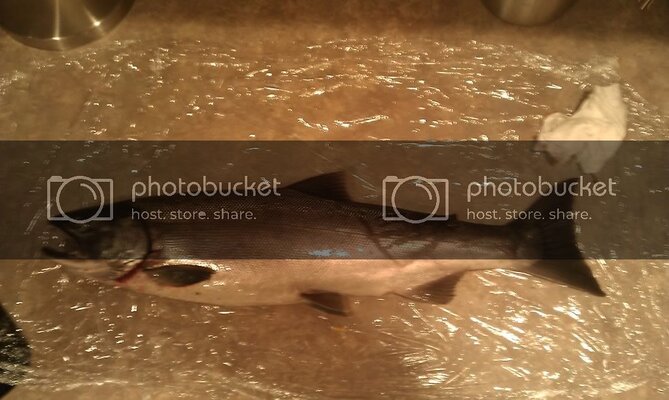 Last edited: