Had a crazy day of fishing on Sunday. I had thought of going to Hagg lake but when I read warnings of high winds I figured fishing the Willamette close to home would be the better, safer call.
The day started out pretty calm. I was fishing by about 8:15. The wind was light enough that I decided to fish off anchor. I stopped at a first spot deep in Swan Island harbor where I was marking a few fish and made a couple of casts without a bite. I was not expecting much deep in the harbor so I was not surprised or disappointed.
I made my way further towards the mouth when I found a second area where I started marking quite a few fish. The wind was calm enough that I decided to fish without anchoring. I just make a cast and use my paddle to hold my line just taut. I have to thank minnowmagnet for proving to me that this is a viable way to fish. It is so much nicer not having to worry about a fish wrapping up in the anchor rope.
First cast, produces a nice keeper.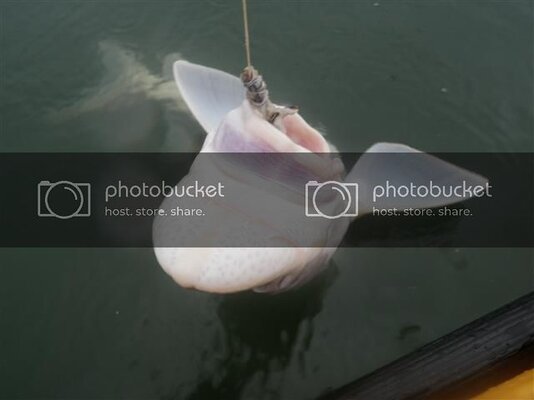 I have to say that after a couple of fruitless trips on the upper river that fish felt really good. In the warm water that fish fought like a demon, rapidly changing direction and ripping off some drag. Man that felt good.
The next 2 casts produced good sized shakers. On the fourth cast I felt a very light bite. When I tightened up I knew I was into a good fish.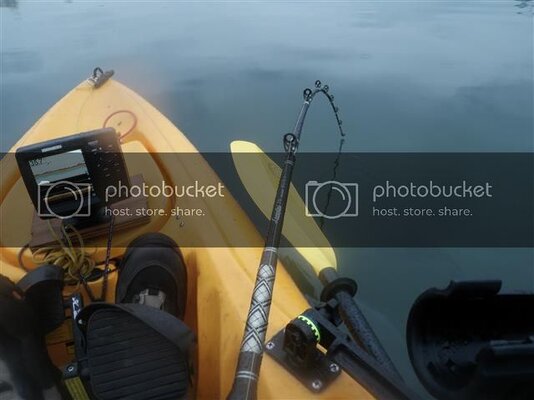 Man, in that warm, shallower water those fish are just insane in how hard they fight. During the battle a friend of mine came along in his powerboat and watched me battle that beast. After a 20 minute, all out, everything I had fight I was able to subdue this beautiful 69" fish.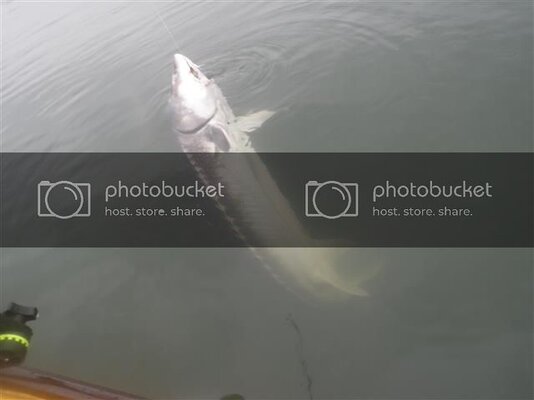 Man, it is battles like that one that make sturgeon fishing so exciting. Here is a closer up picture: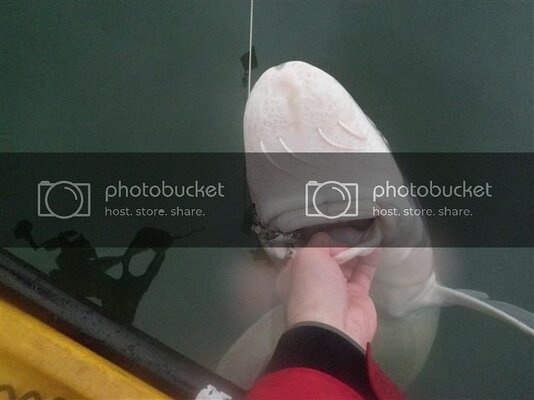 The water was so nice an clear in the harbor - the sewage overflow had apparently not backed up into yet
- when landing those fish it was so cool to get to see them down 3 or 4' when I got them near the kayak. After that fish, I lost track of where I had been fishing. I moved around near the area, but I could not find the hot bite again. I picked up one more shaker, but it was starting to get more challenging to fish off anchor since it had become a bit breezy.
After noticing my leader was pretty frayed I decided to re-tie. While doing so the wind pushed me pretty far along. I decided that since I was marking fish again I would drop anchor and give the area I had blown into a try. The bite was slower here, but I did pick up 2 more shakers from this spot. About then I noticed that minnowmagnet had shown up with a friend of his. I dropped off anchor and went over to chat with them. He was fishing near my original area and said that the fish were biting pretty well there. He also commented that the wind was not very bad at all.
About 10 minutes later it was like a switch was thrown. The wind went from slightly breezy to ripping hard. I looked up the information from the closest weather station and they reported that at the worst of it that afternoon that the winds were sustained 33mph with gusts to 47mph. It was not that bad right off the start but it developed to that stage in about half an hour. MM and his friend pulled anchor and said that they were going to work there way back and maybe fish closer to the ramp. While they were making their way back the full strength of the wind arrived.
The gusts were so strong that it would blow big clouds of spray off the tops of the white caps. I watched MM's friend struggling back (in a paddle kayak) and realized that heading back towards the launch was a good idea. Between two gusts I quickly pulled my anchor and started heading back. Usually I can cruise about 4mph in my Hobie but I was only making about 1.2-1.4mph into that wind and that was max speed between gusts. When I would see a gust coming I would just bend forward and touch my nose to my knees. It was pretty crazy out there.
I was pretty far back to the ramp, near where I stopped the first time, when I seemed to be marking a lot more fish that I had earlier. I probably should have just continued back to the ramp, but I was marking a lot of fish. Well I figured I could drop anchor one more time and if I did not catch something quickly I could just pull anchor again and head back. Not sure if I would call it good luck or cursed luck, but as soon as my bait hit the bottom I started getting bit. I quickly hooked into a nice sized keeper. I dropped off anchor to fight the fish and the wind just whipped me down the harbor a couple of hundred yards while I fought and landed that fish. When I got it to the surface I was moving along fast enough (about 2.5 to 3mph) that the fish was almost skating on top of the water. It was tough to lean over to unhook that fish in that maelstrom.
Now, if I had any sense at all I would have declared victory and left. Instead I fished in those crazy conditions for another 3 hours. After each 4 or 5 fish I would have to re-anchor as the wind would cause me to drag anchor off of the productive spot. So many times the wind almost flipped me and I had to duck down to weather some fairly violent gusts, sometimes while waiting for a bite, more often while fighting a fish.
Even the sturgeon were yelling noooooo by the end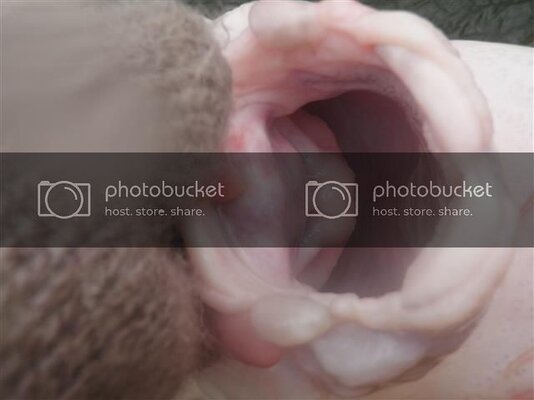 After all was said and done I had landed 18 fish from that spot, 7 of which were keepers. I was catching them about as fast as I could get a bait down. Each fish I hooked would take me downwind a ways and then I would pedal back, re-hook up on anchor, cast back out and bam another bite almost immediately. They were still biting like crazy when I left and if I did not have to answer nature's call I would have fished until I ran out of bait. That choppy water just seemed to completely invigorate those fish.
That was by far craziest day ever out on the water in terms of the weather. Something really satisfying about overcoming extreme conditions and catching fish. Hours later at home I still felt like I was bobbing up and down. What an awesome day. I think I was inspired by Tim Allen in Galaxy Quest: "Never give up, never surrender"