Heard that Walter Wirth was stocked yesterday and seeing that the weather was half decent I decided to grab the kids and take them down to go fishing.
We got there around 10:30 tried for a little bit at the very north end fishing off the bottom with slider and power bait on one rod and bobber and eggs, then worm on the other with no luck.
I decided to move to a different spot. My son can cast pretty decent now and he wanted to use lures so I went looking for a more lure friendly spot. Because of little legs we decided to stop at the other fishing dock. The one by the outhouse.
Last time out to Dicks I let my kids pick out lures that they thought were cool looking They wanted to try those first. so we did.. No luck.
Then I walked out to the mound... motioned to the bullpen, and called for my closer.
The chrome and blue 1/4 oz Kast Master strutted out from my tackle box and the crowd went wild.
Somewhere in the distance I heard the song "Wild Thing" start blasting as he climbed up my rod and attached himself to my snap swivel.
Just for fun I dropped a bit of lunker lotion on him.
After a few stretches and some light warming up he motioned that he was ready for the water.
In the next 30 minutes we caught three keepers. My wife was on her lunch break and came out to see us and she even caught one.
After a little while we were hit with a big gust of wind and what felt like freezing rain. My kids started whining and so we packed it up.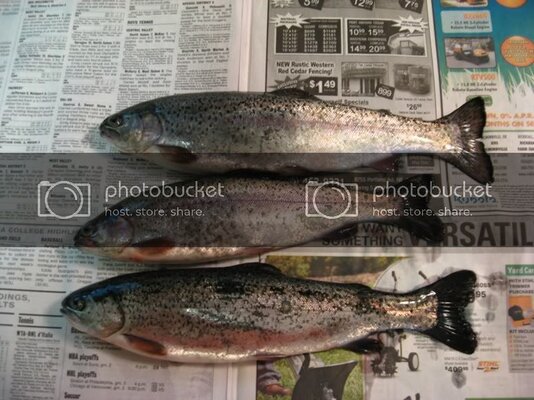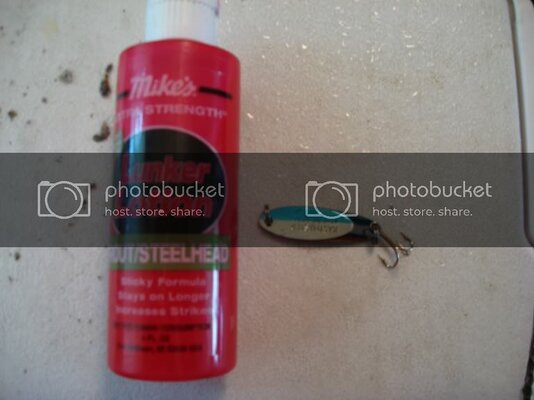 Now I just need to work on my fillet knife skills.
Last edited: