I had Friday off so I decided that the wind forecast looked pretty nice for fishing Hagg. I really wanted to focus on bass so I left my trout gear and panfish gear at home. I got to the lake at day break and fished hard all day long. I did see that the lake had dropped 2' since my last trip here with my son.
I started out fishing moving baits along the emergent weed edges but I think the 2' drop in the water combined with the clear water made that a no-go, at least for me. I did not even have a bite for the first 3 hours (which I thought would be the most prime hours of the day).
With a surface temp of 67 I figured the largemouth had to be up shallow and I did not spend much time probing deeper waters. At some point I figured a stealthier approach might be in order and I switched to a 4" weightless wacky rigged senko. Eventually I had a bass grab it. I set the hook and the line broke, easily, right at the knot. I was so mad!!!!!
I had just retied my fluorocarbon leader the night before and apparently I had done a poor job. I got out my spool of leader material and tied on a new leader. I checked the know about 10 times and then tied on a new senko. I went back to where I broke off that fish and cast back out. I had another pick up. I set the hook and it was a good fish. I got it all the way to the kayak and was doing a terrible job of trying to grab the fish when my lure popped out.
However, the battle was not over yet! There was a long leader still attached to the fish. I grabbed it and started pulling the fish in when that hooked popped out. It was my first senko that I had broken off. That was a really nice fish (pushing 4lbs). I just want to point out the extreme skill it takes to lose the same fish twice (really three times). Not many people have achieved that level of skill.
I ended up losing my first 4 bass. I was feeling completely cursed. I finally got one to bite and was able to land it. It was a nice 3lb 4oz largemouth, but man what a brutal ride to get to that fish.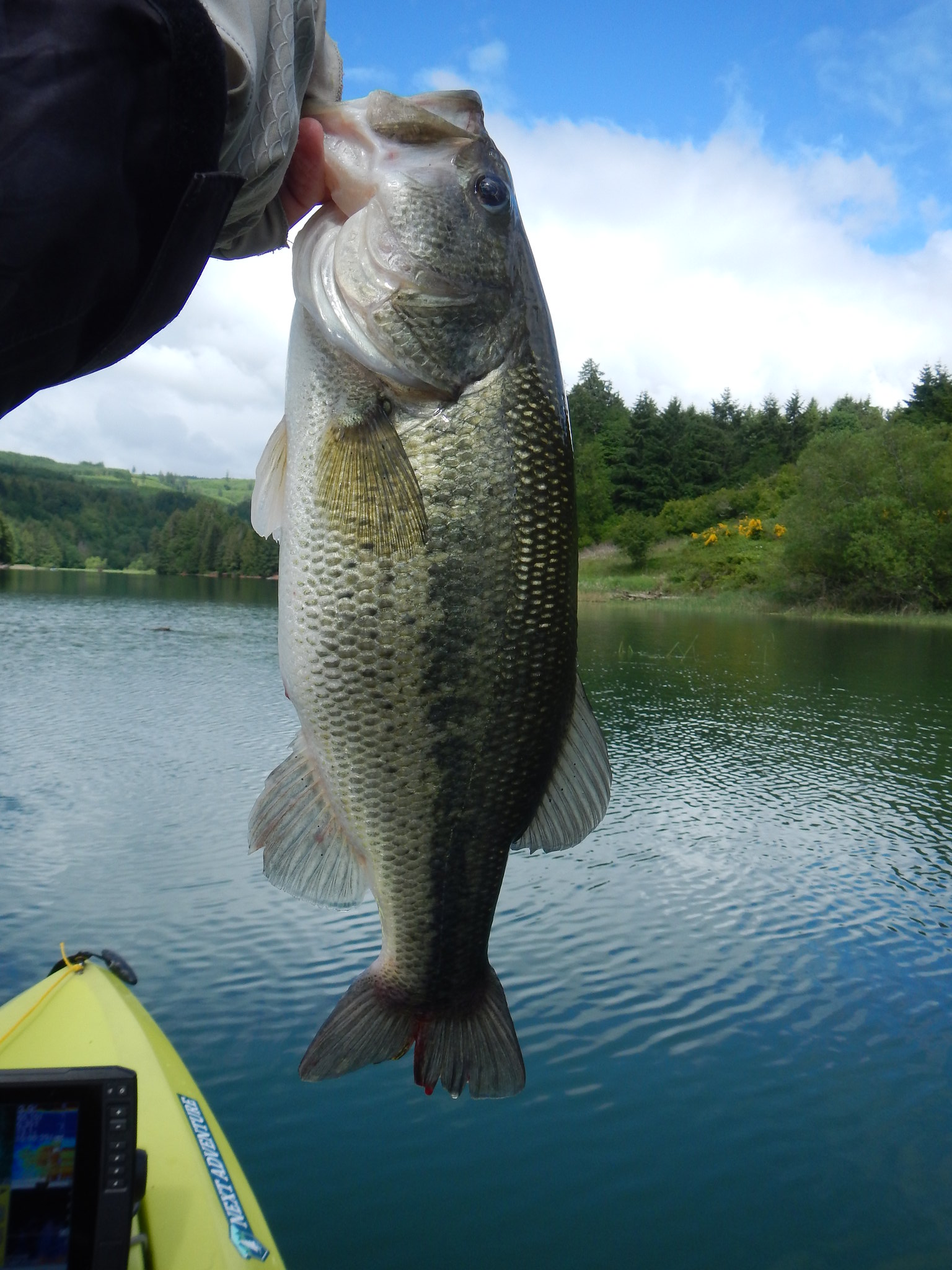 The rest of the day was fairly slow fishing enhanced with continued poor execution on my part. I ended up landing 6 largemouth on the day (including the 3lb 4oz above which was the big one for the day). I lost a total of 6 bass as well and missed multiple other bites where I happened to twitch the lure just as a bass grabbed it. I never really felt like I was fishing well or had them figured out. Each time I caught one it felt more like luck than any application of skill. I hate days like that. It just felt wrong all day long.
Anyway, here is some video from the day:
The two fish not captured on video were in the pound to pound a half range.
The crazy thing was how many trout I saw feeding on the surface. They were everywhere chasing insects and perhaps some type of fry. I could sit really still and they would start coming up within 10' of the kayak. It was pretty cool to watch. I had trout following and nipping at my bass lures (swimbait, etc) many times during the day. They would follow stuff all the way to the kayak. I spent a lot of the day regretting not having brought any trout gear.
The other thing that was interesting was the number of dead and/or dying perch that were floating around the lake. Crows were picking them off all day long. Maybe part of the toughness of the day was having such an easy food source. I am not sure what caused that die off. Perhaps just normal stress of spawning, but that is a wild guess.