Fishing out of Newberg today (January 26) just below Ash Island. I hooked by far the biggest sturgeon I have ever seen. It was the daintiest of nibbles and when I tightened up it felt like a log. For a few seconds I thought I might have been snagged, but then the snag started swimming.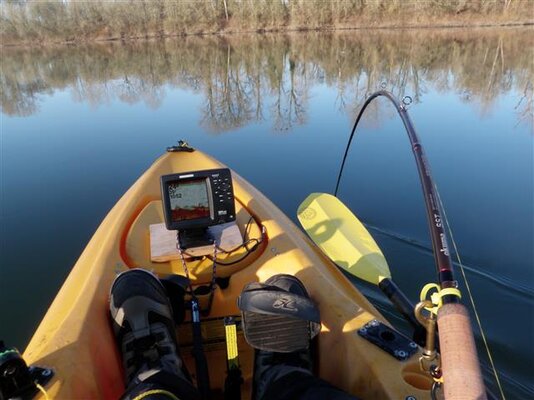 That fish pulled me from near Ash Island, most of the way to the ramp zig-zagging across the river and then she took me back up past where I hooked up and part way up the side channel. (Here is a couple of seconds of video I took with the Olympus tough.)
http://www.youtube.com/watch?v=VwDvto6f6rc&feature=youtu.be
Then deciding that was not to her liking we pretty much reversed our course and headed back towards the ramp. For extended periods of time she pulled me as fast as 2.4mph upstream and 4.3mph downstream according to my GPS. The power of that fish was just unreal. My arms started quivering at around the 40 minute mark. I figured it would be over soon since that is about the longest battle I have had with a sturgeon - and that was an 8 footer in June. I figured with the cold water that the fish could not have that much fight - at least thats what I kept telling myself.
Man was I wrong.I stayed on top of it and tried to lift. Again and again I could get it 10 feet off the bottom and then it would dive back down. Here is a photo of one of those events.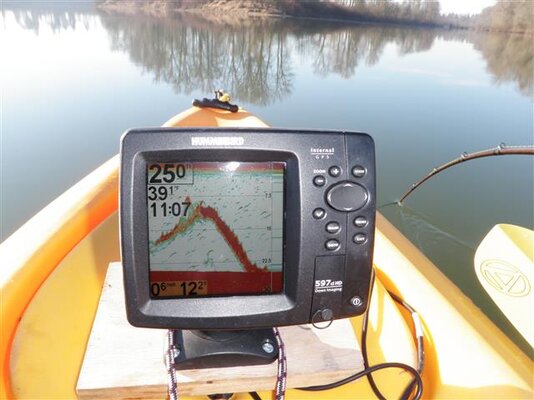 At the one hour and 20 minute mark it swam into shallower water (about 15 feet deep). I thought that this is my chance and I clamped my thumb on the spool and pulled with everything I had. I even used my leg to leverage the rod up. All of a sudden, up she came. I was able to get her to the surface. She came up right beside the kayak and she looked like it was as long as my outback. Her head looked like it was 2 feet across. The fish was so big it was scary being so close to it.
Yep, she came up, and then just exploded and completely doused me with a few gallons of water and took off on a blistering run. It was like she had just realized for the first time she was in a fight. For the next 15 minutes if felt like she was fighting harder than even earlier. I was just hanging on - there was nothing I could do to that fish.
She took me to a spot that was about 30 feet deep (about the deepest water in the area) and then I think she tangled me in a tree. I could lift it up a bit, but then it would just go back down. I went over the spot and could see log on my DI that was sort of angled off the bottom. I think she went underneath it or something. I tried to get her free but finally I wrapped my line around my pliers and pedaled off as hard as I could and snapped the line. I threw up a little in my mouth when the line finally snapped. I should have tried harder to free the fish, but to be honest I was done.
My arms were spasming as I reeled in the empty line. I pedaled back up to Ash Island, pulled into shore and just lay in the dead grass for about 1/2 an hour. My arms and back are really sore today.
I did go back and fish some more and had a couple of more bites, but I just let them bite until they stopped. I told myself I was just waiting for them to take it better but I think deep down I was afraid to hook up again. By the afternoon I was recovered enough to pull up the anchor (thank goodness I was only in 27'). I actually did re-anchor in another spot but did not get bit. After a short stay I pulled the anchor and just pedaled around for a while enjoying the day.
So, in the end I suffered the agony of defeat but I guess I would have to say that was my most exciting skunk ever.