Every once and a while, I am reminded that my love of fishing extends beyond the act of chasing and catching fish to include the opportunities I have to meet some gracious people that go out of their way to lend a hand. Recently, I decided I was going to give plunking a try after failed attempts about 10+ years ago. So, for all intents and purposes this was going to be my first time plunking. Admittedly, hiking the scenic tribs have always been my preference but my desire to catch my first ever Springer and my impatience for my local tribs to light up for me, I committed to the game plan to do some plunking.
I started off by doing web research and then made some recon trips to the local haunts to get the lay of the land without fishing. Next step was to top off the tackle box with the gear I thought I needed. While at Fisherman's in OR City, I was asking one of the guys behind the counter, who was also helping another client, about how much weight people were using . Anyway, after getting some advice I checked out and as I was leaving held open the door for the customer that was at the counter. He wished me good luck and I told him it was going to be my first time plunking. Well, we started to have a conversation and Brad (after intros) shared some very specific information that I recognized to be invaluable. Brad even went so far to give me some gear out of his tackle box! I'm not going to go into detail as to what we talked about but I was humbled and thanked him very much as we went on our separate ways.
Today, armed with what I need to make it a "go" I decided to take advantage of a 2.5hr opportunity to get on the water. I decided that this was going to be a "practice" run to ensure I have a chance to work out the kinks whatever they may be. Because of this, I chose to find a spot that was away from the crowds as I want to have some space to make whatever errors that may arise while not being a bother to the "regulars". I spotted a decent clearing and made my way down to check it out without my gear to find a guy already fishing. I asked how the fishing was and such and I felt there was enough room for both of us so I asked if he would mind if I set up. Andy was his name and he was very accommodating. As I was gearing up I was explaining how this was my first time. Andy took the opportunity to inquire on my methods and then gave me some rigging advice to tune what I had already had set up. Having forgot my corkie stash, he grabbed one out of his gear and proceed to show me how to rig up my prawn (which was different from the way I was going to do it). So, after rigging up, he explained the subsurface terrain and gave me some guidance as to where to place my gear. So, I cast out and now I'm fishing. BTW, this is my brand new Springer set up which is a Wright & McGill rod and Shimano Castaic and has never seen a fish and was the first time being casted.
So, as we were chatting, Andy tells me I have a fish on! As expected, the fish made some runs, rolled and jumped a few times. The fish actually got wrapped around some underwater brush twice but I managed to get it free without losing it. In the end, with Andy's help, I landed this beautiful 30" summer steelhead. Even though it's not my sought after first ever Springer, I couldn't be more excited to have found success on a trip with such low expectations.
So, a BIG thank you to Brad (drove a white Tundra I think) and Andy! Because you two had a direct impact on my results today. I have no idea whether or not you'll see this but who knows and if not, it feels good to spread the word about how selfless and gracious anglers can be. So, again, THANK YOU!!!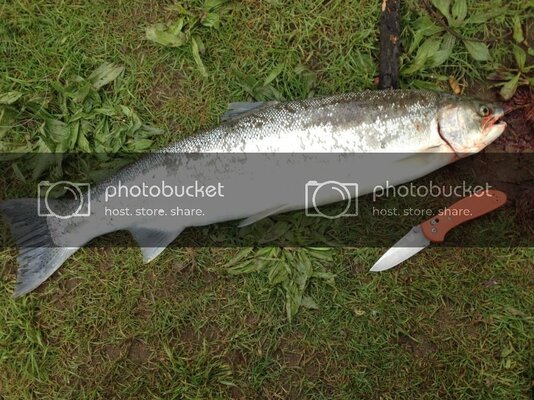 Last edited: