I made three sturgeon trips in December all out of Swan Island Harbor, but I was really lazy about writing up any reports. On the 14th I caught 22 but only 4 keepers and the rest were shakers. On the 22nd I had my best day with 31 sturgeon and 9 keepers. We also got to watch them move a big Coast Guard boat into the dry dock. Really a remarkable day.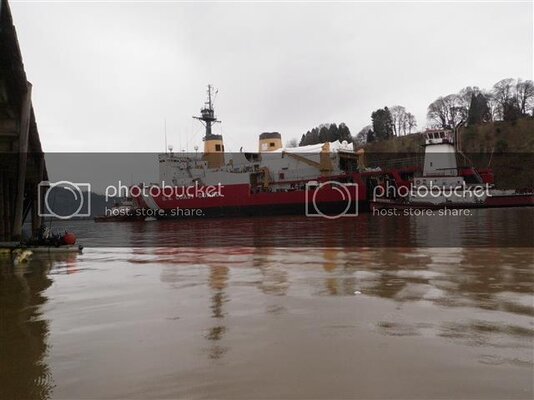 My last trip (and last trip of 2015) was yesterday (29th).
After my success the previous week I thought I had it all figured out and I just knew I was going to break 40 fish. When you start thinking like that it is only proper that the fish remind you that it is not always that easy. I got to Swan Island and it was 37, drizzling and there was a steady "refreshing" breeze. Pretty much stayed that way the entire day. I took my time getting ready while chatting with a trucker who was waiting for his trailer to be loaded. He really like the Hobie pedal drive
The day started out with a nice dose of stupidity on my part. I had not unpacked my gloves from the previous week and I realized in the morning that they were still wet. I put them by the floor vent of the truck on the blasted the heat on the drive there. Since I was gabbing while I was getting ready I did not pay attention to the gloves as I was getting the kayak ready.
After I launched and started pedaling down the harbor I realized that I had forgotten my gloves on the floor of the truck. Doh! It was pretty cold but I did not want to go back so I just put on my rubber over-gloves and decided to suck it up. As I made my way to the mouth of the harbor I stopped to watch them lowering the lifeboats for the Global Sentinel (big ship that winters over each year in the harbor). It was kind of cool. By the time I started fishing it was around 9am. I tried spot after spot all morning, catching a couple of fish here and a couple there. No spot produced great. I finally found one spot out in the current with a good bite, but after catching 4 quick fish including a nice sized keeper a giant raft of trees came down and I had to quickly pull anchor and get out of the way.
I decided that I would try to find a good bite in a safe place but the original pattern of a couple of fish per spot continued to be the order of the day. Around 1pm I took a shore break. My hands and feet felt like they were frozen solid. While I was on the shore I decided to switch to a dry hat. I pulled out my clothes bag from inside the kayak and low and behold I had packed my gloves. Man did I feel stupid suffering all morning when I had the gloves with me the whole time. Super Doh!!
I went back to fishing and kept trying various spots along the edge of the current but never found a solid bite. By 3pm I had been fishing for 6 hours and only had 13 sturgeon (3 keeper sized) to show for it. Quite a ways off from the 50 fish I was planning on.
By then I was shivering almost uncontrollably so I decided to start heading back and fish my way there. As I made my way back I spotted some jumpers near one of the dry dock berths. I quickly made my way over there and my fish finder lit up like a Christmas tree. The fish had been stacked like this the previous week but those fish had not been great biters. However, I decided to give the spot a try since none of my other "great" ideas had panned out.
Well, I guess the fishing gods felt that I had suffered enough because man was the bite on fire. In the next hour and a half I landed 4 shakers, 4 keepers and one borderline oversized. I also had two big oversized break off. I could not budge either of those fish an inch off the bottom as they towed me around until they each caught my line on something and broke off. Such are the dangers of the harbor. I was getting bit about as fast as I could throw in. I will say that I was a lot warmer constantly fighting fish rather than sitting there waiting for a bite! So I ended up with 22 fish again, same as on the 14th, but with more quality fish this time.
Here is a pic the fish that was borderline oversized: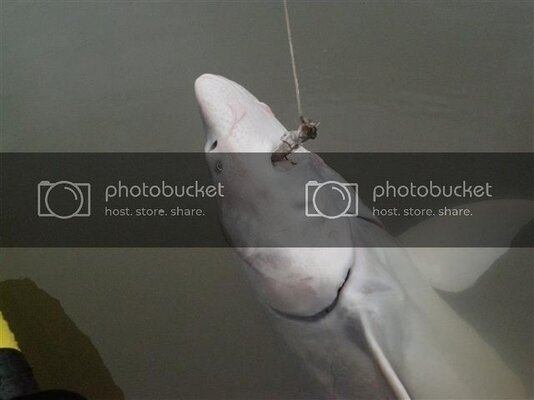 This was another nice fish that I caught on the 22nd, but I think the really cool thing is how textured the skin is under its nose.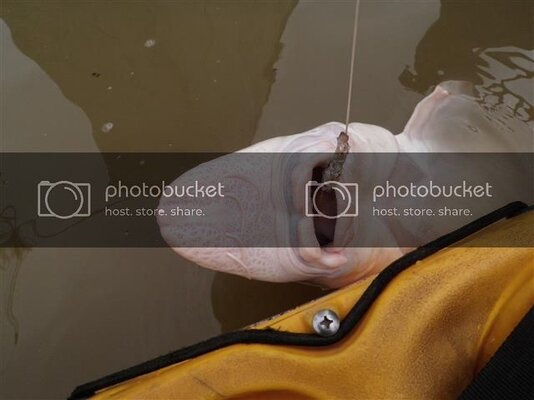 It is interesting how much browner the water was a week earlier.
It was a great last trip of the year. I already have my license for 2016 and can't wait for my first trip in the new year. You have to love living in a place where there is great fishing available even when the rivers are blown out.