Got another one now...back to back trips for me. Same quickie and pretty close to the same location as my last (first) one. lots of company out there saturday and i had some boat trouble right out of the gate...just as we were rolling up to the area we wanted to fish and i was idling outside looking for the spot we wanted to anchor...i tried to power up again and the motor bogged out and had ZERO power. i tried this a couple of more times and then it just flat died with a little death rattle sound. uh-oh....that can't be good.
i broke out the paddle and moved us into position...i mean hey, we were at our fishing spot and obviously weren't going anywhere anytime soon. might as well toss the anchor and get the rods in the water. lol.
we got fishing and i just sat for awhile and cooled off a bit before pulling off the motor cover. made a call to a good buddy that owes me a river rescue and he wasn't too far away if i needed a tow. with that handled, i got busy looking at the motor.
pulled the plugs and check them out..they looked ok and weren't fouled up at all. i managed to get them all back in without dropping one overboard. lol. :lol:
not finding anything "obvious", i put the cover back on and tried to fire it up...no go. i squeezed the ball and it was very soft..like there was no gas in the motor at all. hit it again and it fired up and ran ok...at least in neutral.
at this point i figured i had a fuel delivery problem and/or some sort of obstruction. feeling much better knowing that i most likely hadn't lost a head gasket or worse and also knowing that i was going to get back under my own power (wouldn't be the first time i limped a boat back having to squeeze the ball every couple a seconds..lol) i called off the river rescue favor and got back to the biz of fishing.
about 11:00 the tide was about gone and the wind was blowing us around quite a bit causing the rods to do all sorts of weird things and the weights were drug back and forth across the bottom. we decided to finish off our sandwiches and cold refreshments and call it a day.
i noticed my rod kind of dip and then pop up....which grabbed my attention, but didn't excite me enough to jump up outta my seat and forfeit my beverage....then it dipped a little and came up slack. hmmmmmmmmmm :think:
i headed to the pole just as it went down...set the hook and YEEE HAW! Fish on! This one was pretty peeved at getting hooked and ran straight to the boat. in fact, in ran straight into the boat *THUNK* a little tailwalk-headshake action which was getting us wet with spray and then a bunch of rolling. good time, but short lived. we saw he was barely lip hooked and without much further ado we netted him up and gave him bonk.
a fish in the boat required a little celebration...so we sat there for about another 30 minutes or so until the wind actually started to push us up river.
i pumped the fuel ball in preperation for the run back..and noticed gas dripping from the side of the motor...awwwwwww crap. what now?
turns out the fuel line at the quick connect was stretched out and the cruddy little factory clamp was useless. the boat was fixed with a .29 cent hose clamp. whew....
my second springer.... just a little shy of 12lbs.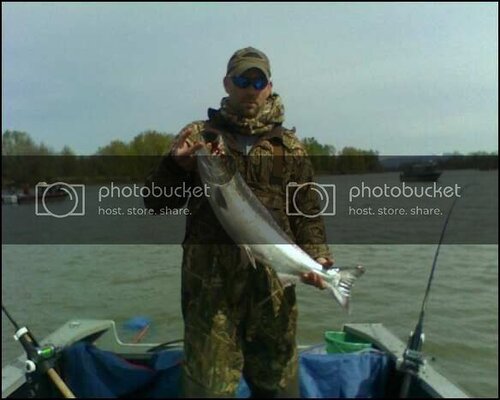 Last edited: