Well, woke up around 530am, Loaded the car and gathered my things....the rain was just sprinkeling at the time. Been busy all week so I wanted to find some fish. Half way there the rain turned into snow, and began falling heavier and heavier.....thought to myself...this is gonna be a great day. Got to the river just before legal light. Got my spot and began casting. Seen a few fish roll off the bat. The water had come up a few feet and new that they were no longer holding in the same spot as last week. So i put my feelers out and began casting to all the "good" water. After pulling in 3 trout and missing some nice bites, I knew there were a lot of fish in the hole. casted....slam, slam, slam...set the hook, but my weight was caught under a rock so all i gotr was zzzzzzzzing, snap......10 minutes later slam, slam, slam.....set the hook, fish on!....got her to the bank and tagged up.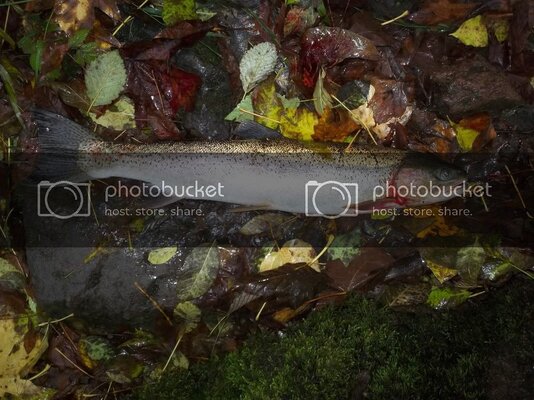 Alittle while later i toosed in some likely water....felt the weirdest tugs ever....kinda like when you have a leaf on your line that is flapping like a bite......set the hook, a chrome side came to the surface thrashing around then popped OFF.
few minutes later I had number two on....much better fish......took me a minute to land her lots of thrashing and running around.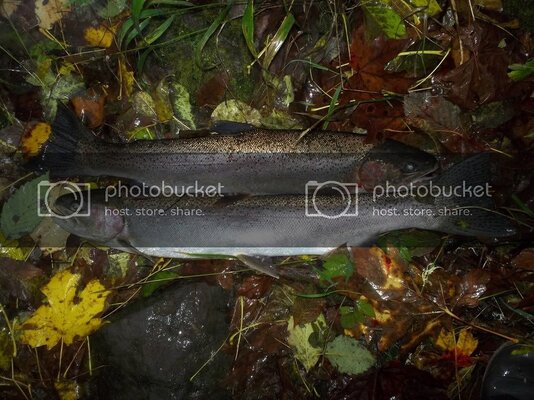 Round these parts, you can keep three........so back to fishing i went........
Fish on right away......she put up a good fight but i could see that this hook wasn't coming out.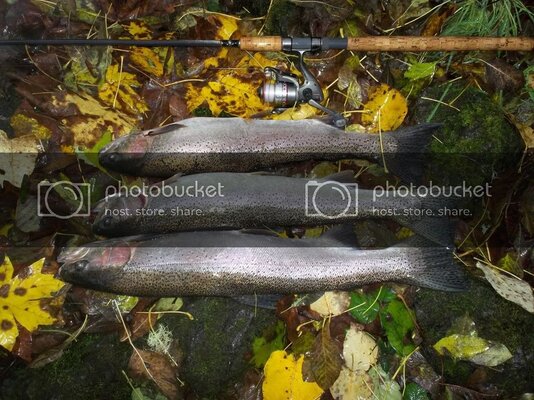 With the snow still falling I got her to the bank and called it a day.....(because i had too)