Hi folks. Long time no post from me and apologies to anyone who PM'd me in the interim and didn't get a reply. I'll get on to it soon!
Anyway, last weekend I finally managed to get a chance to do what is my favourite kind of fishing: catch and release of wild trout on the Salmon River. We stayed at Green Canyon camp ground which gave me an opportunity to explore a bit. It was no great fish-fest, but I did pick up four or five nice if fairly small rainbows. They certainly give a good account of themselves on a 3# rod
So, apart from sharing the experience I have a couple of thoughts arising from this. More questions I suppose:
According to the guy at the Welches Fly Fishing store (who, I have to say was quite abrupt with me for some reason and didn't really seem to want to help or offer any kind of advice - apart from to almost shout the river regulations at me!) the river has wild rainbows, cutthroats and brook trout. It is of course strict C&R except for the brookies.
I'm fairly certain that most of the fish I hooked were rainbows. Either juvenile or perhaps fully mature but stunted fish given rivers like the Salmon are not the richest. I guess the bulk of their food comes from terrestrials. There was one however that slightly concerned me. It appeared to be a young rainbow but it did not have the distinctive pinkish hue. I'm wondering if in fact this might have been a Steelhead smolt. Obviously I'd want to avoid hooking them at all so they can resume their journey but in my experience Salmon parr and smolt can be very aggressive and competitive when it comes to food in trout rivers so in some ways it's inevitable that some will be hooked when fly fishing for trout. I expect the same is true for juvenile steelies?
Anyway, here's the photo: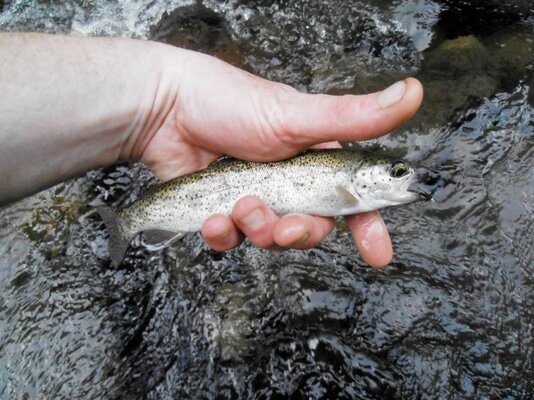 Sorry, it's a bit small (the photo as well as the fish, although it was longer than it looks in the photo - maybe 9" max). As you can see it has no pinkish streak. This was the first fish I caught and it was different to all the others which were clearly rainbows. So a smolt? It certainly doesn't look like a brookie.
Finally: what kinds of tactics do folk here feel work best for trout on rivers such as the Salmon? For the record I was mainly drifting and swinging wets, with the odd nymph drift too. I had to laugh at the fact that this first fish took what to me is the most ubiquitous Scottish fly - a Back Pennell! I was being a bit impish in fishing with one but then again it's a spider pattern (with a pheasant tail tippet as I'm sure you all know) and spiders generally work well in these freestone kinds of rivers in my experience. Also, are there any especial techniques and flies which would work well for cutthroats? I've never fished for them. We don't have them in the UK, at least not wild.
Ok thanks all. tight lines
Les