The salmon in there are not a rumour or mistaken identity. This is what you can catch. Pretty sure this is not a sucker! Caught on 6ft. ultralight rod w/6lb. test. 34" long- 10-12 lbs. I guessed?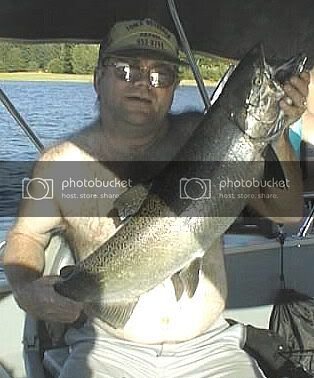 It's been a few years since I was down there- this was 6/28/03. This was a super hot 90+ degree day with water skiers zipping by me all day. Didn't bother the fish in the least- was a bit bumpy though! June/July was good for me two years in a row. One day I also caught 5 trout in the 15-24" range along with 2 salmon.
I always trolled near the dam- just the south end -from the center concrete structure to the south end and over to the grassy point at the State Park and back to the dam- especially around the spillway area. 20 ft. on the downrigger was always golden- a small brass w/orange flame Needlefish- trolled slowly caught at least 5 of those salmon. Probably 50ft. setback from the ball and no other flashers or dodgers- just the Needlefish. Have patience and KEEP TROLLING- there are some great fishys in there!
Jim