So the original plan for this morning was for the whole family to go out and chase bass at Hagg, probably in the vicinity of where Scoggins creek now dumps into the lake. Though as always things came up and the trip got pushed back in the day, then other things came up and it came down to just I was going to go to the lake. But even those simple plans are never simple enough; I wasn't just going to the lake I was going to be dropped off and then picked up several hours later several miles away. so it wasn't just a fishing trip it was going to be an adventure!
I was going to be dropped off at what is usually labeled, "Overlook" on most maps, and much to my disbelief it looked like the spillway was high and dry! Is it possible that this is as low as the lake can get?
<edit>
I had stopped at Joes the day before and since I had lost my last tiny spinnerbait I bought another one. I even tied it on that night so I was ready to go first thing in the morning. First cast, straight out from shore nothing. Second cast, parallel to the shore to my right, nothing. Third cast, parallel to the shore to my left,
BAM
fish on!!! The fish went airborne right off the bat, then tried making a deep run, and then it felt nothing, and then I felt sick at the thought of losing the fish. But it wasn't nothing the fish had made a suicide run right at me! Reeling as fast as I could with my little ultra-light I managed to pick up the slack before the fish actually did manage to get away. Though by this point the fish was nearly at my feet and spent, so up I hauled it and was pleased with my catch.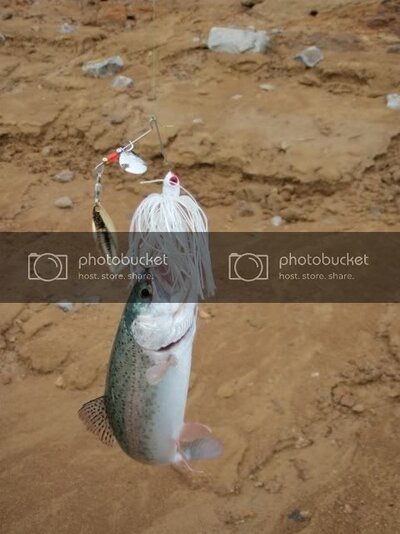 Given the ease this fish just had inhaling the small spinnerbait I wasn't particularly inclined to downsize on subsequent casts even though I could feel the hits but no hookups. I just chalked it up to there being a bunch of small fish out there, probably perch. It wasn't until much later that I actually figured the pattern for the day out, but more on that later.
Given that the lake is probably at it's lowest possible level, I was somewhat amused to find an old pop can, and to think how long it's been down there.
<edit>
After switching the mini-spinnerbait out for a regular sized one, several colors, etc... I switch to a chrome lipless crank. First cast, I felt a couple of good sized thwacks one right after another but with out any hookup. It wasn't the usual tiny perch whacking it, this was something that could eat the lure if it really wanted to, but still nothing. A half dozen casts later, and a few more hits, and I saw a trout had followed the lure back to shore. In my haste get the lure back out there I hooked just enough of my shirt sleeve cuff just passed the barb, such that I couldn't use that hand to help unhook it
. So single handed, I had to get my leatherman out, get it open, and finagle with getting the barb into the pliers with out letting the other treble get another piece of my shirt
. Regardless, I managed to get free and make my cast, only to immediately lose the lure to a tree stump :doh:!
Upon surveying my tacklebox and thinking about the weather I came to the conclusion that a darker lure, with a bronze blade may just do the trick. So on went my favorite chatterbait, but strangely it seemed the bite shut of completely. "Oh well, maybe the fish just moved on and aren't hear anymore", I said to myself, but boy I couldn't have been more wrong.
Fortunately I ended up hooking into another tree stump and breaking off my chatterbait. Why fortunately you say, especially since chatterbaits aren't cheap and when they work, they really work? Well because it once again sent me digging through my tacklebox and made me ultimately uncover what the pattern for the day was. At this point having just lost two of my favorite lures nearly right in a row I wasn't about to tie on another lure I liked, so I figured that big ugly white roostertail I have taking up space might do the trick.
First cast, bam, a very authoritative hit, a hint of a head shake, and then nothing, only to have the retrieve interrupted a couple more times with similar results. So about 10 minutes of every two to three casts resulting in this had my wondering if I was onto something. So I did what I always do in this situation, I downsized. And it worked!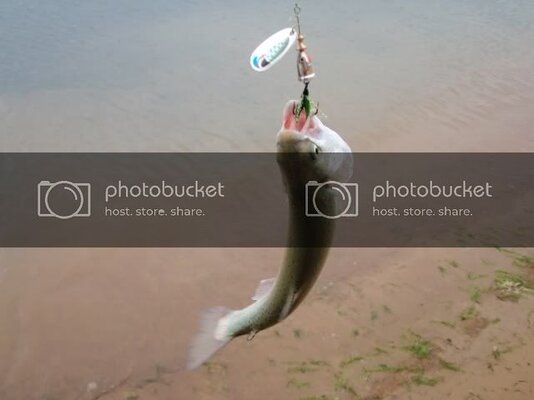 The action was fast and furious for the next couple of hours, so much so that I absolutely lost track of how many fish I caught. And while the fish weren't very strictly relating to cover, I discovered that if you could find a deeper/steep piece of shore right next to the shallow gradual sloping shore that you could tend to find more fish in a single spot. It's this sort of scenario that one really needs a good pair of polarized glasses, otherwise it's nearly impossible to find those golden spots. Case in point is this featureless beach devoid of any hints about where the fish might be, yet I spent several hours at just catching fish after fish, after fish.
<edit>
Another peculiar thing was that these fish acted as if they were spawned in the rivers of Hell itself. No earthly 8" trout (with the exception of the coastal cutthroats) can pull drag and simultaneously leap 4ft or more in the air! What's more a fair number of fish actually managed to avoid being hooked altogether because their strike was so aggressive that if I wasn't casting to jumpers or fishing a likely hole, and as a result expecting the strike, the odds were in the fish's favor of jerking the rod ever so slightly out of my hand making enough slack for them to just turn there head and swim back away.
Of course they weren't all like that, and I took a little break from the action to be sure to snap a photo of an especially notable trout. This wasn't the hardest hitting, strongest pulling, or highest jumping. No this fish was the king of fat and lazy. I saw the fish swimming along the beach in the shallows and set my lure on an intercept course. Of course the fish showed interest, but as the spinner passed its nose the poor thing just couldn't keep up. So I stopped reeling and let my spinner drop to the bottom, to which the fish sluggishly waddled over and picked it up off the bottom. There wasn't even a hint of struggle as I reeled it in.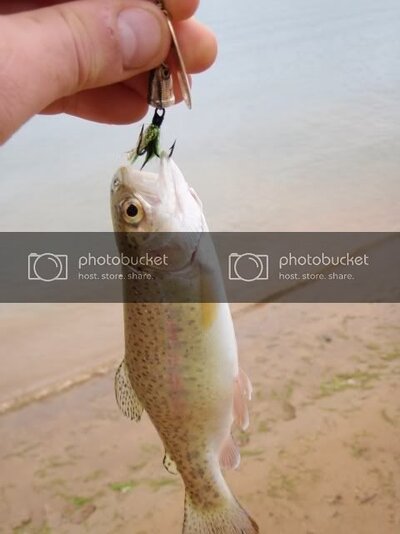 Also in the course of my adventure today I discovered a thing or two about mud. The first and foremost is that if the mud is shiny and flat don't step on or in it. The second... well there is no second, just don't step on the flat shiny mud.
<edit>
Well the fishing did slow down as I neared the end of the day but I did finally hook into a bass. The tiniest bass I've ever seen hooked.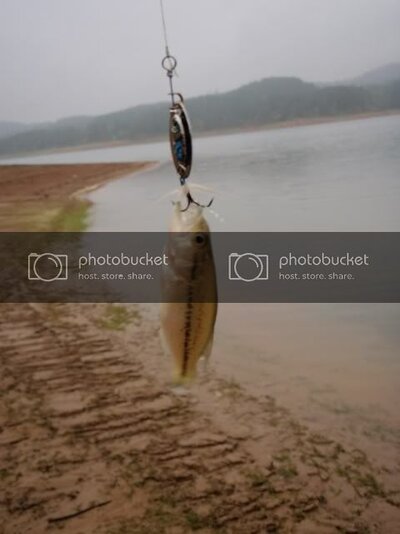 And as the clocked ticked down to when I was going to be picked up, I told myself that I'd pack up after I caught one last fish, to which I immediately did.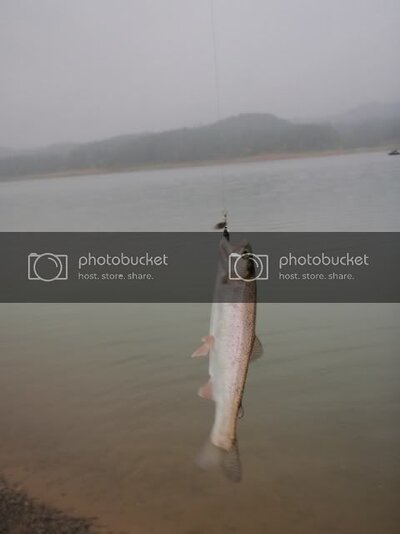 After which I figured, "ah what the heck, one more cast", only to see a slightly larger trout take a swipe but come up short. Now I'm in full on, "ok ok just one more cast" mode, just to come up not just completely empty handed but have no strikes either.
Over all today was constantly overcast, usually drizzling, occasionally a down pour, and towards the end of the day windy and foggy. Though at no time did I feel cold, and honestly I think it was an absolutely beautiful day outside, don't you think?
<edit>
Last edited: