I was at the coast last week and Sunday was "fishing day". This was a special trip as my wife has now retired (early) from teaching and this was the first time in 25 years she could go to the coast in October. The weather was great. I thought it was too early to get serious about salmon in the small rivers there so I decided to focus on some salt water fishing this time. I have always wanted to fish "Frankport" which is now Sisters Rock State Park . Don't look for picnic tables and toilets there. It is completely undeveloped and the site of a former quarry and pioneer shipping dock.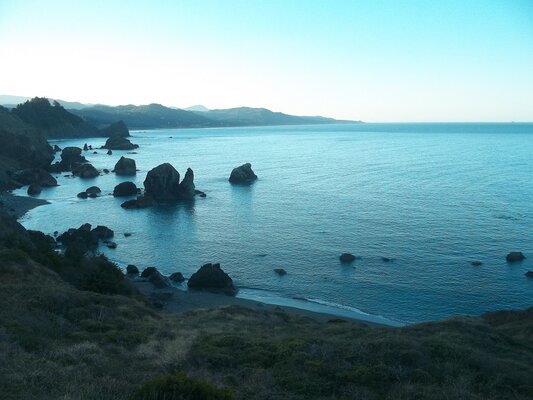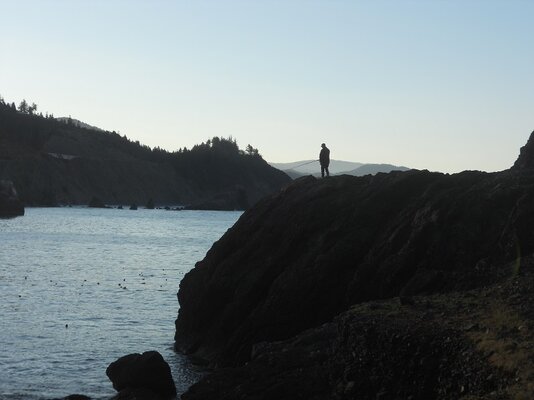 I was fishing some refrozen herring, not suitable for plug cut, under a float in that deep blue green water next to the kelp with the herring about 15 feet under the float. First cast, ten minutes in, the bobber shoots downward and I give the mighty swing...nothing. Second cast, same thing. I decide I must be trying to set the hook too soon so calculate to let the rod load up good next time. A couple of casts later came my third chance and the bobber shoots down again and I wait until I feel a good couple of throbs on the rod but, right before the hook set, it lets go and up comes the bobber with a mangled herring. Now I am frustrated. Basically, it takes quite awhile for the fourth bite but it is a repeat of number three, no fish, and then that was the end of the action on the bobber set up. Eventually I go with a jig on my other rod and end up with a single rockfish.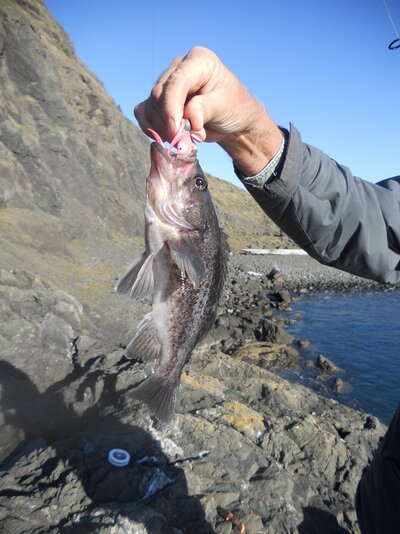 It's kind of small and doesn't meet my "dinner for two" criteria so I let it go. After that, the receding tide exposed a sandy beach across the cove across the cove but the kelp was right next to the beach which indicated a sandy bottom next to a rocky bottom. Kind of different, especially with the waters so calm. I switched the jig rod over to bait and lobbed a sand shrimp next to the kelp. A few casts later and I caught the biggest striped perch of my life , 15" and thick. Now dinner was covered.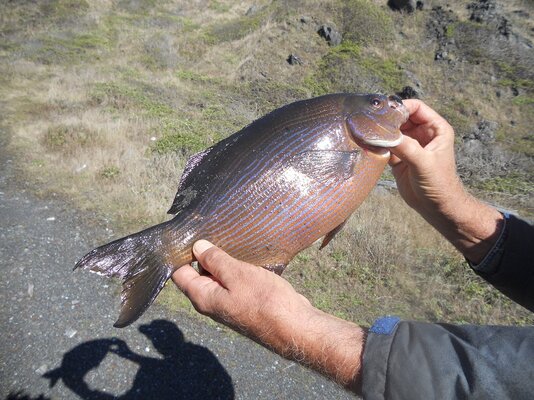 I did not get any more bites right away but did lose two sinkers so we decided to bag it and head to Port Orford and try the bobber set up off the rocks there and have lunch. The loss of the sinkers was a problem because I had plannned to fish for surf perch in the afternoon and finding tackle in Port Orford on a Sunday is tough. After the long slog up the hill to the truck I realized that I had left the sand shrimp on the beach a couple of hundred feet below and a good quarter mile hike back down to go get them. My wife sighs and say something about enjoying the view for a while. I head down double time visualizing the seagulls feasting on my bait. There is the view.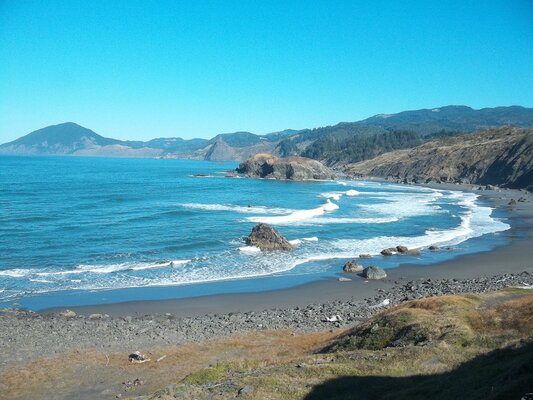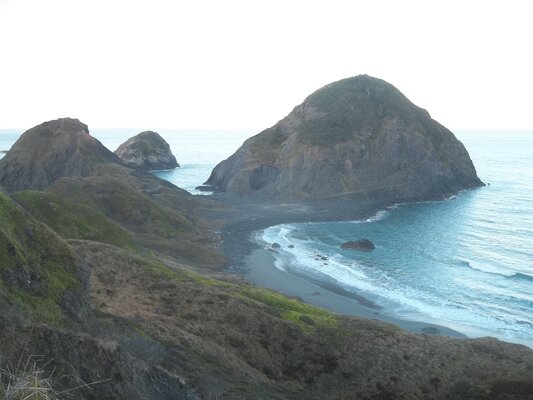 Up at Port Orford the fishing wasn't great and after loosing my rig on the kelp, I fed the last two herring to the seagulls and we went across the parking lot to Griff's for lunch and a beer. They do a good job on the seafood and happen to have a small aisle of fishing tackle in their gift shop.It's mostly offshore gear but I luck out and find a few lead pyramids to replace the ones I lost and am back in business for the afternoon. We head to Cape Blanco State Park to fish for surf perch. I happened to run across my all pink coho spinner still in my tool box after my ill fated trip to the Alsea last week. I toss it in the perch bucket and boldly declare to my wife that after I limit on perch, we can walk back along the river (Sixes) and I will also get us a salmon now that I have salmon gear in my possession. Long story short on the perch, after hiking out to the beach and crossing the dune we find the wind harsh, the tide quite low, the waves big and the water pretty stirred up. Not what I had hoped for but I try anyway for an hour and end up losing both my sinkers so we hoof it up to the mouth against the wind and I commence casting my spinner into the wind with the aid of a one ounce trolling weight I had taken from my bobber set up. I am not real optimistic because the water is back to being pretty low. Pretty soon I spot Mr. Spey rod standing out in the river somehow casting that fly into the wind. Not too far out but I am amazed he is even out there. We work our way past him towards the parking lot and I take the next hole upstream from Mr. Spey. Not a soul in sight and a few casts later the rod doubles over and I can't believe I am seeing a big silver streak shooting across the river as my drag starts singing that sweet sound. It was an extremely hot fish and mercifully, it went downstream and away from the submerged logs that were just up from where he started.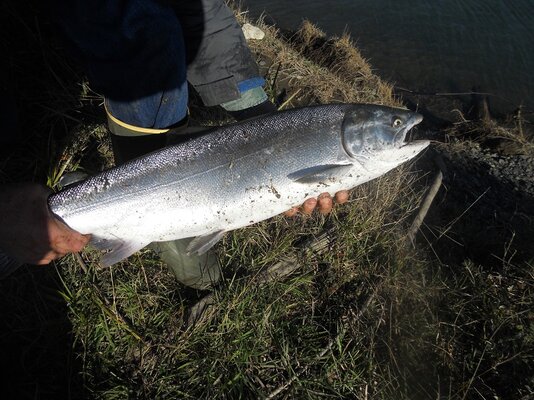 Turned out bittersweet as it was a nice 10-ish+ wild coho, not legal to retain in Sixes. Still I am quite pleased. There he goes.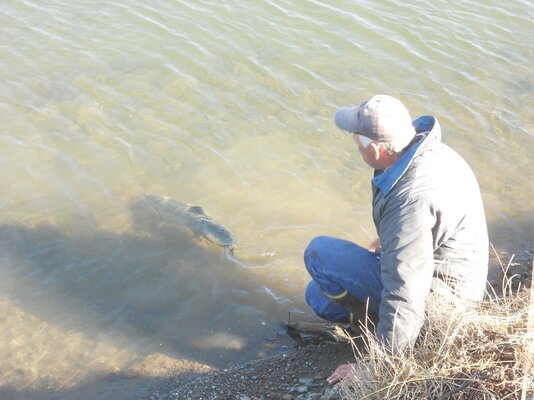 The next fish was kind of anti climactic.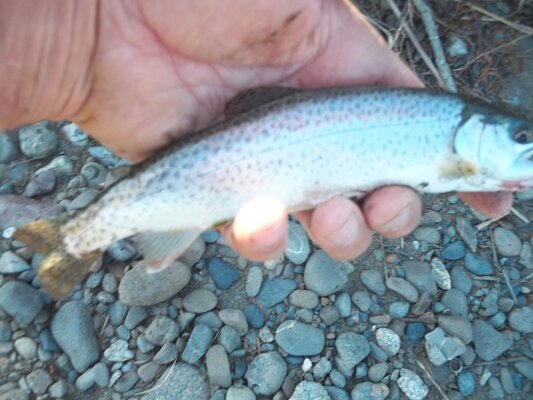 We head up to the parking lot and visit with Mr. Spey who had also quit. We exchange observations , he congratulates me on the fish, and we agree that the best salmon fishing lies ahead on that river. As my wife retreats to the pickup cab, I insist on fishing this one little run that is near where we parked for a few more minutes. I round out the day with this little coho jack.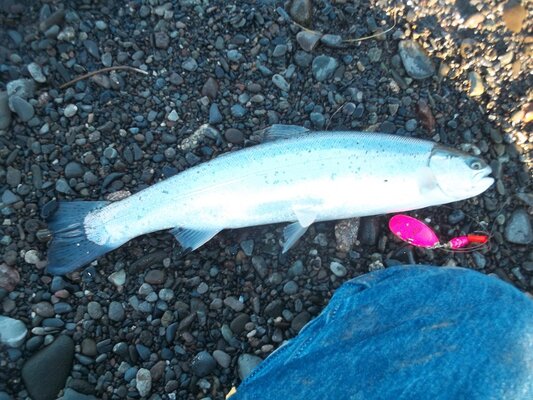 I have yet to catch a coho I can keep. Anyway, my wife bought me a handful of pink spinners for my birthday present and I hope to get out there and keep trying pretty soon. I hope that was not too many pictures. Tight lines, all.
Last edited: