Me, my wife, and the pooch, hit the road to Wickiup late Monday morning and found a good camping spot around noonish. The area looked pretty bassy so I set up camp, grabbed the bass pole, along with the bait of confidence, and started fishing the shore line. Only saw one bass and it wasn't too interested in my bait but, interesting enough, I had a big brown follow my bait almost to the bank. So I quickly walked back to camp and switched to a rapala and slowly fished my way back, sadly with no luck. Went back to camp and fished a threaded night crawler for a while and drank lots of beer. Woke up Tuesday morning, grabbed my steelhead pole rigged with a rapala and started fishing the bank at camp. On about the fifth cast I felt a slight bump paused for a second then reeled a couple of cranks, then gave a couple of twitches and wham, fish on! Right away I could tell it was a big one. This fish pulled quite a bit of line before it decided to show some acrobatic skills. It came flying out of the water four separate times but couldn't shake the hook. My net was at least a hundred feet away sitting in my boat so I tried to get it up on the bank the best I could but the fish wasn't giving in so I fought it to my boat around some weeds, grabbed my net, and scooped it up. I ran up to camp to get a quick measurement and a couple of pics before I decided to release this beautiful majestic brown at 27 inches. Not sure what it weighed but if was a fat fish. Took me a minute or so to get it revived but once I did it swam freely back to the depths of good ole Wickiup.
I only got three pics so I could get the fish back in the water.
This pic was taken while I was trying to decide if I should keep it or not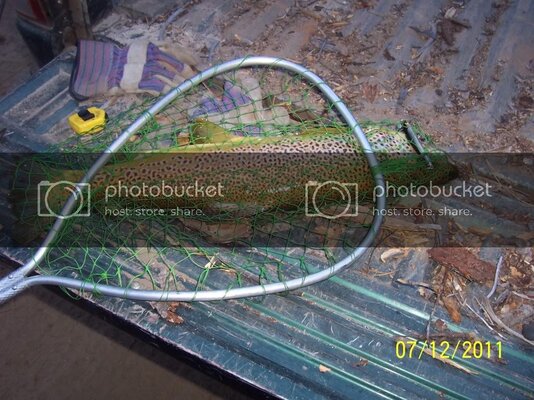 My wife took this pic after I decided to let it go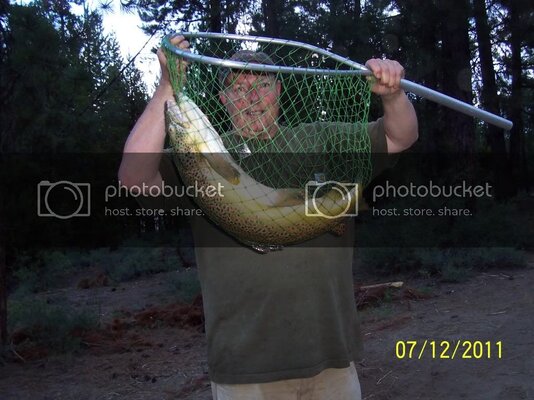 And this pic was taken as I was running back to get it in the water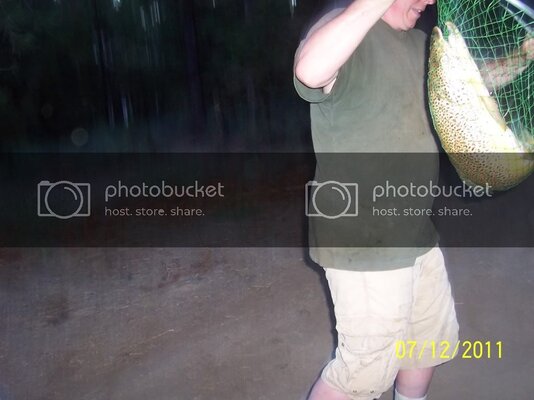 And here's a couple of random scenery pics along with a dirty doggy pic.