Yesterday, SteelmonKiller aka Tanner and I fixed up to meet at Carver Park early today; and we did. I parked there, went to Barton Park to drift back down and and we were on the water before sunlight. Spent some time drinking tea and chewing the cud, and started fishing as soon as we could see clearly. I'll spare you the technical details, I know I'll screw-up the terms.
End result, one nice coho being prepared for an Indian style curry right now, 4 fish released and a great day overall for me. The coho was almost 7 lb after the bleeding and gutting, fought a lot and from the fight Tanner had guessed it to be a wild one. Luckily for me, it was not.
Next one turned out to be a cutthroat trout, probably about 15 inch or so. Came in like a log, no fun there. The one after was a sucker fish, Tanner estimated it at about 6 lb, released. One small sucker fish next, released. The next one nearly flipped me. Tanner asked me to reel in, I did and just as I started the bobber went down. I didn't even see it, but to his credit Tanner did and the end result was one nice steelhead tagging along nicely after my bobber. For a moment I thought steelhead were over hyped, but was I wrong about it? It near about went crazy near the boat and really made us work to land it. It was going here there and everywhere, I was clueless, but we did get it into the net. Wild one, so off it went to where it came from; probably to tell scary stories about food that pulled fish to the monsters floating on water.
Can't even count the falls alarms and missed hook sets, I need a lot more work on hooking a fish.
4 new types of fish caught, nice fresh salmon to eat, no work, and a river cruise that I won't mind paying for itself for the scenery, all in all my best fishing day of the year.
Word about Tanner, I hope I do not sound condescending my friend. First of all I was really surprised, and a bit apprehensive when I saw how young he was. Completely off the mark again, he turned out to be just great. This was my second guided trip, if the first guide was 2 then Tanner would be a 9. He was very patient, answered all my question clearly; seems like a great chap to be around. Life's not perfect though, he's got to take part of the blame for the salmon in his top spots not biting my bait
I will surely do more trips with him, just don't know when all the stars and funds will be aligned again.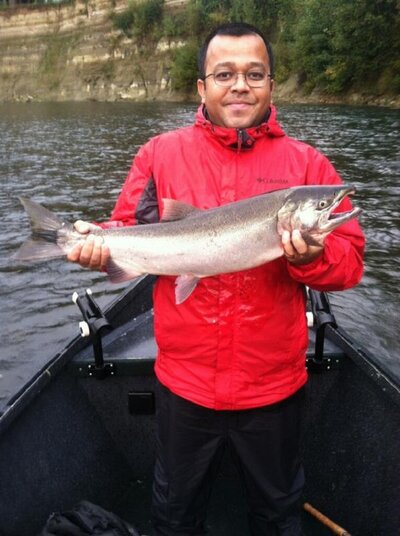 Cheers
M