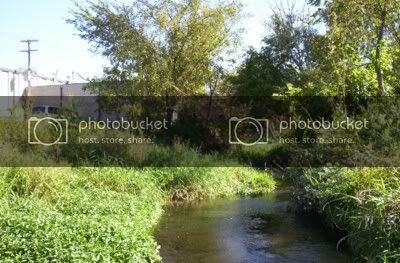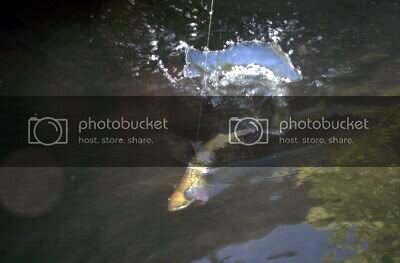 It's the middle of September and the 2010 Minnesota trout season is drawing to a close. In fact that part of the season where anglers can keep trout ended Tuesday. I had just been burned with two disappointing outings over the weekend, one on the Root and the other on the Whitewater. In both cases two of my most important customers were blanked, and the only fish brought in were on my line. One customer was my younger brother and the other was my Wife. (I'll hear about it forever).
Now it was Monday and I was setting out again for another afternoon of river-flogging. My object of torment for this outing would be my long time buddy Ed.
Since the larger streams and rivers weren't paying off I decided to explore a small stream that, because it flows through the middle of town, gets passed up by most anglers. At this time of year streams of this size can be difficult to fish due to heavy vegetation on the banks as well as in the water. Factor in low water and hip deep mud, and you have a great recipe for maximum frustration.
A couple of weeks earlier, the town of Spring Valley had a local celebration and had stocked the urban section of stream with a healthy amount of good sized Rainbow trout, so with little to lose other than self esteem, we decided to take the E&J fishing show right through the heart of the city.
It was a great sunny afternoon and the water was clear and cool (in the high 50's). The going was tough at first, due to small water and weedy conditions, so we started targeting just larger pools and deep runs. The overall conditions were far less than ideal, and while I was able to wrestle a few trout out of the weeds and muck, Ed had his hands full with bank brush and water moss.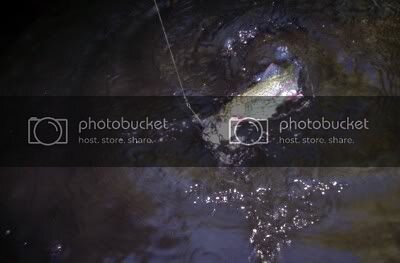 Our luck improved dramatically when we came to the bridges. We found large schools of trout holding under the bridges. Making a cast under a low bridge while standing between walls that were spaced only a foot or so wider than our poles were long, was no easy feat, but when a cast went as desired it almost always produced.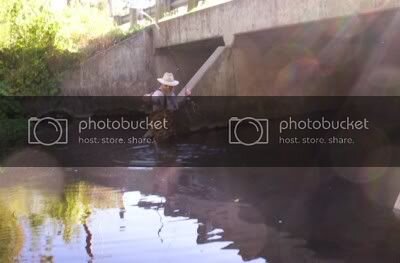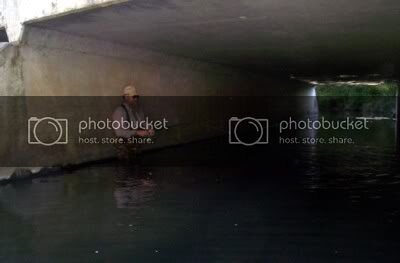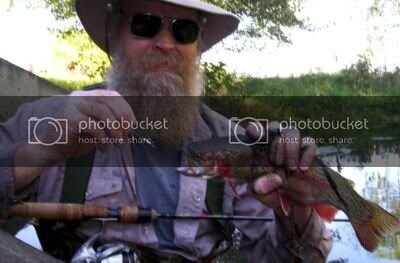 We found that by standing with our backs tight against the left wall and using a side-arm cast, with limited arm extension, we were able to make some fair presentations.
After only a few minutes at the second bridge, we were just a couple of fish short of limiting out.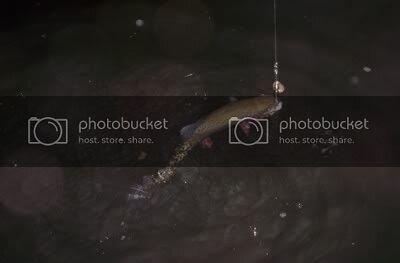 There was still plenty of daylight left and we didn't want to quit fishing, so we decided to switch to proto-type One-der Bows. The One-der Bow is just a Super Bow with a single hook instead of a treble. I have been working on these for a couple of years now, I have never been satisfied with the selection of hooks available. Unable to find a style of hook that I liked, I decided to make my own, and we now had the perfect opportunity to try the new hook style out.
Ed tied on a Gold/Silver, and I went with a version of Black Pearl/silver.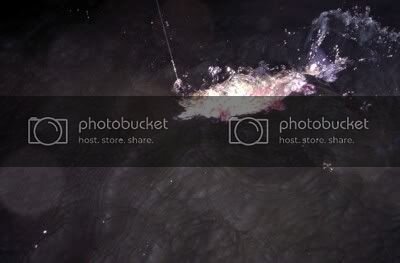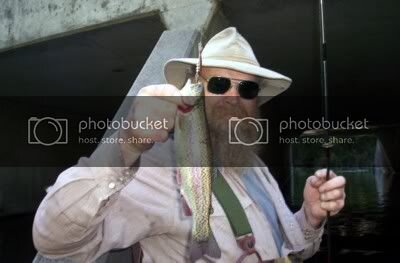 On his first cast with the new spinner, Ed landed a very nice Bow. I didn't score on my first cast, but the next five casts successfully produced five large Rainbows.
We stayed at this spot for about 45 minutes and seldom made more than two casts without landing another Rainbow.
When the action slowed we made our way under that bridge and wade-fished our way up to the next bridge and another pocket of trout.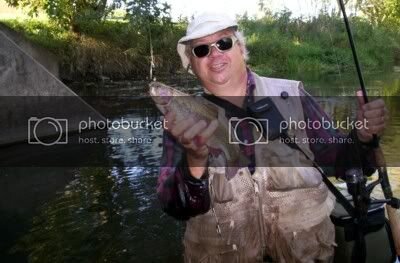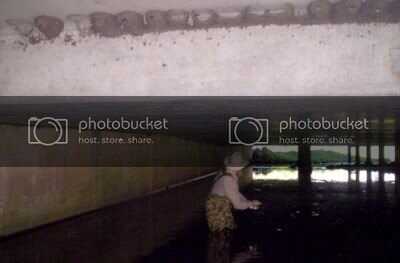 We found trout holding in the larger deeper pools through out the stream, with the heaviest concentration of fish under the bridges and more toward the upstream end and few fish holding just outside the upstream side of the bridges. There were very few trout on the downstream side of the bridges and often this side of the bridge would hold a bottom of deep sucking mud, making wading into the bridge a real chore.
The single hook spinners were an advantage in shallow weedy stream conditions and were much easier to retrieve from trees and brush.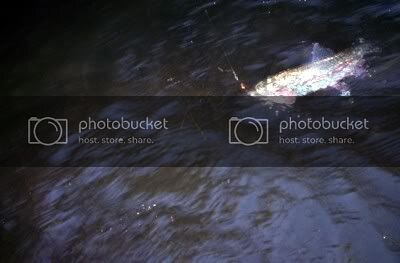 Just before dark we filled out our limits and returned to the van and headed home.
Over the years I have found that it's a waste of energy to fish a section of stream directly after such an outing, but after having so much fun I had to try it. Tuesday I returned to Spring Valley but I only had 6 hits and landed 3 trout, I guess the trout needed a rest.
Most cities and towns have a stream or river running through them, Spring Valley is just a sample, though fearing you may feel like a red-haired clown at a funeral, if you give it a try, you may find that great fishing is right in your own backyard.
Until next time.
Keep it low, slow and with the flow, and don't go without your Bow.
Spindoctor.
Hot Spinners on this outing.