so Eggs and I went out for some Presidents day blood... We started off the day at 4:45am. After stopping for some redbulls we headed for the mighty nestucca! We were told there big boys were in and heading for up high in the river...
We came up with the idea to stop in hebo for some gear, than a quick jump to the stump hole on 3rivers. Only stayed for 30-45 min with nothing to show for it. We jumped back in the truck and started the drive up the nestucca, We came up with the idea to cover ground that day only fishing each spot top to bottom once with something we had confidence in.
pulled out up high to start at a nice lil run and work are way back. It was some perfect looking drift water so evan though i hadn't hooked a fish drift fishing yet i busted out with my new (for me) drift rod and started hitting it.
we cover the run between the both of us pretty quick because wasn't very big when eggs asked if i wanted to move in anouther 5.... i say yea just want to hit the upper part of this.... i move up cast my lil dark pink corky out and, Tap.... Tap...... Tap.....Tap.Tap STOP.... I set the hook... think hey just anouther sna... befor the rest of the thought could cross my mind violent head shakes!!! and then the sound i hadnt heard in a while (part because i used only a baitcaster befor) the sound of a spinning reels drag screaming!! I tighten my drag a lil and start working this fish. until this point I have been able to put a spanking on most fish I got at the end of my line. This fish was just doing what it wanted when it wanted for the most part. All that I had to do was make sure the fish didn't run down stream. Up was fine but if it went down it would be in white water with no bank i could run down to give chase. I got the fish to come in close enough for us to get a look and see it was a native. so i really try to get it in kinda faster then. But this thing would just not give up. i would bring it in and off it would go... evan got a great jump out of him... after I started to feel a lil burn in the arm i got it up to the bank with the help of eggs....
He busted out with the phone to take a pic and I took the hook out and lifted him up for a nice lil pic for the camera. Then the min it got its nose back in the water i got a nice splash and off it went.
This was the only fish we could find all day. Got lucky to not have to work much for the first one but couldnt find what they wanted the rest of the day.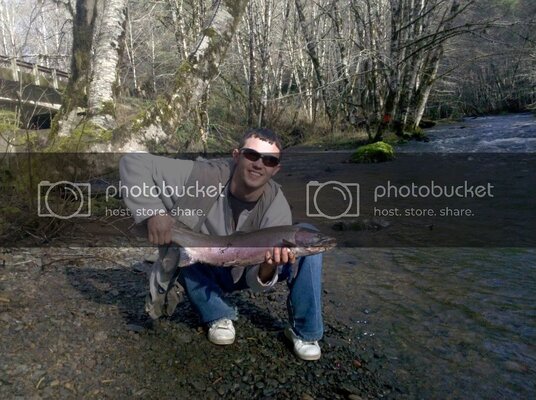 So the first i took care of today was, FIRST NATIVE STEELHEAD!:dance:FIRST FISH DRIFT FISHING!:dance:and BIGGEST FISH TO DATE :dance:
anyone got a idea on LBS? because i dont