I Did some hike in camping last weekend with my brother in law and my nephew. It took us 2 hours of hiking time and 2 hours of resting and checking stuff out time to hike 7 miles. At 5 miles into the hike we made it to lake number one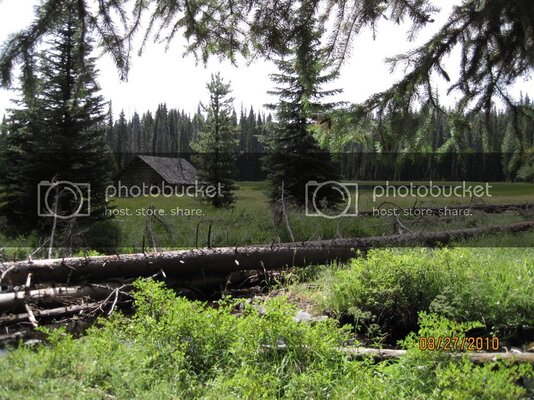 We stopped here to check out the camp ground and the cabin then moved on. About a mile down the trail we came upon this little body of water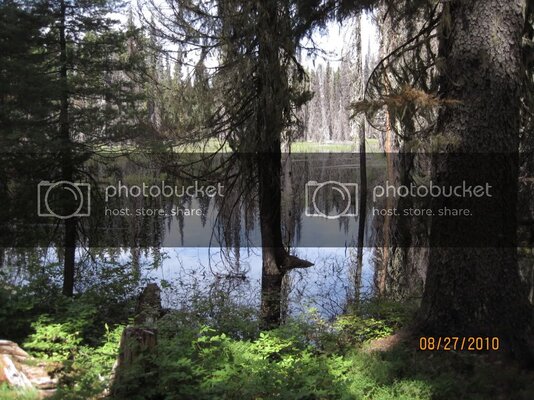 not too far from here I found a nice patch of chanterelles, picked one and ate it.
I should've picked more to fry up at camp but thought I'd come back and get them later then never made it back. :lol: Chanterelles weren't the only shrooms either. I spotted matsutakes and king boletes along the way too. We made it to our final destination at about 3 in the afternoon. First thing I did was cast a worm out on the bottom then set up camp. After setting up camp I checked my pole and fish on! A nice 13 inch fat rainbow fresh for dinner.
I don't know why but I didn't get a pic of my fish but I set my nephew up with a worm on the bottom and he caught this 10 incher on his first cast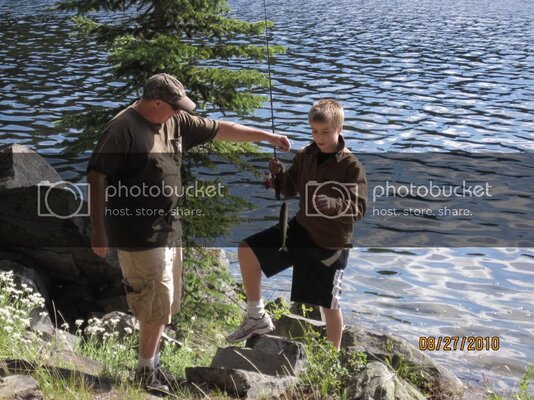 After that fishing went dead. I always check my fish to see what they've been eating and both these fish were stuffed full of small green bugs. Woke up Saturday morning to the sound of rain on the tent
Kind of bummed I got up and made some coffee and some good old fashion freeze dried breakfast :lol: It drizzled off and on all day and we didn't catch anymore fish. Not even a bite. Fish were jumping all day too. We tried everything we had. Lures, flies, worms, grasshoppers, and even power bait with nothing to show for it. Still had a great time though.
About mid day Saturday a family showed up to fish and wouldn't you know it, they had to fish about 50 feet away from us.
They had the whole lake. No one else was there but us and they decided to fish next to us. On top of that they let their kids start a big ole bon fire with the flames reaching at least 5 feet high. That seemed crazy to us. Even though it was drizzling it was still very dry up there with tons of windfall everywhere we looked. They fished for about an hour then left and didn't even put their fire out all the way.
After they left I made about 20 trips with my water bottle to make sure their fire was out. Here's a pic of their shallow fire pit and a pic of it creeping under the rocks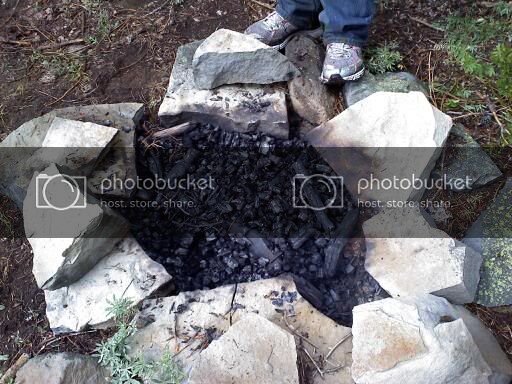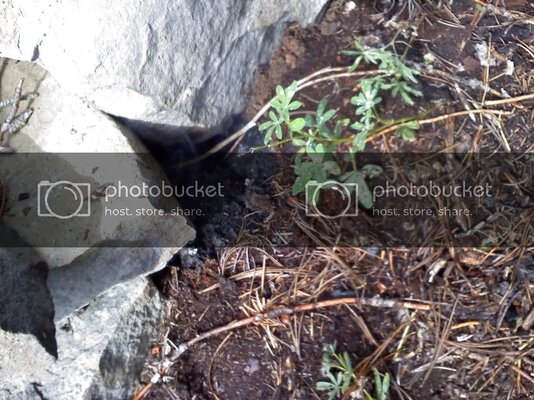 We had the lake to ourselves until later that evening until a couple of dudes showed up. Luckily they were quiet and kept to themselves.
We packed up Sunday and headed out. Stopped at the first lake and caught a bunch of little rainbows and brookies before heading out and heading home. Here's some more pics of our wonderful weekend retreat.