I have been fishing the past two weekends for sturgeon around the Swan Island area and it has been really awesome fishing. The week before last it was rainy and windy. The weather was tough but the fishing was great. Ended up with 19 sturgeon.] that day: 13 shakers, 5 keepers and one oversize 5.5-6'. Marked reasonable number of fish in parts of harbor. Fished for 1.5 hours but only two good sized shakers, several missed bites and a few line bumps.
Moved out around the mouth and caught 9 shakers and one keeper in about 3 hours. Not bad but not great. I decided to look for bigger fish downstream. Spent a couple of hours trying spots with only 2 more shakers.
Finally was heading back upstream and marked some fish in some shallower (30') water. Tide was incoming with the best current of the day and the bite was awesome. 5 keepers and the oversized in a couple of hours. At first I was not anchoring despite the current and the wind, just holding my position with my paddle, but it was really working. After a bio break I decided to anchor up on the spot I had been fishing.
First fish races towards me and wraps around my anchor. After some pretty fancy holding my rod with my leg while pulling my anchor I was able to finally land a big keeper. After that I pulled anchor and went back to free styling and caught the oversized and my last keeper. The bite was so good. No more than 30 seconds to get a bite. I did not get a picture of the oversized since she was clearly camera shy and uncomfortable about her weight
I was thinking it would never end when the wind suddenly became insanely fierce. I could not hold position and was bobbing up and down a couple of feet. Also turns out that my "dry top" is now a wet top. I was soaked and shivering most of the day. I will need to get a new one soon. With all that wind and me shivering so badly I could not hold the rod still I decided to just call it a day. Here is one of the many keepers.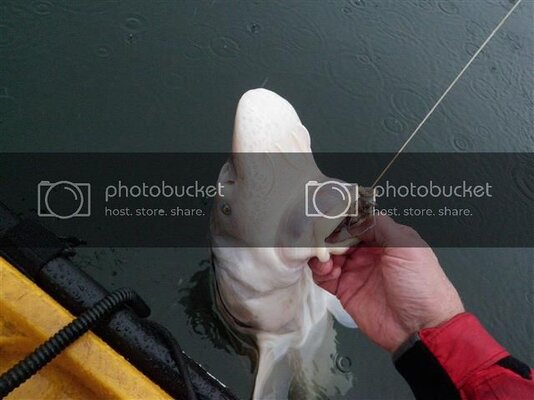 This past Sunday (the 1st) I went back to Swan Island and met up with minnowmagnet (Brian). We had an even better day than the previous Sunday. First, the forecast of rain and wind was greatly exaggerated. More sunshine than rain. We figured that the forecast had scared everyone else off and we laughed about it all day long. We did not find out until later that there was a sewage overflow in Portland and that you were supposed to avoid contact with the water. Always better to not know
I am not sure how many Brian caught but I caught 30 sturgeon and he was doing similarly well. The amazing thing was the extremely high number of keepers including multiple 50" fish. I think that we were catching at least 50% keeper sized fish. I caught one that was at the very upper end, and inch either way of being oversized, but Brian took big fish honors with a feisty 5.5' beast. The fishing was just so insanely good I can't even begin to describe how fantastic it was to be on the water.
It was like all the stars aligned. The fish were hungry and fighting like demons. I had two fish jump, one of them jumped twice and even tail walked a bit the other came soaring out of the water in a high arcing leap. Brian hooked a second oversized that jumped twice before snapping his dacron leader. A short while later I hooked a huge fish that snapped my main line. Just a wonderful and crazy day.
Here is Brian with a nice keeper sized fish:
Note how "terrible" the weather was!
My rod spent most of the day looking like this as one nice sized fish after another dragged me around: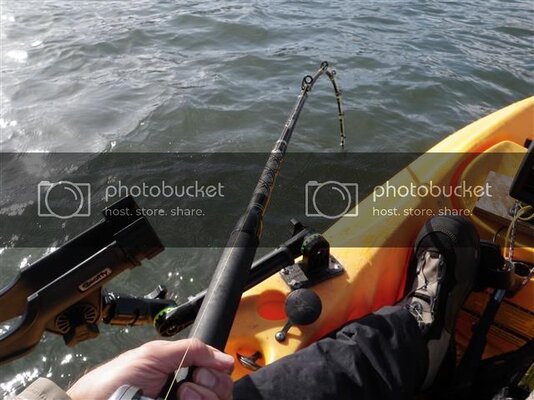 I lost count of how many doubles we had. There were periods where it almost seemed weird when only one of us was hooked up. Just a little more fish porn: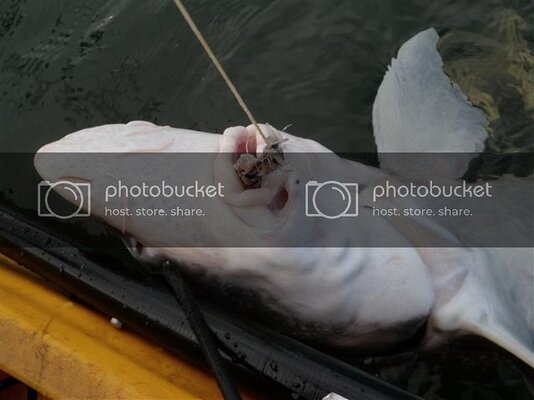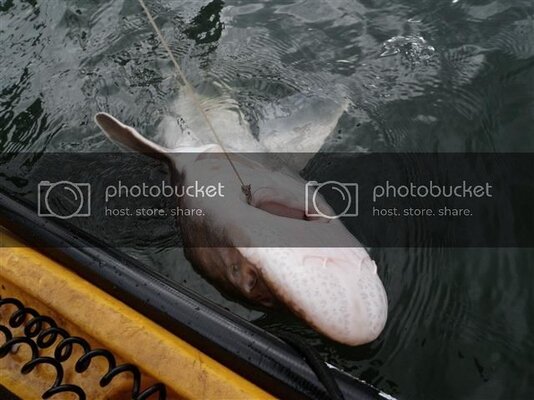 Say aw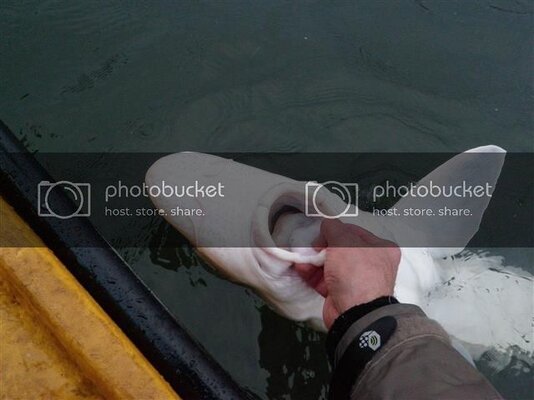 One of the most fortuitous things for me was that my Shimano Cardiff (on a x-Hvy Okuma salmon rod) was squealing like a pig after having the pouring rain wash all the lube out of it the previous weekend. I usually use that rod when the current is light like it was on Sunday. However, I since the reel sounded awful I switched over to my real sturgeon rod (Lamigals BFC with Daiwa Saltist). I am sure glad that I did. I am not sure I would have survived that many big fish with the lighter combo.
I still can't stop smiling when I think back to what an amazing day we had. Glad I did not hear the report about the sewage spill in advance, ignorance sometimes truly is bliss.