I had the opportunity to take a week of grader training near Brothers in Central Oregon. So of course I brought my fishing pole. I arrived at the hotel in Bend at around 4 PM, checked in, unpacked my things, drank some beers, and hit the river. Luckily the Dechutes river runs right through the hotel. I gave myself about an hour to fish before the sun set and caught about 3 of these little guys.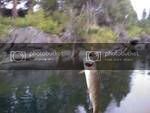 On Monday I found out that we were grading about 15 miles from Prineville Res. So when Tuesday rolled around I figured I'd try my luck at the lake but there was one problem. I was sharing a rig with a co-worker. It just so happens that he fishes too but he also is big into elk hunting so naturally he wanted to scout around a little and promised we'd fish on day 3. Never did see any elk but we did find a herd of antelope. Finally the end of day 3 came and we decided to fish at Antelope Flat Reservoir. At about half way there we had to turn around for fear of getting stuck in the snow in a company rig. Luckily we passed about a 3 acre lake on our way so we headed back to see what it had to offer. My first cast out I caught a 10 inch fat little bow. On my second cast I had a bump, then another bump, then fish on! In the next hour or so I proceeded to catch 10 to 12 more trout all ranging from 8 to 12 inches. My co-worker only caught 2. He didn't have a Thomas. lol
Sorry about the pics. I only had my phone.