So I had today OFF from work. Due to my grandfather's passing, I was given 5 days of bereavement. Today was the last day. I decided to take some time for me and sort things out in my head and the feelings that I was dealing with due to his passing.
And what better way to do it than fishing. And small stream fishing might I add.
I had invited a friend of mine to go with me and he accepted but then at the last minute canceled due to his sister-in-law about to go into labor. :shock:
So I called up my brother but he was too tired. I asked brandon if he wanted to go but he had family plans, which is fine.
So in the end, after getting shafted three times (j/k :lol
, I decided to make it a solo mission.
Last week I had wanted to go up to this particular stream and fish it. I had poured over maps and research for many a week determining the best spot to start with. After all, this particular stream is about 20 miles long, so I had to choose well. Any who, after getting up at the crack of dawn, last week, and getting all my stuff in the car, I took off. About half way there, a little lightbulb turned on in my head. I suddenly realized that I had forgotten my rod ........ BOTH OF THEM!!!
So stopped at the location and checked out what little I could, then headed home. My wife was glad to see me home early.
Anywho, this time, I made a list. hehehehe
It took about an hour to get there but once there, I got geared up, checked and re-checked everything, then started hiking down the path. It took me about an hour to go 1.75 miles. As I was hiking, the stream would come close to the path and tempt me to start there instead of my original spot I had chosen. I was strong though and thwarted the temptations.
I got to the spot, it looked fantastic!!!! Below is where I started. I am on a bridge so the pics are the stream up stream of the bridge and down stream.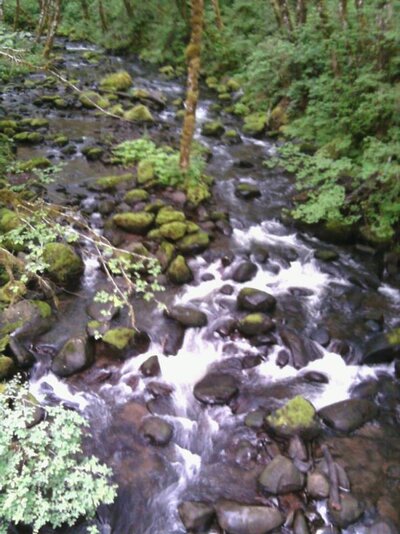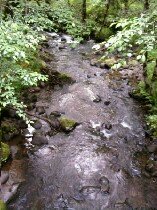 Anywho, I pulled out my rod, rigged it up, and then headed up stream a little ways. I started fishing. Probably within the first 3 casts, FISH ON!!!. It wasn't a big guy, probably around 6 inches. And that is what the remainder of my day was like. I slowly worked my way down stream, hitting little rifles and runs. But in every single one, I got at least 2 fish. Some bigger, some smaller. The smallest was about 1.5 inches. The biggest, was 13 inches!!
This creek is so full of fish that as I would cast out my line, little "fish-balls" would come and just pound it! this little guys were EVERYWHERE! :shock: When the sunlight hit the water just right, it was amazing to see how many fish there were. And I was only in the upper stretches of the stream. I can't wait to see what the lower stretches look like and what they hold!! :dance::dance: The little fish would constantly hit my strike indicator. The indicator was constantly being slightly pulled under as these little guys would try to get my size 22 nymph in their mouth but were unable to. Pretty fun to watch them!
Anywho, I finally hit this run, below, and that is where I pulled out the biggest fish of the day. Before I caught him, I had already pulled out 3 other fish. Check it out.
Here is the run: (sorry about the non-stitched pictures.)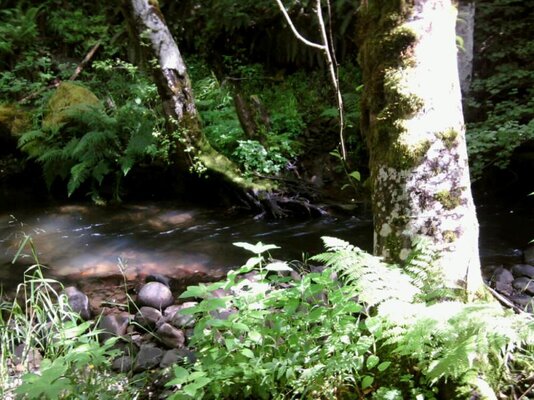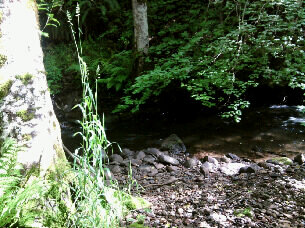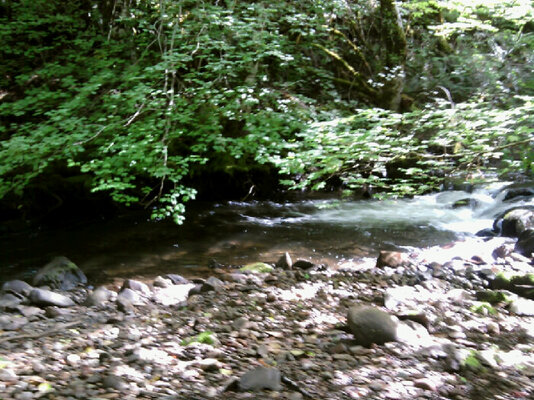 And here is the fish: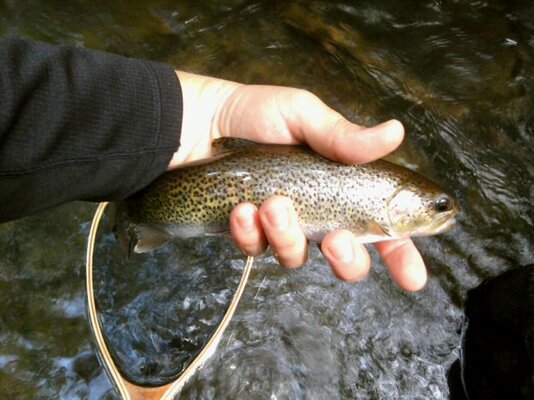 All in all, I caught about 15 or 17 fish. I lost count after 12. I was there for 3.5 hours, hiked in 1.75 miles, and fished .25 to .5 miles of water with about 15 fish caught and landed with about another 20 hooked but got loose and not landed. I would say that is a pretty good day!! And I was back by 1:30pm!
Oh, and I also found a wasp's nest, saw a deer, a snake, and the no-see-ums were sucking me dry!!!
:shock:
It was a good day.
-Spydey
P.S. Sorry about the lack of actual fish photos. It is hard to hold a wriggling fish in one hand and take a picture with my cell phone in the other. But I figured that for that big guy, it was worth the effort!!