I met Jeanna, the drift boat, and her little dog too...
at the river today (thursday) and we did a float from Leaburg to Greenwood. As soon as we put in the vultures began to gather....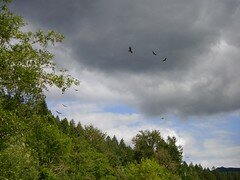 Oh...those were other boats...and people everywhere...
We tossed some eggs, shrimp, gear, etc with no luck so I pulled out my flyrod....I caught the first fish, on a fly rod, in Jeannas boat..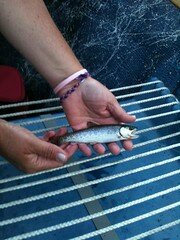 While Jeanna did her thing I went back and forth between eggs and dry fly....I was there to try and get my first salmon but I get bored and I know that fly fishing is a fer sure thing. We floated down a bit past people and boats and pull in to this nice little spot...fish on!!!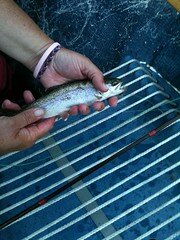 Jeanna says something like I guess I should have brought mine...I hand her my rod and she starts casting.....Fish on!!!! Jeannas first trout on a dry fly in her own little drift boat with Ava snoring under my seat!!!!! Yay!!!! A very nice one at that...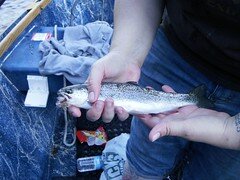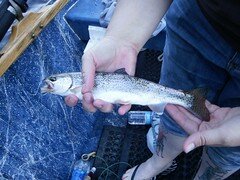 What a great day...and I officially became Jeanna's homie....yesssssss...Did I spell homie right? cuz I have never been a homie before...what an awesome day. Thanks Jeanna!!!